Growing mentoring programs can seem like a huge challenge. Getting employee buy-in is never easy, but once you do get a program off the ground, engagement is everything. Increasing mentoring program engagement in your existing programs will help you prove the concept of mentoring to executive leaders, thereby ensuring that your program results look and that your programs are making an impact on the KPIs you identified before you launched.
Read this post to learn how to create a successful mentoring program that will attract and retain both mentors and mentees.
What to Expect from This Post on Mentoring Program Engagement
If you're struggling with engagement in your mentoring program, you're not alone. Most companies have mentoring of some kind, including 92% of Fortune 500 companies. But even companies with well-established mentoring programs often encounter common engagement issues, including: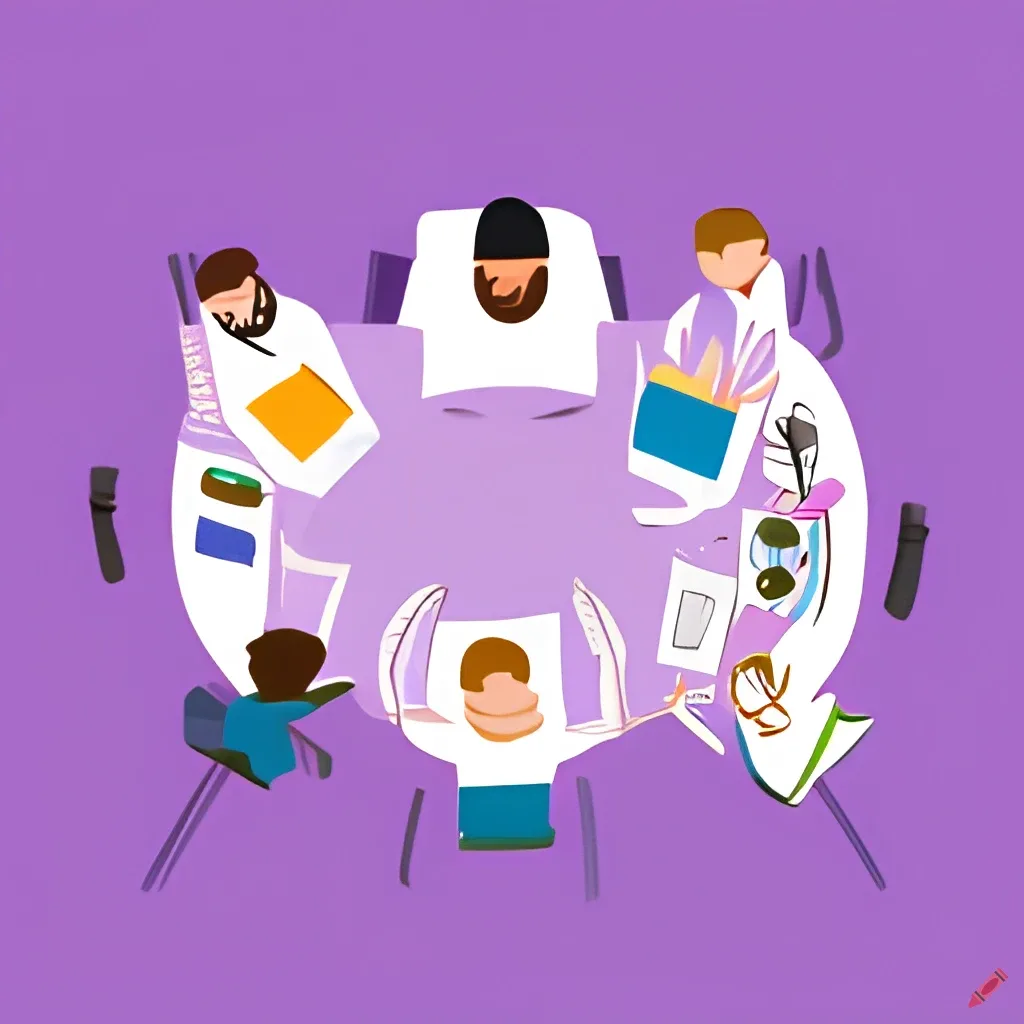 Mentees and mentors who don't know where to start
Mentors who are not properly trained and ready for engagement
Participants who sign up for a program but then never schedule meetings
Mentoring program engagement tends to fall into two big buckets:
Planning ahead: This includes everything you've done before the program launch to make engagement easier, such as training mentors and mentees, scaffolding discussions, and streamlining the relationship structure.
Mid-cycle upkeep: This includes everything you do during the program cycle to make sure participants are getting the most out of their relationships and staying active, both on and off the platform.
This article dives into techniques for increasing engagement with your mentoring program—tried and tested strategies that could work for any organization. It reveals how best to set up and sustain successful mentoring relationships to maximize the effectiveness of your program.
It also touches on the importance of communication and provides ways to use technology and diverse resources to your advantage. Uncover tips to move participants from passive to active partnerships and create a community of engaged mentors and mentees.
Achieving meaningful connections has never been easier! But if you're doing everything manually, you're going to lose engagement quickly. Don't risk the success of your program! Book a demo to learn how mentoring software supercharges mentoring program engagement.
Do you have an existing mentoring program and want to grow it? If so, using the right strategies and techniques can help you do just that. With some proactive planning and action, you can turn your existing mentoring program into a robust and valuable resource.
The Benefits of Increased Mentoring Program Engagement
Mentoring programs offer many benefits, including:
None of that is possible unless you can effectively increase engagement in your programs. That's not so much a hidden secret to mentoring program effectiveness as it is a starting point. If you can't correctly engage participants, your program won't work.
For mentors, engagement can lead to deeper connections with their mentees, resulting in an improved ability to share their key insights and better foster the protégé's development.
For mentees, increased engagement can help them build confidence and critical problem-solving skills while providing access to mentor networks, resources, and career advice. Engagement also leads to programs that are more effective overall, with higher levels of morale and satisfaction among mentors and mentees alike.
We could go on, but you can read a bit more in our post on the benefit of mentoring for mentors and mentees. Success for your mentoring programs is an almost sure thing, but only when participants are properly engaged. Keep reading for more insights on how to do that.
Define Your Goals for Growth
This topic falls into that first bucket we mentioned earlier, "planning ahead."
Creating specific and achievable goals is essential for program growth and viability. The first and most crucial step is to be honest with yourself about what you want to achieve with your program and what is actually achievable with it.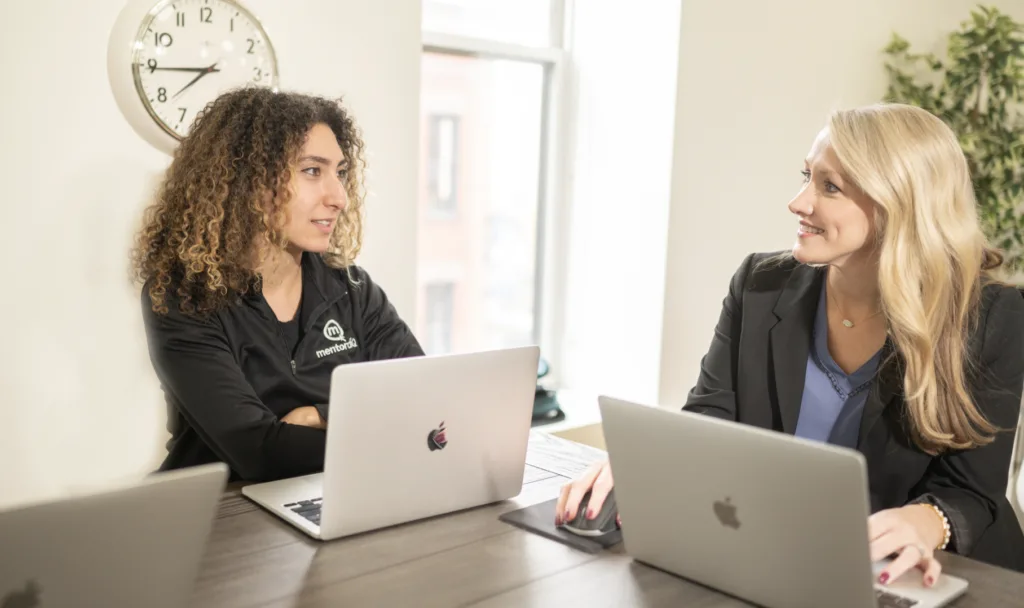 Set realistic expectations using REAL goals (pdf), taking into account your current commitments and resources. Consider what progress would mean for you in the short and long term, and decide the pace you wish to undertake.
Make sure your goals are measurable, specific, and time-based.
For example, "I will enroll 100 program participants for our pilot program" or "Program participants will record 2 hours of mentoring per month for 6 months."
Also, consider the effort required to reach your goals and devise a plan of action.
Finally, anticipate any obstacles and have contingency plans in place to address them. With proper planning and execution, you'll be on your way to fulfilling your goals for growth.
Identifying the Right Target Audience
This topic also falls under our "planning ahead" bucket.
Identifying the right target audience is essential for any successful business venture. It involves a methodical process that requires research, observation, and analysis of the potential mentoring population.
Decide ahead of time what characteristics matter for your mentoring program. That way, you will be able to more accurately target the right population that is more likely to be engaged or that is easier to engage once the program launches.
Common mentoring program participant criteria include:
Tenure
Existing skills
Career goals
Job level
Gender
Ethnicity
Location
Of course, you're not limited to those criteria. And depending on the tools you're using to match participants, you can set as many criteria as you want for the pairs.
However, decide ahead of time what criteria matter for who the program is for. E.g., is it for women's leadership development? Functional skills growth, such as for sales teams? Or do you need some extra assistance with onboarding new executives?
The more specific you are about your criteria, the better you'll be able to attract and engage participants. Focused and structured programs also get better engagement and better, measurable results.
Create an Appealing Program Structure
Creating an appealing program structure can help ensure your program's success. It starts with the engagement of your audience.
Program structures should be focused in order to capture and retain user interest. Clear objectives and measurable results should be identified to serve as a roadmap for the program.
Next, it's important to provide a logical and comprehensive framework that is easy to follow and can be adapted based on feedback and results. Additionally, program structures should also be designed to provide feedback and be structured in such a way that users can easily access resources and information.
Planning and setting up your program accordingly will help create a successful, engaging, and memorable program.
Promoting Your Mentoring Program to Enhance Engagement
Promoting your program to enhance mentoring program engagement is key to success.
Draw attention to your program through a variety of tactics, such as:
Creating engaging video content
Writing informative internal blogs
Streamlining and promoting the easy enrollment and matching process
Hosting learning sessions to clarify program goals and structure
Additionally, using creative visuals and promotional campaigns to further showcase your program and socialize it across your organization can provide a great boost to your engagement rates. If this all sounds like marketing, it is. Improving engagement at the start essentially requires thinking of participants at leads. You're trying to win them over, convert them to customers in your program, and then nurture them so that they're both successful and advocates of what you do.
Taking the time to create a plan to advertise your program will undoubtedly yield favorable results as engagement rises, resulting in increased awareness and exposure.
Utilize Technology to Facilitate Participation Remotely
In the digital age, utilizing technology is an essential tool for facilitating participation remotely and helping organizations stay connected as we navigate changing times. Mentoring software can help ensure your participants connect, communicate, learn, and interact on a regular basis.
Not sure how to use mentoring software? Check out our Mentoring Soundbites video on how mentoring software works. Be sure to like and subscribe to the channel, where we post new mentoring program advice every Wednesday.
Mentoring software isn't just a boon to your participants. It's an essential tool for you, the program administrator. Software makes it easy to launch programs, match participants, manage the program details and structure, collect data, and analyze results to find success data.
Strengthen Communication Between Mentees and Mentors
Mentees and mentors are both important pieces of a successful mentoring relationship. The communication between each can be improved and strengthened by implementing a few guidelines.
Mentors should regularly schedule time for conversation so that their mentees can reach out for advice, guidance, and support.
Mentees should come to appointments prepared to discuss their goals and progress and should take an active role in working towards achieving them.
Additionally, encouraging two-way feedback and setting boundaries to ensure communication is professional will help the relationship and ensure a successful outcome.
Also, consider suggesting some mentoring program engagement activities. We have a list of 10 mentoring activities your participants can try out to keep that engagement flowing.
Provide Resources for Enhanced Support
There are a variety of resources available to provide enhanced support for those who need it. You can put this topic squarely in our "mid-cycle upkeep" bucket from earlier.
Participant support can range from offering advice on engagement activities to providing additional resources for topics to discuss and work on for mentees. If necessary, you may even want to offer mentors additional training. This will be particularly necessary for mentors who are new to mentoring or who don't feel confident engaging in conversations related to DEI.
DEI is HARD to get right, but get it right, you must. Check out our ebook on 3 Essential DEI Strategies.
With some good planning and proper attention to trouble signs, you can make sure your programs don't hit too many mid-cycle snags.
Offer Incentives for Program Engagement
Offering incentives for mentoring program engagement is a great way to increase participation. Rewards such as gift cards, discounts, bonus points, and other recompense can encourage participants to enroll, complete tasks, or reach goals.
It is important to keep the incentives both low-cost and achievable so that participants are motivated to do more, rather than feeling overwhelmed. Users are more likely to become (and stay) engaged when they believe they will be rewarded in some way.
This means that while some tangible incentive may help, providing recognition and praise for a job well done can be just as effective.
Use Evaluation Data to Identify Areas for Improvement
Evaluation data can be a powerful tool for uncovering areas for improvement within an organization. By utilizing this data, companies can gain valuable insights into how their processes and services are performing and identify what measures need to be taken to increase efficiency and effectiveness.
Evaluation data also provides an opportunity to assess how well the program is working as a whole. Collecting information on an individual level using feedback surveys can be used to highlight any problems or gaps that need to be addressed. This data can also be used to measure relationship success and engagement levels.
Celebrate Milestones to Sustain Momentum
Taking time to celebrate milestones is an intelligent way to remind yourself of what you have achieved and to sustain momentum. It helps to recognize and celebrate accomplishments, no matter how small or seemingly insignificant.
Celebrating milestones can provide a sense of pride, motivation, and confidence. Setting small achievable goals and celebrating when you reach them can instill a sense of accomplishment, inspire you to take on bigger tasks, and help you stay motivated and make progress.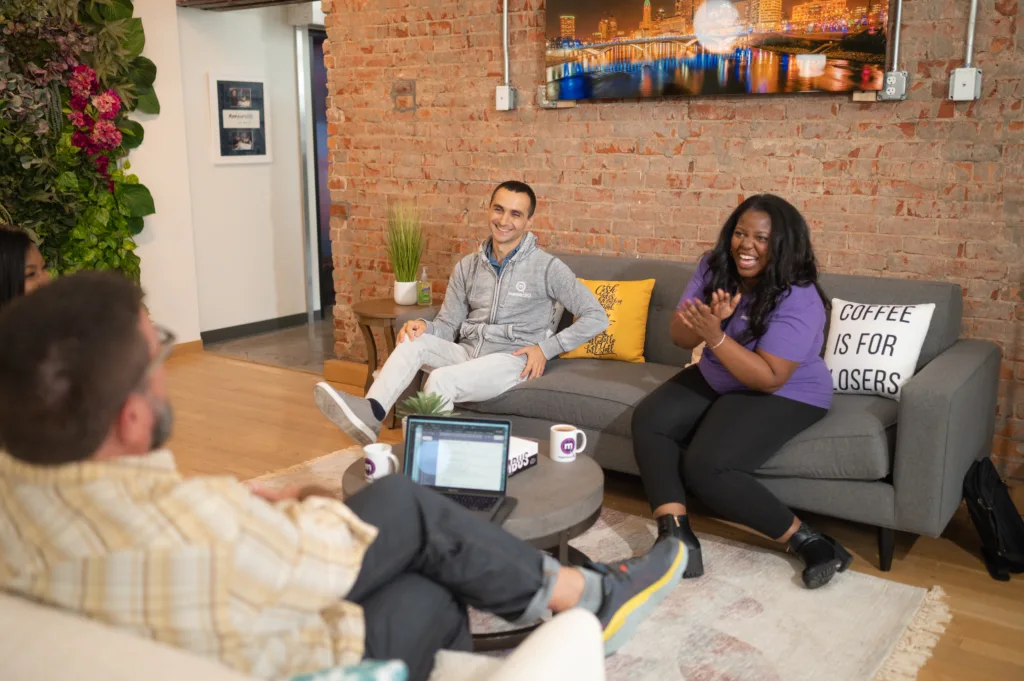 What kind of milestones can you celebrate?
The number of participants matched
The number of hours participants have engaged in so far
Success stories from mentors and mentees
Time and cost savings from software
Make those celebrations as tangible as possible. For example, if a mentor has gone above and beyond and been recognized in mid-cycle surveys by a mentee, consider offering them a gift and promoting that individual in company meetings. Employee recognition is always a huge win.
While progress is often slow and uncertain, pausing to recognize and celebrate milestones can help pave the way for new successes. It can also help you keep mentoring as a top-of-mind activity for participants, which will ultimately help you achieve better mentoring program engagement.
Foster a Positive Environment to Maximize Engagement
Sometimes, your program engagement will be impacted by the company culture as a whole. McKinsey & Company notes that organizational culture is strongly associated with success and profitability. That's no real surprise, as employees who work for a company with a better work culture are more likely to engage in participatory activities, including mentoring programs.
Creating a positive environment in the workplace is essential for boosting employee engagement, as it encourages collaboration and encourages workplace happiness.
Positive workplace environments can be achieved with proactive measures such as:
Implementing team-building exercises
Providing workers with a comfortable atmosphere
Offering flexible or generous leave
Providing remote work and hybrid work options
Promoting open and honest dialogue
Additionally, businesses should strive to increase the team's trust in one another, focus on interactions between workmates, and cultivate a collaborative and tolerant atmosphere. All of these efforts create a workplace where employees are inspired, excited, and driven.
Once they're driven to succeed and motivated, they're more likely to see mentoring as something they must do for themselves and the company instead of something they can or want to avoid.
Fostering a positive environment will lead to an engaged and successful workforce.
Fostering Engagement and Retention Through MentorcliQ's Comprehensive Mentoring Software
MentorcliQ.com can assist businesses in growing their existing mentoring initiatives through its comprehensive mentoring software.
Our platform offers a variety of tools to help companies launch, match, engage, and measure mentoring programs at scale. When implemented, mentoring programs running on MentorcliQ's platform see an average 50% increase in retention among program participants. That results in substantial cost savings and a massive ROI, especially among enterprise companies.
Don't just take our word for it, though. Check out all of this amazing customer love, or get a first-hand look into our award-winning software with a demo.
Increasing mentoring program engagement is possible and rewarding for all involved. By investing in your participants and perhaps doing research to find the newest mentoring trends and technology, you can breathe new life into your program.
Start small and gradually increase the program's reach, from making sure all mentees and mentors are properly supported to creating additional programs and resources to help drive success. In the end, what matters most is creating an environment of mutual respect and growth for everyone involved. As with all things that matter, there's work involved.
You got this. 😎