Mentoring continues to be an important employee engagement strategy for 2023. Key mentorship statistics, including our exclusive insights on Fortune 500 mentoring programs, help give light on why mentoring is a must-watch trend.
We've also included industry-wide statistics on mentoring across related areas, such as trends on Millennial and Gen Z workers, DEI, and employee development and retention. Because we add new mentoring stats regularly and replace outdated stats to give your data references a stronger impact on your intended audience, we recommend bookmarking this page for future reference.
Looking for something specific? You can use the table of contents to skip to different sections. We've covered all of the following broad topics:
Mentorship Stats for the Fortune 500
Why Mentoring Is In Demand
Mentoring Stats on Career and Skill Development
Mentoring for Diversity, Equity, and Inclusion (DEI)
Stats on Mentoring Millennials and Gen Z
Download: Mentoring Stats PDF
Mentorship Statistics from Fortune 500 Companies
Effective, high-quality mentoring stats and data now play a central role in every industry, especially talent management. Business leaders rely on strong data for every major decision, including the running cost/benefit analyses on existing engagement strategies or as they explore the potential ROI of creating new ones. That includes whether or not to launch or expand mentoring programs.
In 2009 companies started reporting that "70% of Fortune 500 companies use mentoring programs". In a recent, in-depth study of the mentoring landscape among US Fortune 500 companies, we've discovered that it is time to expire this heavily-cited data point and replace it with the following key takeaways:
92% of ALL US Fortune 500 companies have mentoring programs
100% of the TOP 50 US Fortune 500 US Fortune companies have mentoring programs
The median profits for Fortune 500 companies with mentoring programs were OVER 3X HIGHER than for those without mentoring programs
Fortune 500 companies with mentoring programs were significantly more resilient against employee quitting trends that reigned in 2021, with a median YoY employee growth of just over 3%. Meanwhile, Fortune 500 companies without mentoring programs had a MEDIAN DECREASE of 33% in their number of employees
64% of the Fortune 500 companies that added mentoring programs WERE TENURED to the list, indicating that mentoring was one of many employee engagement strategies successful companies used to secure profitability into 2021
Mentoring Impacts Employee Engagement (and Puts a Stop to Quiet Quitting and Disengagement)
In 2021 and halfway through 2022, one of the most pressing issues for companies was employee retention. Then, the tides changed: About halfway through 2022 and continuing into 2023, "quiet quitting" began to take hold, with more employees disengaging and lowering their productivity instead of outright quitting.
Research shows that having a mentor can have a significant impact on both the mentee and the organization. According to a CNBC/SurveyMonkey study, 89% of employees with mentors say their colleagues value their work, compared to just 75% of those without mentors. If you're considering mentoring as a way to improve your career prospects or help your organization develop its talent, these statistics suggest it could be a valuable investment for engagement, retention, and productivity.
That begs the question: Is mentoring really a viable option for solving employee retention and engagement? A quick look at what the Fortune 500 companies are doing, as well as 40+ other mentoring stats for 2023 offers some insights and answers some very important questions about why mentoring is a growing trend.
Mentoring is no longer a "nice to have." It's essential for businesses that want to thrive in a post-pandemic world. If the Great Resignation taught us anything, it's that workers with in-demand skills are willing to walk away from their current employer if it means finding a job that offers a better quality of life, better work-life balance, higher pay, more upskilling and reskilling opportunities, and deeper and more meaningful workplace connections and interactions.
65% of people (or more) were looking for a new job in 2021. That continued in 2022 and is likely to continue into 2023. (PwC)
US businesses lose close to 1 trillion dollars annually due to employee turnover as the cost to replace an employee can be up to 2x the employees' salary. (Gallup)
Workers at practically every level (individual contributor, manager, senior manager, and vice president) are significantly less likely to consider quitting if they have a mentor. (CNBC/SurveyMonkey)
Mentoring Stats on Employee Engagement and Retention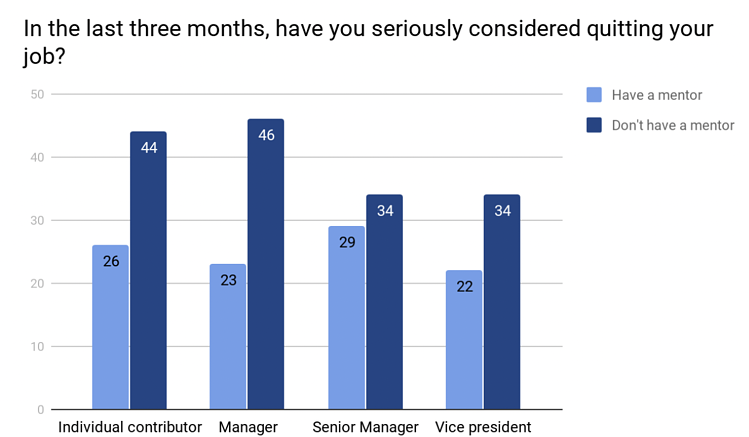 94% of workers would stay longer and their employer offered more learning and career development opportunities. (LinkedIn)
90% of workers who have a mentor report being happy in their job. (CNBC/Survey Monkey)
Employees who are involved in mentoring programs have a 50% higher retention rate than those not involved in mentoring and 93% of mentees believe their mentoring relationship was useful. (MentorcliQ)
Mentorship Statistics Explaining Why Companies Offer Mentoring
In its 2022 L&D Social Sentiment Survey, Donald H. Taylor discovered that mentoring is now #4 on a list of learning and development strategies L&D teams are looking at. That's an increase from #6 in the 2021 survey and the largest rank increase of any other strategy on the list. (Donald H. Taylor)
The pandemic caused a 30% increase in mentoring initiatives at organizations (LHH)
Between 56% to 71% of organizations (or more) now use mentoring to some degree (DDI, LHH)
Long story short: Workers are growing anxious. The pandemic caused a fundamental shift in how people view their relationship to work. People are reassessing the meaning of work itself, tying it into their greater meaning as it regards what they want out of life, and effectively voting with their feet. Companies are now catching on to the wide employee retention and engagement issues that mentoring can solve.
We've highlighted more examples of mentoring facts and stats below to help paint the picture even further.
Mentorship Stats on Career and Skill Development
Particularly in light of the Great Resignation, workers want the opportunity to grow and learn. In fact, over 66% of workers are willing to retrain and reskill for new jobs. However, the desire to learn alone through digital courses is waning. Many people prefer not to simply learn alone from digital courses but through 1-to-1 or 1-to-many mentoring relationships.
Quick stats on mentoring within sponsorship programs and for career development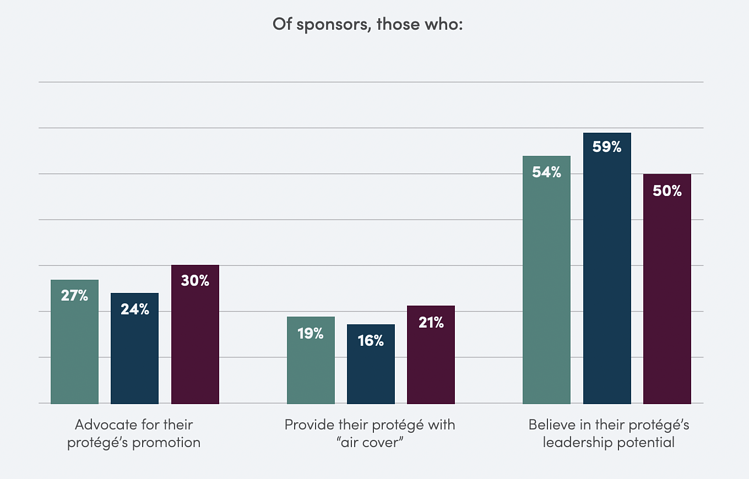 The impact of mentoring on employees' career development and advancement:
Individuals who choose to be a sponsor, mentor, or coach are more likely to reap the benefits of their skills. Most (57%) expand their skill sets (versus 40% or non-sponsors); 41% are more likely to pick up tasks they don't like to do (versus 26% of non-sponsors); 43% expand their knowledge of their customer base (versus 26% of non-sponsors), and 30% expand their knowledge potential new customers or market segments (versus 19% of non-sponsors). (Coqual)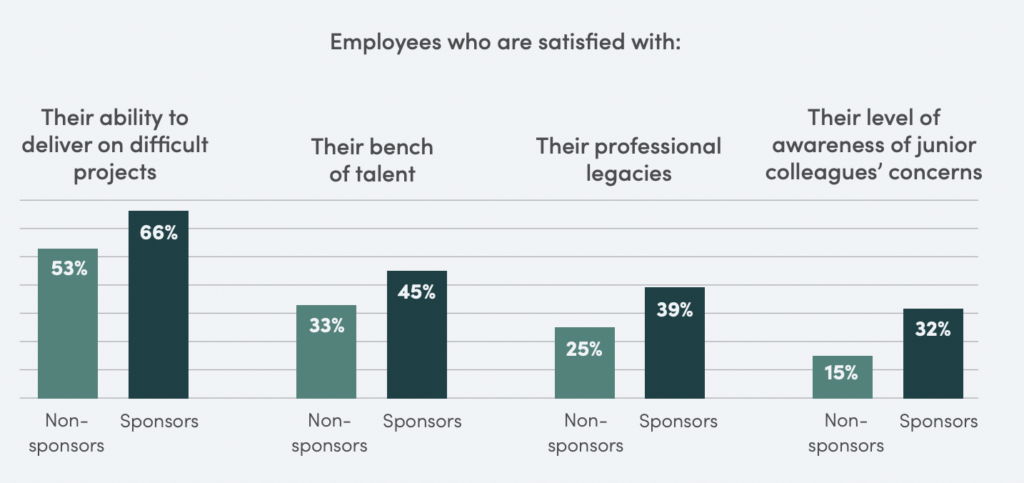 Leaders who sponsor or mentor others are twice as likely to be aware of junior-level colleagues' concerns. (Coqual)
25% of mentees experienced an increase in their salary, compared to 5% of people not involved in mentoring. (Sun Microsystems)
Employees involved in mentoring are promoted 5x more often than those not involved in mentoring. (Sun Microsystems)
Those who serve as a mentor are 6X more likely to be promoted to a higher position. (Sun Microsystems)
Around 60% of both men and women who serve as sponsors are satisfied with their career advancement. (Coqual)
66% of employees who sponsor, coach, or mentor others are satisfied with their ability to deliver on difficult projects. (Coqual)
Diversity, Equity, and Inclusion Stats (DEI-Focus)
The majority of the workforce now wants employers who value diversity, equity, and inclusion. In fact, a CNBC/SurveyMonkey survey discovered that 80% of workers want to work for companies that prioritize DEI. And while the data on the benefits of mentoring and its positive impacts on women in the workplace has become far more robust in the past few years, we've noticed a significant lack of available data on how mentoring benefits employees who identify as BIPOC of LGBTQ+.
As DEI becomes more important to company culture, more research and data will be needed in the near future to highlight the benefits and gaps in mentoring for many workers within historically underrepresented groups.
Mentorship stats on racial and ethnic diversity
65% of workers say DEI is critical following the BLM Movement. (MentorcliQ)
80% of workers believe that inclusivity, sponsorship, allyship, participation, and skill-building are key drivers for DEI mentoring programs. (MentorcliQ)
72% of DiversityInc's Top 50 companies have reverse mentoring programs. (DiversityInc)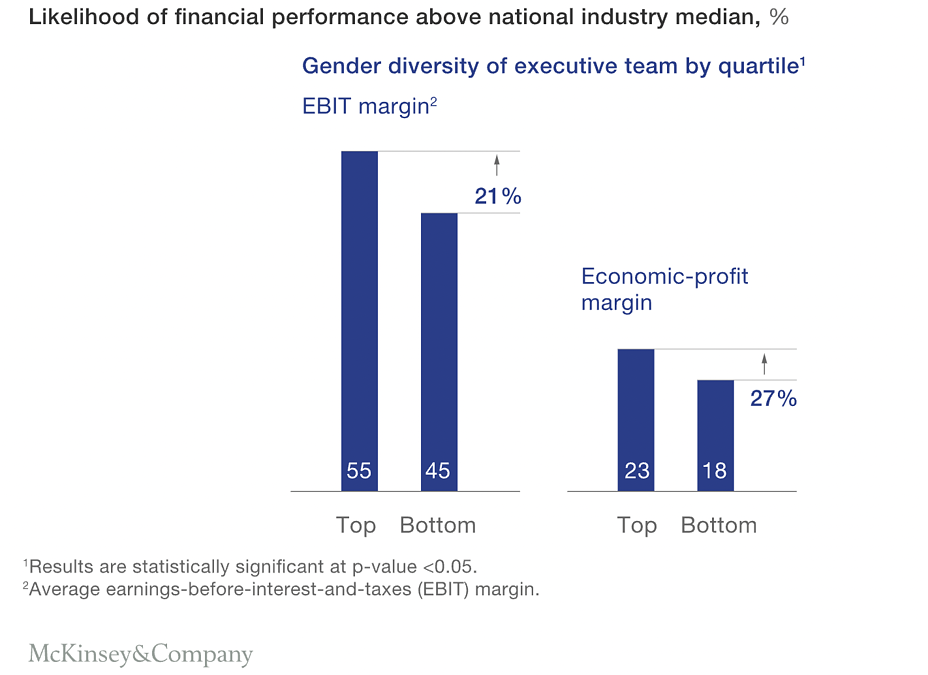 Traditional 1-to-1 mentoring is the most popular type of DEI mentoring program style, according to 38% of workers. That's followed closely by 31% who most desire 1/1 reverse mentoring. (MentorcliQ)
Companies that have racially diverse leadership teams are 33% more profitable. (McKinsey)
71% of executives choose a protégé that's their same gender or race. (Coqual)
67% of white workers who are satisfied with their career advancement have a mentor, compared to 56% of people of color. (Coqual)
Gender diversity stats
69% of women who have a mentor choose one of their same gender, compared to 82% of men. (Olivet Nazarene University)
78% of women in senior roles have served as formal mentors at least once in their careers. (DDI)
63% of women report that they've never had a formal mentor. (DDI)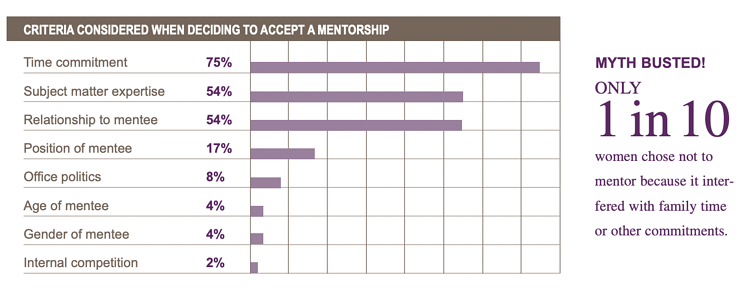 67% of women rate having a mentor as extremely important to their career advancement. (DDI)
Firms with a larger number of women serving in executive-level positions enjoyed a 6% increase in net profitability. (PIIE)
Only 54% of women report that they've ever been asked to be a mentor in their careers. (DDI)
70% of women who mentor other women report that they choose to mentor in order to be supportive of other women. (DDI)
Only 54% of women report that they've ever been asked to be a mentor in their career. (DDI)
70% of women who mentor other women report that they choose to mentor in order to be supportive of other women. (DDI)
The biggest considerations for women considering becoming mentors include time commitment (75%), subject matter expertise (54%), and their relationship to the mentee (54%). Most other factors, such as the gender of the mentee (2%) and the age of the mentee (4%) tend not to matter. (DDI)
53% of women mentees felt that they didn't have adequate training to be mentors in a formal mentoring relationship. (DDI)
Women are 10% more likely to accept a request to be a mentor if their organization has a formal mentoring program. (DDI)
Mentorship Statistics on Millennials and Gen Z
The look of the labor market is changing fast. Alight (formerly NGA Human Resources) predicts that by 2025, 42.5% of the workforce will be Millennials (aged 25-44 during that year) and that 28.2% will be Gen Z (aged 16 to 24). For Millennials, in particular, the coming decade will be critical for future career moves. Consequently, Millennials (and Gen Z) are starting to think more deeply about topics such as skill development, career development, and quality of life.
49% of Millennials are looking at quitting their jobs within the next two years. (Deloitte)
Millennials are more likely to quit because of a lack of career advancement opportunities (35%) and a lack of learning and development opportunities (28%). (Deloitte)
Gen Z strongly believes in learning, as 76% see learning as critical to their career advancement. (Forbes)
How mentorship helps your next-generation employees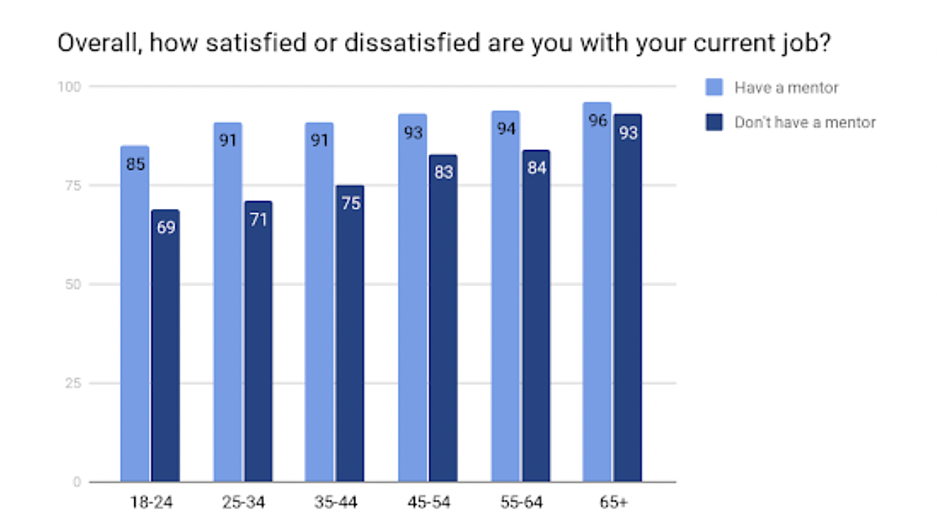 68% of millennials who stay at their organization for 5 or more years have a mentor, compared to just 32% of those without a mentor. (Deloitte)
82% of Gen Z individuals want supervisors to help them set goals. (Springtide Ressearch Institute).
73% of Gen Z are motivated to do a better job when they feel their supervisor cares about them. (SHRM)
Millennial and Gen Z workers who have a mentor are 21% to 23% more likely to report being satisfied with their current job, compared to those without a mentor. (CNBC/SurveyMonkey)
Do you need help using mentoring statistics to build the case for mentoring at your organization? Book a call today to learn more about how mentoring software can increase employee engagement and retention.
Interested in downloading the 2023 Mentoring Impact Report: Upside Trends in the Fortune 500, in its entirety? Let us know, and we will send it to you when it is released on May 1.
Request Mentoring Impact Report: Visualizing the US Fortune 500