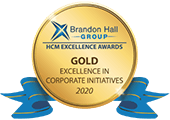 Engagement
While mentoring provided Nielsen associates with the opportunity to connect Nielsen gained significant insight as well into what associates needed. The company learned about what challenges their associates face and how to scale operations to help support those people overcoming obstacles. With this information Nielsen was able to tailor professional development opportunities to their associates, as a result, participants report a 90% satisfaction rating for the mentoring program.
Growth
Based on participant satisfaction, program success, and employee demand Nielsen expanded their mentoring initiatives from 1 to 9 within the first year. The company not only used mentoring for professional growth of their associates, they expanded it to act as a social outlet for those who were out of the office and working remotely.
Recognition
The bold initiatives at Nielsen helped them achieve their goal of enabling every associate to be included. It also earned Nielsen a Brandon Hall Gold Award for Best Diversity and Inclusion strategy for their mentoring program powered by MentorcliQ.