Veteran mentoring programs are an essential strategy for any company that hopes to attract, retain, and grow its post-military talent pool. Mentoring veterans isn't something to take lightly, either. A Syracuse University study found that 43% of veterans quit their first civilian job within 12 months. The primary reasons they're leaving? A lack of both personal development and career development.
Mentoring can help veterans become quickly adjusted to the company, its culture, and the differences in working for a civilian organization compared to a military one. In the long term, mentoring programs will help you get the most out of these incredibly talented individuals and pull them directly into your leadership pipeline.
Why Create a Veteran Mentoring Program?
If the data above wasn't self-explanatory enough, let's put that into a bit more context. First, we'll repeat the point:
43% of veterans call it quits on their first post-military job.
Depending on whose data you're looking at, those rates are only slightly higher than the average first-year quit rate of all new hires.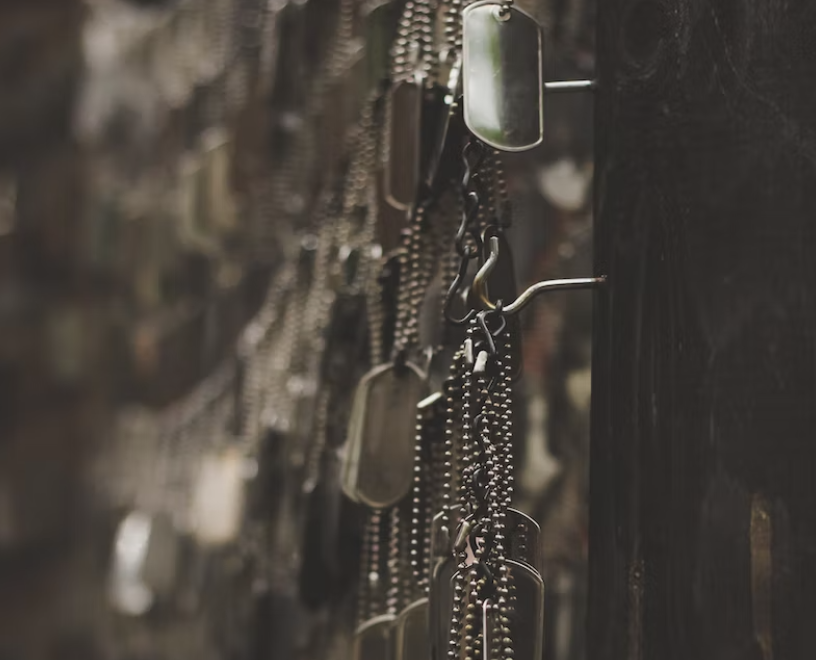 So what makes veterans different? Most companies consider veterans to be "experienced hires". Companies that are able to get past some of their hesitations to hiring veterans (more on that later) typically find that veterans are:
Uniquely suited for a large number of jobs that align with their military-acquired skillsets
Require less on-the-job training
Are incredibly well-versed in critical soft skills, like communication and teamwork
Are self-motivated, task-oriented, and dedicated to the company
Consequently, this level of experience at the outset of the work relationship results in what one researcher called the "Veteran Wage Differential". Veterans earn an average of $5 more per hour than non-veteran hires because they come into a new role with more practical experience and a wider range of hard and soft skills that have been actively put into use.
That also means that veteran turnover is going to be around 21% more expensive than an equivalent non-veteran new hire, especially if you plan to hire another veteran.
Hiring veterans is a smart move for companies that want experienced workers who can activate into their roles more quickly and with a notable level of adaptability. But turnover will cost big time you if you aren't providing the right environment where veterans feel welcomed and feel like their post-military development goals are properly appreciated and taken care of.
4 Essential Tips for Launching and Running Veteran Mentoring Programs
The great thing about veteran mentoring programs is that they don't need to be dramatically different than other mentoring programs you have in place. Still, you will want to make sure a few things are taken into consideration as you build mentoring programs that target your veteran populations.
1. Veteran mentoring programs must be respectful of their experience
Let's cycle back just a bit. We already know two things are true:
Veterans come into civilian careers with existing and valuable skillsets
Those skills are highly transferable and have been used actively
Taking this into account, your veteran mentoring program should start from the premise that these are not inexperienced new hires. Even if the role is at the junior-level, the individual veterans you hire likely have work experiences that far exceed the average junior-level employee.
Respect that experience by designing the mentoring program curriculum in a way that you would for more experienced hires. That does not mean cutting out the onboarding period completely. Studies show onboarding periods that are too short are a key contributor to higher turnover.
Instead, it means making the topics of discussion and focus areas within that mentoring program far more targeted, at a higher level, and more personalized.
2. Offer veteran mentoring groups, mentoring circles, or ERGs
Because veterans only make up a small percentage of the working population (just 7% of all U.S. adults are military veterans), you'll find that they have distinct shared experiences that can easily alienate them from their colleagues. Their experiences may make it difficult for them to connect actively with some of their peers, or it may make some of their peers apprehensive about engaging with them at first.
Creating a mentoring space dedicated to veterans will help ease their transition into working for a different type of organization and one where they're a clear minority. For this, you may want to consider large group strategies, such as mentoring groups, mentoring circles, or employee resource groups (ERGs).
With mentoring groups and mentoring circles, you can create 1-to-many or peer-to-peer mentoring opportunities that allow more experienced team members with a military background to serve as mentors. Or, you can have veteran team members meet and take turns serving as mentors within the group or circle. The same is true of ERGs, although those are more commonly less structured.
3. Don't let veteran stereotypes ruin your mentoring programs
Stereotypes about veterans in the workplace abound and are incredibly insidious. Failing to ignore them can lead to mentoring programs that don't properly serve the needs of your veteran employees. Here are some common veteran stereotypes you'll need to learn to avoid:
Veterans are more likely to suffer from PTSD and only need mentoring programs targeted to mental health.
Veteran PTSD can cause them to lash out unexpectedly and violently at the workplace, especially when under stress.
Veterans are not well educated and need additional training.
Veterans don't have requisite and transferrable skills suited for civilian jobs.
Veterans don't take initiative on projects and aren't self-motivated without direction.
Veterans won't contribute to the company culture or will have difficulty fitting in with the company culture.
There are certainly more, but these job-specific stereotypes often lead companies to limit their hiring of veterans or treat veterans differently after they are hired. If these stereotypes persist across the organization, it could also lead to ineffectively designed mentoring programs and mentors within those programs whose perspectives are improperly colored by such stereotypes.
Training mentors to avoid biases is just one step. Another step is to make sure your entire approach to mentoring is built on a positive understanding of who veterans are and what they can do for your organization, not on assumptions, biases, or stereotypes.
4. Engage veterans using something familiar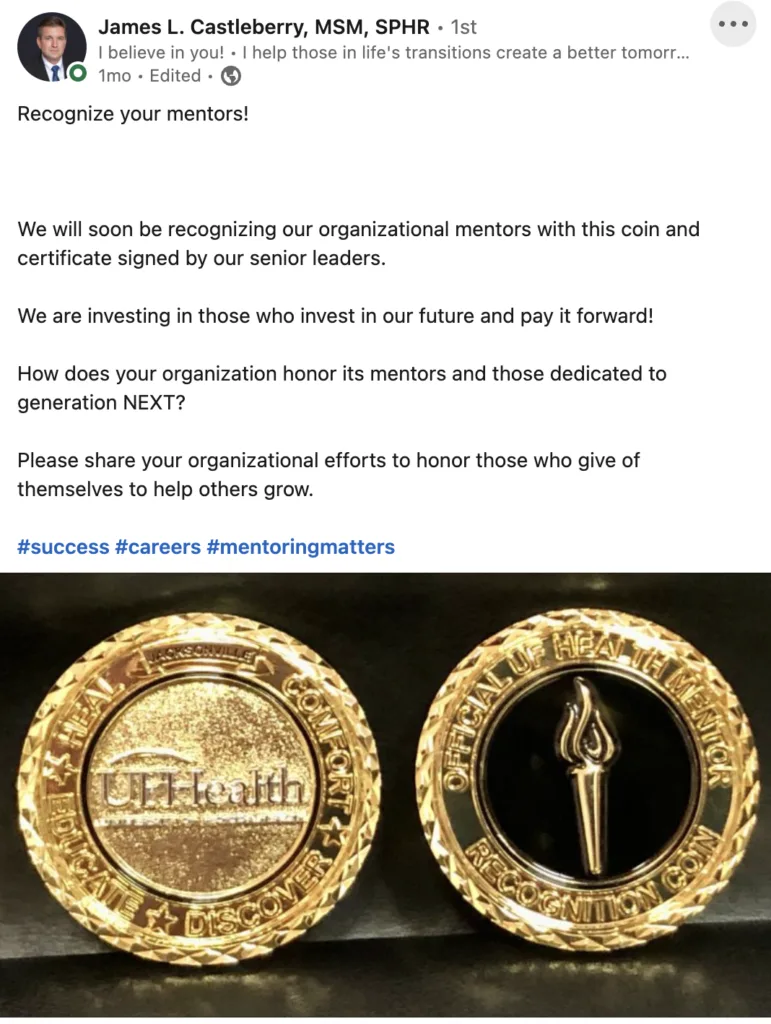 All great mentoring programs incorporate familiarity into the program to boost engagement. It doesn't matter if you're running a leadership development program, women's mentoring program, reverse mentoring program, or onboarding program.
For any program to be successful, both the program structure and the mentors should focus on interactions that lead with familiar elements to help mentees feel more comfortable in the relationship and excited to engage.
Consider this best-practice idea from James L. Castleberry, the Organizational Development Specialist for the University of Florida Health Jacksonville. Castleberry (a U.S. Navy veteran himself) launched an engagement initiative for his organization's mentoring programs that uses challenge coins to recognize mentors who embody the spirit of mentoring and get results. You can see more about it in the image below, or visit this link to the LinkedIn post.
UF Health's strategy of using challenge coins to engage its mentoring program participants easily speaks to the experience of veterans—not surprising, with a veteran leading the mentoring program initiative! It's familiar, but also accessible and interesting for anyone.
It also serves as a good talking point to help veteran and non-veteran mentoring participants connect on an interesting piece of military tradition.
Don't Stop at Launching; Measure Mentoring Program Success
Creating mentoring programs is an excellent strategy that helps build connections, skills, and career paths for your veteran workers. It also does this in a far more personal and organic way. Companies using MentorcliQ's mentoring software see an average 50% reduction in turnover for mentoring program participants, as well, meaning your approach to veteran mentoring programs should include an eye for data.
Once you get those high-value and high-skilled veterans in the door, get them engaged in a mentoring program that works for them and is designed for their unique needs. But also, make sure you take the next step of measuring your mentoring programs to ensure that your mentoring strategy properly aligns with your organization's business objectives and that you have the right tools in place that give you measurable and provable data.