Ready Your Mentors with Mentor Training
Great employees and leaders do not always equal great mentors. Even the most successful employees need guidance and training to become successful mentors. At MentorcliQ, our customers find that mentors who are properly trained are more engaged and inspired in their mentoring relationship.
We know that mentoring works better than any other learning solution because it is an extended learning opportunity. To be successful, even the best and most seasoned mentors need training and guidance so they are ready to empower others and create a positive learning experience for both parties. Mentees need to feel like they have accomplished their goals and have a clear path forward and mentors need to feel as though they are part of that accomplishment.
So, why train your mentors? Intentional mentor training will hone the behaviors that create a successful mentoring relationship and increase your mentors' effectiveness. This provides a positive feedback loop between the mentor, mentee, and organizational goals. When mentors are effective in the relationship, mentees can achieve their goals, accomplish more, and hopefully they, too, will want to be a mentor in the future. Also, when your mentees accomplish more, your program reputation will increase and your organization will see an increase in positive end results. This will help you continue to support a long lasting scalable program with sustainable wins for your organization.
Like mentees, mentors need to feel confident, prepared and know that they have the tools to be successful in the partnership. When first starting out, mentors can usually be divided into two groups. The first group consists of those who are enthusiastic and passionate about mentoring, yet lack tenure and may not yet have the skills needed to help their mentees be successful. The second group has a long legacy of leadership development but may lack the confidence as a mentor, as they are not sure they have much to offer. Both groups bring unique experience and insight to the table but need the opportunity to grow the behaviors that will create positive change in a mentoring relationship. They need the confidence to be ready for the important job of mentoring.
We distilled the critical skills that mentors need to create quality conversations that enhance their mentees and help them learn. The following six skills will equip your mentors with the tools, ideas, and intentionality to master the art of mentoring and increase positive outcomes for their mentees.
A successful mentor needs to be able to:
Quickly build trust
Set expectations and boundaries
Create realistic developmental goals
Adapt their communication
Celebrate accomplishments
Maintain learning momentum
At first glance, this may seem like overly basic information and many mentors will say that they already possess these skills. There is often a disconnect between a mentor thinking they have the skill and effectively using the skill with the mentee. For example, let's look at 'building trust'. Pretty much any mentor we talk to will say that they are trustworthy. While this is undoubtedly true, this declaration does not directly translate to the mentee automatically trusting their mentor. Rather than just telling your mentors to build trust you should help them understand how to actually do that by educating them about trust building behaviors, such as honoring commitments, being fully present during meetings or maintaining positive body language. Skills like these will help the mentor not only build rapport with the mentee, enabling them to learn and grow, but also help the pair alleviate some of those awkward feelings during the first meeting.
Another situation to consider is when it comes to setting developmental goals. Many mentors are already versed in setting SMART goals and may encourage their mentee to do the same. However, this may not be helpful, especially if the mentee does not have the knowledge to set these goals themselves. Equipping the mentor with the tools to gently guide the mentee when setting vision-focused goals will help in this situation. When goals are vision-focused, driven by the mentee, descriptive, built on performance or behaviors, and set up as attainable milestones, they are more likely to be achieved and change behavior permanently. In this case, the mentor is helping to provide the why and the how behind a goal, which sets the relationship up for success.
These are just a few of the ways that you can take the six critical skills and help your mentors set up a relationship for success. Interested in elevating your mentor training? MentorcliQ's MentorLab is designed and facilitated by jennlabin, author of Mentoring Programs That Work and ATD Master Trainer. Contact MentorcliQ to learn more about Mentor Training.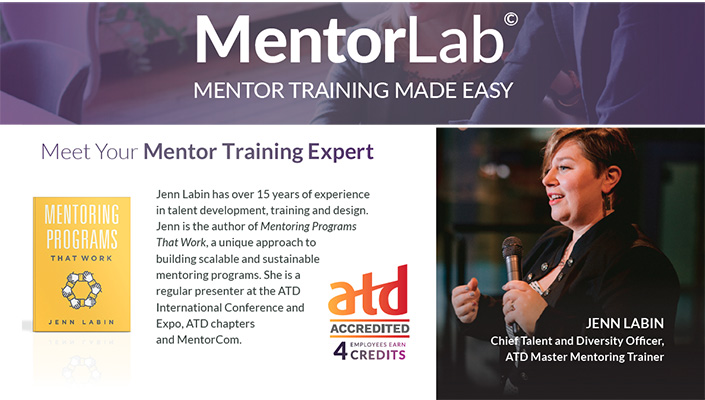 Are you ready?
Do you want to see how mentoring programs powered by mentoring software can help your mentoring program take off?
Connect with MentorcliQ to learn more.