How to Build a Mentoring Program for Successful Onboarding
The first pillar in MentorcliQ's unique Strategic Mentoring Framework shows targeted programs in Career Development aimed at helping an organization address the employee lifecycle. Career development mentoring programs are a great place for organizations to start as there is a clear line between program return on investment (ROI) and the retention, engagement, and mobility of an employee whose professional and personal growth and success was supported by their organization.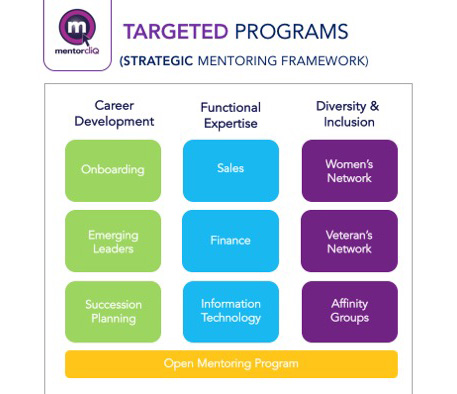 Onboarding is often implemented as one of the first career development mentoring programs because (other than being the first stage in the employee lifecycle) many companies experience an uptick in employee turnover around the 6 month mark, with rates being as high as 50% within the first 18 months of employment. According to a Gallup poll, only 12% of employees surveyed felt that their organization had an effective onboarding program in place. Why do new employees leave? Usually, a misalignment between what role they thought they interviewed for and their actual day to day workload. Not only does this new hire turnover lead to lost productivity but added costs involved in replacing the employee that was just hired and trained can be detrimental to businesses.
Since organizations invest time and effort to attract and interview top talent, they have a vested interest in retaining their new hires, highlighting the need for an effective onboarding program. Why is mentoring in an onboarding program important to new hires? This will be the first introduction that your employee has to the organization. The program will give your employee a step up on becoming productive and integrated as quickly as possible while giving them realistic expectations for the job that they signed on for. By providing a formal experience, you can increase engagement, job satisfaction, and performance of your new hire.
Other benefits of an onboarding mentoring program:
Quicker alignment to company culture, values, vision, and mission
Help navigate the written and unwritten rules helping the employee feel more connected with their team
Understand performance expectations and monitor progress towards goals
Connect new employees to staff with similar roles, professional trajectories, or institutional knowledge
Help new employees connect with the organization by connecting with an actual person in your organization
Your onboarding program will pair new hires with an experienced colleague to help them form better relationships and provide tools and resources to gain greater insight and comfort around expectations for their job. Ultimately, this leads to higher productivity for the company and increases your chances of retaining the new employee as close connection with someone who has an interest in their success at the company greatly increases the likelihood that the new employee will stay on. How do you ensure success in your onboarding mentoring program? Here are a few tips to get you started:
Enroll new hires immediately:

By having enrollment in the program happen on the first day, you are immediately setting your new hire up for success when being acclimated to their role and company culture. This is an important first step in your onboarding process for entry level as well as senior employees.

Build a trusted mentor pool:

Have a list of mentors across your organization that spans departments and hierarchies. Having a diverse pool of mentors to choose from will ensure you match your new hire to the best mentor for their role. Your onboarding mentors should be on-call and ready to welcome the new employee to the team. If finding these mentors is a challenge, ask colleagues to nominate each other.

Provide structure to the program:

Having a detailed curriculum with guides around expectations, communication, milestones, and an overarching onboarding goal. This will set the mentoring pair up for success as it helps guide the mentor so they are not blindly leading and sets job expectations for the new hire early.

Measure program success:

Since the overall goal is to retain new hires and keep them engaged you should spend time evaluating if the program is effective in reaching those goals and that participants are satisfied. Tracking retention and satisfaction will help keep support for your program by demonstrating ROI as well as help you address any minor problems with participants before they evolve into major issues.
Looking for more? Check out our 8 tips to build a successful mentoring program or Connect with MentorcliQ to see how mentoring programs powered by mentoring software and our framework can impact and improve your employees.