Mentoring within an organization tends to happen in two ways within an organization: organically or inorganically. Organic mentoring will happen whether you want it to or not. People naturally create mentoring relationships. But organizations can (and should!) have more visibility and control over mentoring. That starts with mapping out what mentoring should look like. Creating a strategic mentoring framework is precisely where you may want to begin.
That said, you may have no idea what a mentoring framework should even look like. It could also get incredibly complicated if you're an HR leader or talent development specialist in a matrix organization, which is a monster in and of itself. In this post, we'll help you build the right foundation for your mentoring program strategy with a framework that considers your mentoring needs.
What Is a Strategic Mentoring Framework?
First, let's start with the basics: what in the world is a mentoring framework, anyway?
To answer that, let's think about a house.
When you build a house, you start by laying the foundation. From there, you create the skeleton structure that you'll use to build the walls. That skeleton structure is the house's framework. Every house has that framework upon which it's built and without which it would fall apart.
Now, let's consider a framework in the context of learning and development.
In the context of L&D programs, a framework outlines the core design of your learning and development strategy. The purpose of a framework is to provide a coherent structure that can be used to guide the design, delivery, and evaluation of learning experiences.
With this added context as a backdrop, a strategic mentoring framework is a visual structure you use to establish your mentoring programs. The easier it is to understand, the easier it will be to get executive leaders on board, as well.
Mentoring Frameworks in Action
Talented HR leaders (like yourself!) who are in charge of creating strategic initiatives have several tools at their disposal. One of these is the 9-box grid, which SHRM defines as a tool that "evaluates an employee's current and potential level of contribution to the organization" and is "most commonly used in succession planning as a method of evaluating an organization's current talent and identifying potential leaders."
MentorcliQ has developed a unique version of the grid with 10 sections that we call our Strategic Mentoring Framework. This framework is a user-friendly way to help companies identify which employee population they want to engage and where to go next with their mentoring initiatives.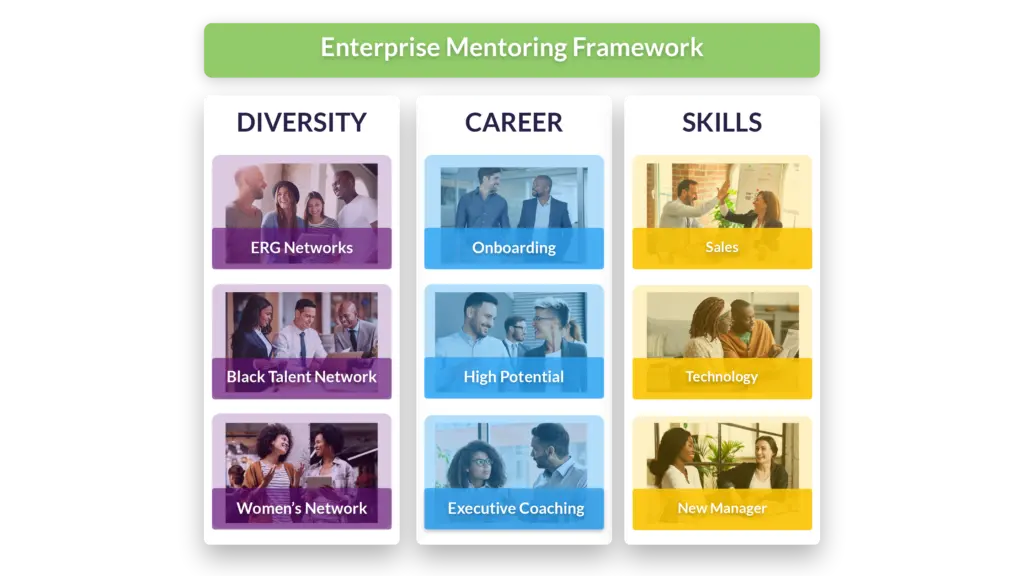 Our mentoring framework provides immediate value for organizations in a couple of different ways:
New Talent Management Strategy:
A visual way to prioritize the needs of an organization and identify a starting point for building a mentoring culture.
Existing Talent Management Strategy: A visual way to organize the different purposes of learning within your organization
This framework establishes how an organization can effectively structure its enterprise mentoring programs in a logical way for stakeholders.
The diversity pillar
First up, you see the diversity pillar. Within this pillar, can place any type of program that serves your organization's DEI needs. This can include but is certainly not limited to programs such as:
Most organizations have mentoring programs that hit on one or more DEI goals and impact multiple different communities within the organization.
Additionally, note that we've highlighted ERGs as falling within an Enterprise Mentoring Framework instead of being separate or distinct from it. That's because ERGs can play a distinct and vital role within the mentoring framework. Many companies leverage their ERGs to build their mentoring programs, including matching within the ERG or creating matching rules that include ERG membership as a criterion.
The career pillar
Next, take note of the career pillar. This pillar includes programs that match the needs of employees at specific points in their career and pairs well with companies trying to add more visibility for a career pathing model. This is where you will find and place programs such as:
We even have some clients who offer Sponsorship Programs. Career pathing is one of the most in-demand needs among workers right now. Having a clear, visible, and understandable mentoring program framework that includes a career development pathway will go a long way to helping you retain employees long-term.
The skills pillar (also known as functional expertise)
Finally, take note of the skills pillar. This is the pillar where you'll place mentoring programs designed specifically to help employees connect with domain-level experts at your organization who can help them boost their skills in different areas. You can also consider this the functional skills pillar or the functional expertise pillar.
This is the area that will be very top-of-mind for your employees, as it's the area that's immediately and relevant to their day-to-day ability to succeed at work. It's also an area where the data effectively points to a strong need by both employees and employers.
The issue can be summarized in the following way:
This is seemingly a problem that can solve itself. Upskilling your existing talent reduces your reliance on finding outside hires. Additionally, adding a skill development strategy allows you to hire applicants who may not have all of the needed skills but who show an aptitude for learning those skills.
Matching Strategies within a Mentoring Framework
Each pillar is designed to facilitate a number of participant matching styles based on the program goals.
1:1 Mentoring
This is probably the most familiar approach to mentoring, where two people share in a mutually beneficial, social learning relationship to increase skills, confidence, or connectedness of the mentee. The pair can be from same or different backgrounds, departments, geographical locations, and organizational hierarchies, so building trust at the beginning of the relationship is crucial.
Group mentoring and mentoring circles:
This style is a peer-to-peer mentoring group (typically 4-6 people) who share a common learning area or developmental goal and work together to achieve their set objectives. It's recommended that a group be led by a mentor, to keep the group on track with their goals. Circles can be a good choice if there is a limited number of mentors available.
Blended:
Any combination of the above mentoring styles that helps connect employees in the workplace while meeting the goals set forth by the program would be considered a blended program. Many organizations choose to do this with their mentoring programs.
Whether you are starting a program for the first time or figuring out what is next, our Strategic Mentoring Framework can help you identify and prioritize talent needs, collaborate with internal stakeholders on the next initiative, and demonstrate need and value to program sponsors.
Are You Ready to Get Strategic?
Dive deeper into some of the programs listed above, or take a look at our 8 tips to build a successful mentoring program.
Ready to get started with your mentoring initiative? Connect with MentorcliQ to see how mentoring programs powered by mentoring software and our framework can impact and improve your employees.