Companies that aren't offering effective and clear career pathing may continue to struggle with high turnover. Mentoring is taking center stage in 2022 thanks to a few notable trends directly connected to the Great Resignation. Quit rate data published by the Bureau of Labor Statistics in January of this year indicate the Great Resignation will persist for the foreseeable future. Meanwhile, previous surveys reveal exactly why workers are quitting and what employers can do to help convince them to stay. Companies should be focusing on:
Paving career pathways for new and tenured staff
Of these, paving career pathing s is one of the easiest retention strategies companies can establish. Mentoring programs can help organizations leverage their existing internal talent networks in ways that help workers quickly visualize their career pathway, set goals, and find career mentors who can help guide them in the right direction.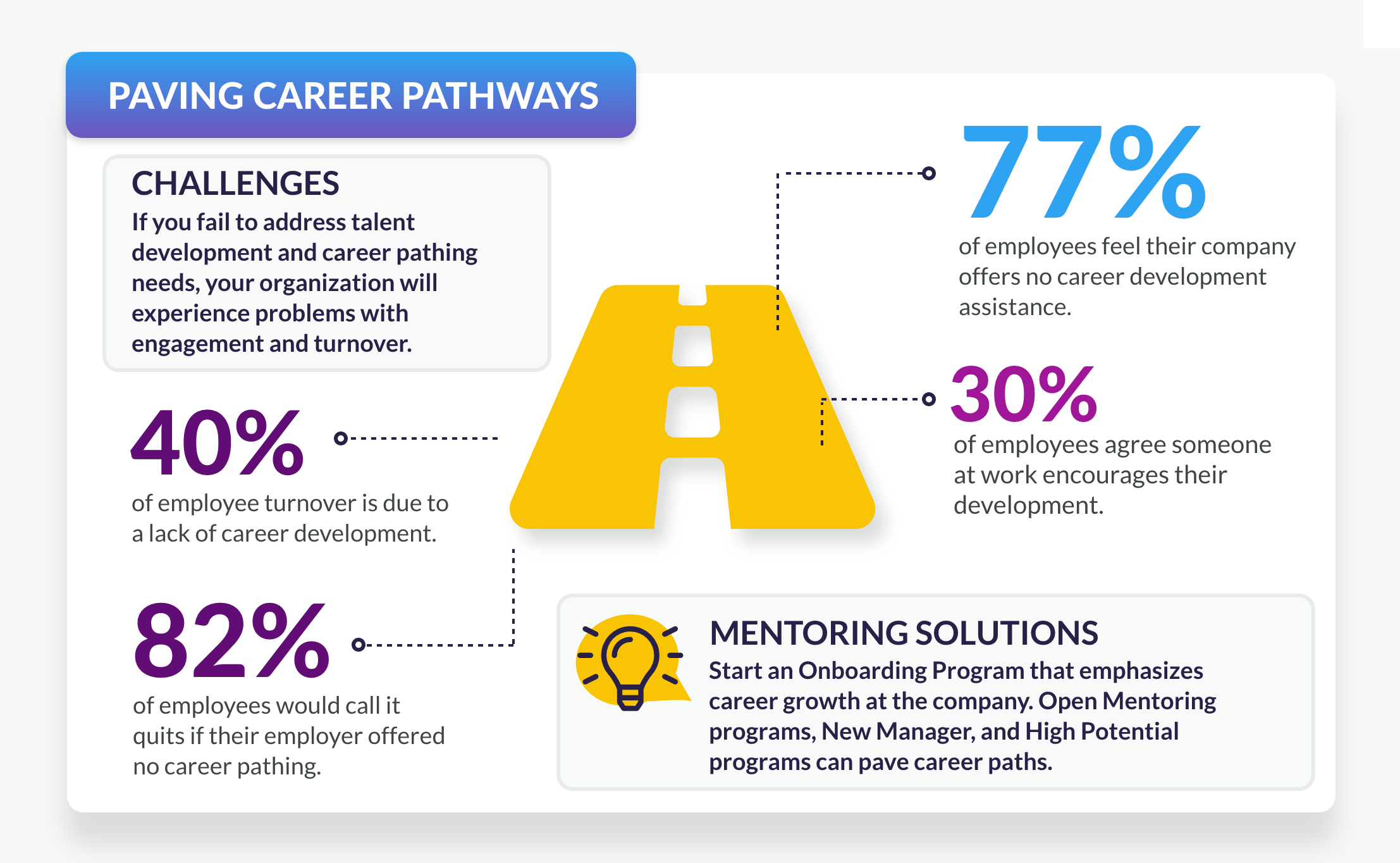 Workers Want Help with Career Pathing
Are you providing your team members with career development? If you said "yes", chances are your workers feel different. More than 3 out of 4 workers believe their company has left them to figure out career pathing on their own. That's a stat that could feel personal for any HR or learning and development leader who's spent time, effort, and energy into development.
As workers get deeper into their careers, it appears they become less and less sure about how to best move forward. Far too often, they assume that their best move for career development or advancement is to find another job with a different employer. A lack of visibility from their employer on what development opportunities exist helps fuel this kind of turnover.
Is it any wonder, then, that 40% of employee turnover is specifically due to a lack of career development offered by employers (or, again, a lack of visibility of available options)? Or that 82% of workers would call it quits if their employer offered no career pathing? Workers desperately want your help understanding how to best move their careers forward.
Especially as a result of the pandemic, people want their life to have more meaning. Most of us derive part of our life's meaning from our work. If we can't see a future in their career with our current employer, we'll do the obvious thing: Look for an employer that provides not just the space but also the resources to grow.
Your People Are Your Best Career Pathing Resource
When possible, it's a great idea to offer new hires a roadmap for what a career at your company can look like. Visual guides are always useful, but your efforts shouldn't end at new hires a career path slide deck. You'll also need to offer them access to more senior-level team members who can help them better understand what it takes to hit each new level within your organization. For that, mentoring is your best solution.
Only 30% of employees agree that someone at work encourages their development. That's incredibly low, especially given how many workers are willing to quit to pursue career advancement opportunities. However, skills-based mentoring programs, reverse mentoring programs, and open mentoring programs (among many others) create the structure workers need to connect with and build the type of relationships where real career development occurs.
As we head into 2022, organizational leaders may want to do a self-assessment on career pathing and career development.
Do you offer clear career pathing to all workers?
Is your career pathing properly visualized?
Do your workers have opportunities to develop the needed skills, practices, or experiences necessary to achieve their career goals?
Can they easily locate and connect with others in your organization who may be able to help mentor them along the way?
Career pathing is now a necessity for most workers. And that means streamlining the process for understanding and developing a career path falls on the shoulders of employers who want to reduce their employee turnover.
We offer some additional insights into this in our 2022 Workforce Survival Guide, but you can also see how mentoring can help solve this critical problem by booking a demo.