Employee resource groups are voluntary experience or interest-based groups that exist within organizations or businesses. Often called "ERGs" for short, companies worldwide have begun recognizing the value in allowing employees to start these groups independently or in creating these groups as a business initiative.
Having ERGs directly impacts employee retention, participation, and productivity. In today's tight labor market, having ERGS is an increasingly important strategy for attracting and retaining talented professionals. It also aids in supporting diversity, equity, inclusion, and belonging (DEIB).
While you've likely heard of ERG, seen them at organizations in the past, or even participated in them yourself, it's a whole different ballgame if you're trying to launch them at your organization. Learn more about its key benefits and how you can deliver organizational support for the employee resource group.
What Is an Employee Resource Group (ERG)?
An Employee Resource Group (ERG) is an employee-led group that promotes a sense of inclusivity within your organization by fostering a community for people of all ethnic backgrounds, races, gender, ages, and more. The need to create greater meaning and uplift the voices and presence of historically marginalized employees at work is a hot topic in the workplace, and the formation of ERG programs is a great way to address that.
At their heart, ERGs are all about DEI.
If fostering an inclusive work environment is not a top priority for your company, it should be. An overwhelming majority of workers — 80%, according to a CNBC/SurveyMonkey survey on DEI — want to work for an organization that values diversity. Diversity is not just a feel-good initiative or an appeasement strategy for disengaged workers. Numerous studies show that effective DEI programs lead to better profitability. Among the many ways to you improve diversity, equity, and inclusion at your company, Employee Resource Groups (ERGs) are a great way to start.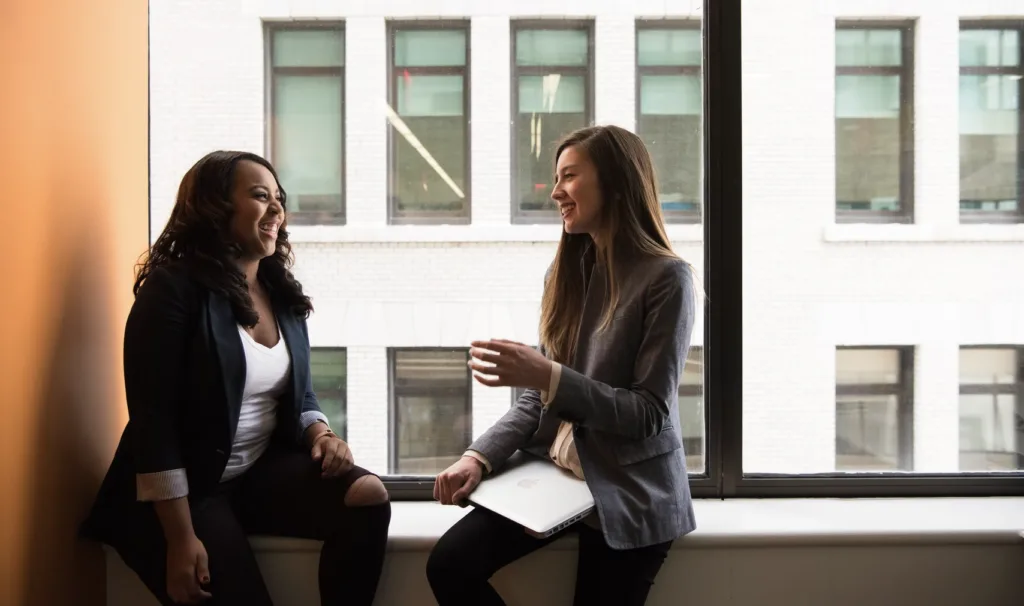 Through Employee Resource Groups, you can empower your employees to find meaning and connection. Both ethnicity-based and affinity groups allow workers to connect, engage, and grow in spaces that encourage personal growth and culture-building within your organization.
As a program, an ERG is when employees take the lead and initiative to get group members to find a voice in the organization and get leadership development opportunities, personal and professional development, financial support, and other forms of benefits for the ERG members. On that end, ERGs are not just "social clubs". Their essential and effective professional development groups that are structured are thematically based on creating a more cohesive and safe culture within the group.
Did You Know: Disconnected and disengaged employees are dangerous to your bottom line. You can fix that problem with ERGs that are trackable and scalable. Book a Quick Demo to learn how MentorcliQ powers up ERGs to ensure everyone wins.
Types of Employee Groups
There are many groups that you can form that support a diverse and inclusive culture at work. However, here are common examples of characteristics that form an ERG program:
Nationality
Race
Socioeconomic status
Gender or sexual orientation
Religion
Age or parental status (such as working or single mothers)
Demographic characteristics
Other shared interests
An ERG program creates the opportunity to foster support from the executive sponsor and to develop an inclusive company culture. The development of an inclusive environment for work can only do good for the company as a whole. The goal is to narrow down the focus for each group to ensure that those who are underrepresented achieve a collective voice.
Through that collective voice, the inclusion initiatives will be made stronger, and there will be enough programs that are available among the group members. It is a way to spread awareness for creating visibility for marginalized groups and recognize their contribution to the company's goals. It is a means to reduce workplace discrimination, although its benefits extend far beyond that.
Why Do You Need Employee Resource Groups?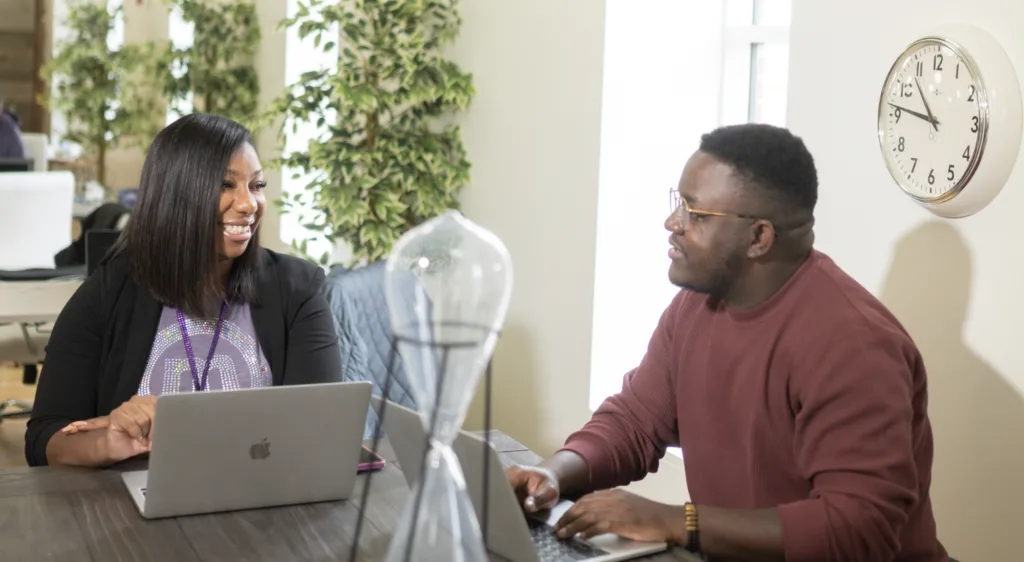 The simplest and most compelling reason to establish employment resource groups ERGs is to empower employees. It is also designed to build an inclusive workplace wherein employees feel safe and supported.
As part of an ERG, underrepresented employees work together to build a strong community. The ERG program initiative brings to light the concerns and needs of the employees so that the organization's senior leadership and HR leaders can develop policies that benefit them as well as support those needs. The company leadership will be better informed in workforce planning to ensure that you build an inclusive culture for your employees.
However, the purpose of an employee resource group is not limited to enforcing or inculcating company-wide policies. It is also important in boosting employee engagement and supporting your employees' quest toward their career and personal goals.
An ERG is, therefore, an important tool for a company because it serves many functions, such as the following:
It provides a platform for underrepresented employees to have a collective voice and be able to share their concerns and needs.
It allows employees who belong to the same group or who identify with each other to connect, show support to one another, and feel empowered in return. It is also a great way to achieve organizational support.
It helps to spread awareness about how the unique characteristics and needs of employees that belong to the employee resource groups intersect with existing issues within the workplace.
It makes your staff more culturally aware and instills an inclusive company culture.
It creates a positive work environment, which is an effective way to increase productivity.
It provides a platform for learning and provides employees with access to essential resources that foster personal and professional development.
It helps to identify the full potential of every employee as long as they are given equal opportunities to grow and showcase their skills. It also helps with improving your talent acquisition approach.
Offering an ERG (or several) will allow your business to grow in new ways by encouraging underrepresented groups to make a positive influence on your company culture moving forward. Once people feel connected and protected by the organization they work for, they're significantly more likely to participate in the majority culture and work toward the success of the organization.
Benefits of Employee Resource Groups
What benefits do employees gain from an employee resource group? Here are some of them:
It makes employees feel heard.
It provides a platform for creating visibility for underrepresented individuals and minorities.
It encourages members within the group to support one another.
It expands an employee's professional network.
It gives employees access to development opportunities. ERGs support learning so that employees can take on higher roles. It is an avenue that can help you build future leaders.
It can promote an understanding of different cultures.
It can serve as an advocate for change within the company culture. In turn, you can attract a diverse workforce, especially during talent acquisition.
In many cases, ERGs are the only space workers have to discuss shared experiences. This can help uncover subtle and persistent biases in the workplace that have resulted in few women and minorities moving into leadership positions. that may exist within their organization or industry and that have historically prevented minority workers from advancing their careers.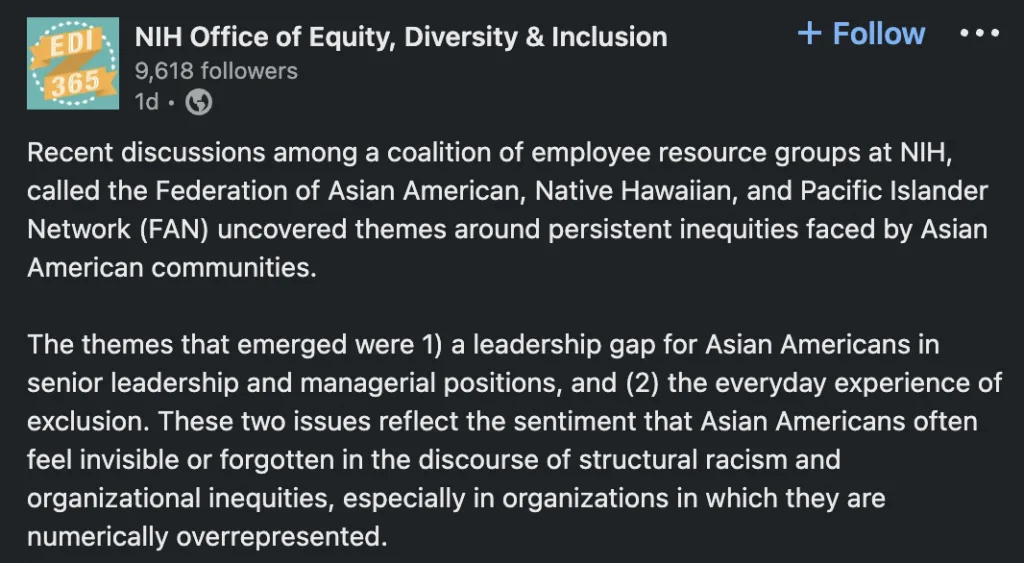 An example of ERGs in action occurred when the Federation of Asian American, Native Hawaiian, and Pacific Islander Network (FAN), a coalition of ERGs within the National Institutes of Health, published research on inclusive workforce practices which made two important observations:
Asian Americans are notably underrepresented in senior leadership and managerial positions within the organization
This group experiences exclusion on a daily basis
While this work may have been possible even without an ERG, the NIH supporting ERGs removed communication barriers that historically exist, allowing for its ERG members to both uncover and collaborate on research to identify hidden biases impacting their quality of life and career advancement.
How to Start an ERG
There are no hard and fast rules on how to build an employee resource group. If your employees are planning to start one, you may want to know how you can support them. And if you are trying to start one for your employees, you may need some guidance on best practices for launching ERGs. Here are some tips to guide you through the process.
Step 1: Make sure your ERG initiatives are aligned with your organization's long-term goals and objectives
Employee resource groups ERGs are developed to empower employees and to provide representation for the underrepresented groups in your organization. ERG members might have their personal goals about what they want to achieve based on their commonalities and distinctive characteristics.
For example, working parents' ERGs would like additional support from their employees and HR leaders on policies that benefit their socioeconomic status. Meanwhile, those who belong to the ERG for young professionals or workers early in their career may request equal opportunities for leadership development and career development, such as reverse mentoring programs.
Despite the unique needs and concerns of the group and its members, it is important that the purpose of the group should be aligned with the overall goals and mission of the organization. That said, your organization should avoid trying to have complete executive control over what the ERG members do and say within the group. That defeats the purpose of an ERG, which is to serve the collaborative needs and interests of the ERG members.
Ultimately, an ERG is designed to reduce turnover by increasing employee engagement. An ERG with too much executive control and oversight is counterproductive.
Step 2: Get executive support
The only way for employee resource groups to succeed is if you get support from the executive and senior leadership. Building a company culture around inclusion and diversity should be instilled from top to bottom. It should be part of your core being as an organization and as individual employees.
As an individual seeking to launch ERGs at your organization, whether you plan to participate in it or create it for the benefit of others, it is your responsibility to present the key benefits of building this group to the executive sponsors. Your pitch to executives should include the following:
How the ERG aligns with business goals and objectives
External data showing the benefit of ERGs
Internal data showing support for the ERG from your colleagues (including the potential number of participants)
Support from at least one other executive (your executive sponsor)
Keep in mind that the executive teams will provide financial support and other forms of support to ensure the success of your group. Gaining their interest and buy-in for the program is critical to making it happen. While it's possible to create an ad hoc ERG without executive support or sponsorship, it's always better to get that support and get executive teams on board.
Step 3: Put together your ERG team
ERG roles and responsibilities will need to be clearly established before the program launches. And because the program is voluntary, you may want to set aside financial resources for those taking on the extra work of running and managing these programs.
Some companies even pay someone to lead an ERG team. We recommend you build a team internally — through your existing employees. Recruit employees that are from underrepresented groups, and you can encourage them to identify their benchmarks for the group, as well as their goals and action plan.
It is a great strategy for encouraging interaction among employees so you can foster a good working relationship and provide a platform for your diverse employees.
Step 4: Define ERG leadership roles
With your ERG team in place, decide on what leadership roles will exist within each ERG. You could take a page out of the standard "group dynamics" playbook and use some of the following leadership roles:
Chairperson: This is the individual who leads the ERG and oversees all of its activities.
Vice-Chairperson: This person is responsible for assisting the Chairperson and stepping in when needed.
Communications Lead: This individual is responsible for managing the ERG's communications, such as newsletters, social media, and email updates.
Events Lead : This person is responsible for organizing and coordinating events, such as guest speaker sessions, community outreach, and networking opportunities.
Membership Lead: This individual is responsible for managing the ERG's membership, including recruitment and retention efforts.
Mentorship Lead: This person is responsible for developing and implementing mentorship programs within the ERG.
Education and Training Lead: This individual is responsible for identifying and providing educational opportunities for ERG members.
Diversity and Inclusion Lead: This person is responsible for promoting and advocating for diversity and inclusion within the ERG and the wider organization.
Fundraising Lead: This individual is responsible for developing and executing fundraising strategies to support the ERG's initiatives and activities.
Volunteer Coordination Lead: This person is responsible for coordinating volunteer efforts and ensuring that all volunteers are trained and supported.
Of course, if your ERG is small, you may find that you're not going to need this many ERG leadership roles. You may also find that many of these roles fall on one person wearing many hats.
We recommend that you don't just copy/paste these roles. Make it fun. If you have a brand voice or a unique theme for your ERG, play around with the leadership role titles. Make them your own!
Step 5: Deploy the Employee Resource Group program
Once you have established the ERG initiatives and you have recruited potential members, it is now time to execute your action plan. It is important that the members facilitate meetings regularly to address workplace needs and issues promptly and to alert the organization about necessary changes or other policies to implement as they arise. Proper communication is crucial in the effective deployment of employee resource groups.
How Cardinal Health Advances ERGs with Mentoring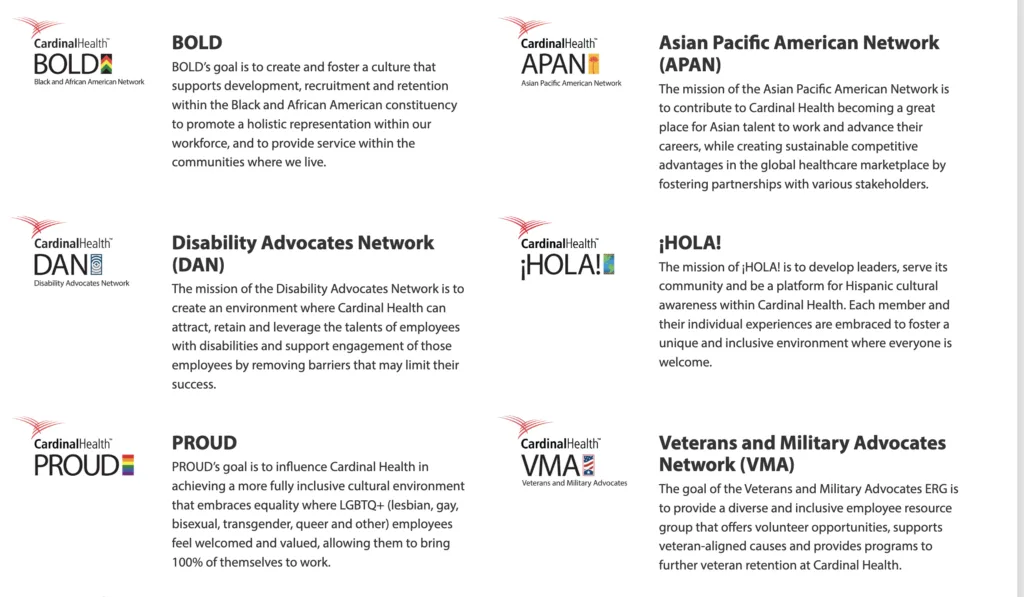 Companies that launch Employee Resource Groups (ERGs) often have trouble attracting team members to step into voluntary leadership roles within those groups. The time investment is one of the biggest pain points that cause people to hesitate in taking on ERG leadership roles.
Launching and running successful ERGs requires time and effort. And if you plan to make those ERGs more impactful by introducing programming such as mentoring, that is going to increase the time investment required for ERG leaders.
Cardinal Health is committed to finding practical solutions to these challenges because they know the value ERGs bring to an organization. The company has seven ERGs with over 1,000 active mentoring participants across these groups. Five years ago, its Women's Impact Network (WIN) started introducing intentional mentoring into its objectives, and over the past few years, more ERGs have followed its lead.
How did these volunteers find the time? The solution was mentoring software.
Manual matching can quickly take over an hour or more per participant. With so many participants, this became a tough ask for ERG leaders who were already volunteering a large amount of their time and energy.
Using MentorcliQ's SMART Match tool, Cardinal Health was able to save its ERG leaders time, over 480 hours, by reducing matching time to one second per match.
Cardinal Health prioritizes creating an environment where employees feel engaged, supported and connected, so they can perform their best and better serve their customers.
Employee Resource Groups paired with mentoring capabilities help drive employee engagement and development, leading to better business outcomes and customer value.
Challenges of Running Effective ERGs
Developing Employee Resource Groups will not be an easy and smooth ride. There will be some challenges along the way. Make sure you are aware of the potential challenges that you might face so you can prepare for them.
Determining what 'success' means
The members' definition of success varies, which makes it challenging to build a cohesive effort in working towards the company goals.
Believing an ERG solves all DEI issues
Building an ERG might give you a false sense of security that you've addressed the issues of workplace discrimination or lack of inclusivity in the workplace. Take note of the NIH study mentioned earlier on Asian American underrepresentation in leadership positions, for example, or a Gallup study that shows 25% of Black workers feel discriminated against at work. Just creating an ERG won't solve all of your workplace DEI issues.
Believing an Employee Resource Group solves all engagement and inclusion issues
ERGs are only one of several employee engagement strategies you should use. They're also not likely going to be the first strategy you should roll out to boost engagement. After all, why would employees who are already disengaged want to interact with an ERG at all, especially if it's organized and run by the company ERGs will help boost employee engagement and reduce turnover, but only when they're part of a larger engagement strategy that includes other complementary tools, such as mentoring programs.
Launching ERGs without a budget
A lack of a budget can cause your EGR initiatives to suffer, especially when there is a lack of financial support from the organizational leaders. Organizing and running an ERG takes time out of the schedule of whichever individual is leading it. While that individual may have some deep personal interest and benefit significantly from the role, an ERG ultimately comes back to serving the needs and interests of the organization.
The pay structure will look different across organizations. LinkedIn, for example, pays its ERG co-chairs $10,000 per year. That may not make sense for your organization, but some annual stipend for the role will likely be necessary, along with rewards and thoughtful company gifts.
Feelings of exclusion and confusion
Employee Resource Groups are inherently exclusive. They're intended to be, as they're designed to be spaces where individuals with shares backgrounds and interests can meet and discuss relevant topics in a safe space. However, both those within those ERGs and those outside of those ERGs may feel excluded.
There are a few solutions to this: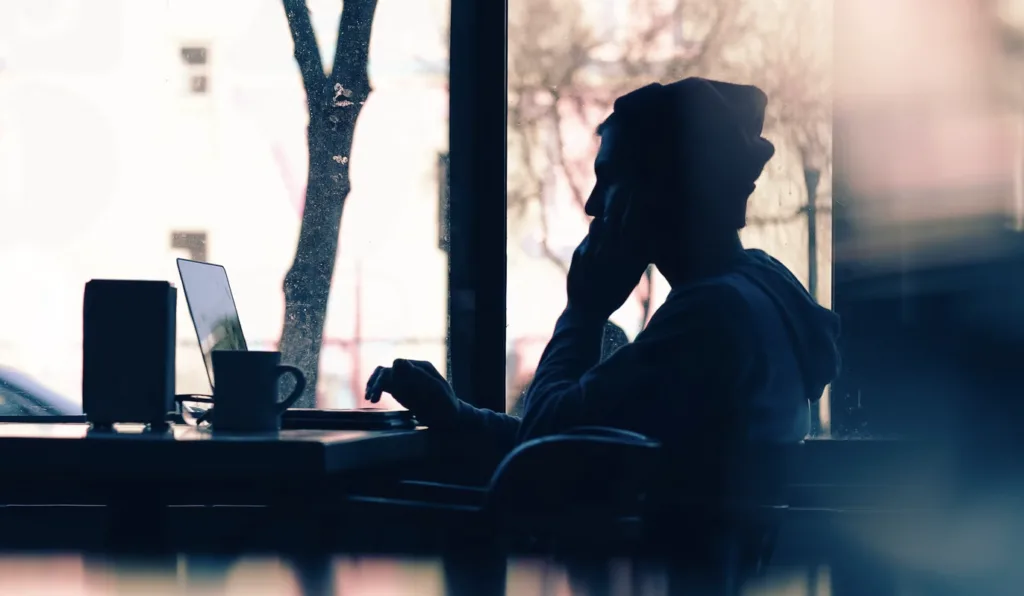 Ask your Employee Resource Group leaders to have an open-door policy that allows anyone in. This can go a long way to fostering understanding and inclusivity. There may be rules to participation for those joining ERGs that are not geared directly for them, however, to keep the ERG purpose on track.
Create ERGs that fit as types of broad affinities as possible. That way, anyone can find an ERG that suits their background or interests.
When there are multiple ERGs, it can also make employee identity confusing. For example, if you create ERGs for Black workers, will those with a mixed heritage be invited and feel comfortable participating? This is why manufacturing company Corning created a multiethnic ERG. It's a recognition that the inherently exclusive nature of ERGs can create division if the ERG structures are not adequately and thoughtfully created.
Getting feedback from your employees before launching ERGs can at least take some (but not all) of the guesswork and subsequent problems off the table. Additionally, most of these issues and challenges can be addressed when you build support and gain buy-in from executive leadership teams.
In an ERG, Meaning Matters
For an ERG, meaning is going to be defined by an employee as "is this group authentically meeting my needs?" That will not be an easy question to answer, as each employee will have different needs, and their reasons for joining an ERG at your company will vary.
To that end, here are a few tips to make sure employees are getting the most meaningful experience from their ERGs:
Don't make it mandatory. One of the quickest ways to ruin any buy-in for ERGs at your company is to make participation mandatory. You never know how employees identify or what kind of involvement they want. Making social interaction mandatory is a fast route to disengagement.
Don't show participants favoritism. While it's great to see employees involved in ERGs, avoid showing bias to employees to employees who choose to participate. While those employees may have special access to senior-level leaders, don't look at non-participation as a sign of disengagement or disinterest in the company or career.
Don't tie participation to quarterly or annual performance reviews. Remember, the goal of an ERG is to serve as a place where employees can gain peer-to-peer engagement and even professional development opportunities. Allow your employees to join and participate in these programs knowing that the personal growth they get is free from evaluation.
Strategies to Support Employee Resource Groups
Organizational support is the single most important factor in maximizing the benefits of an employee resource group. Thankfully, there are various ways for an organization to show its support.
Financial support: EGRs must implement budget tracking tools and measure ROI to identify how much support is needed in terms of finances to implement programs that provide employees with the support they need. Make sure you implement ERG tools so you can analyze data and measure the success of your initiatives. Doing this will ensure you can get the workforce management's full support.
Keep HR involved: Another way to show support is to involve the human resources department. Make it easy for employees to form ERGs or recruit other employees. The HR team can set up guidelines for employees to develop their mission and make it easier to communicate those objectives internally.
Minimize executive influence: Finally, it is important for executive leaders to stay out of the ERG's decisions. These are employee-led groups. Executive leaders must only show support and not intervene.
FAQs on Employee Resource Groups
What Is an ERG?
The term "ERG" is short for "employee resource group." An ERG is a voluntary group designed to provide employees with personal and professional interaction with others in the organization who share similar backgrounds and experiences. A few examples of ERGs include groups for women, parents, veterans, or individuals from historically underrepresented groups.
Can a company have multiple employee resource groups?
Yes. A company can have more than one employee resource group. It is also possible for an employee to be a part of more than one group.
For example, one employee can be a part of an ERG for working mothers and an ERG for Black employees. The employee-led groups are based on each employee's unique needs and affinity groups.
How many companies have employee resource groups?
According to Bentley University, 90% of Fortune 500 companies had ERGs in 2016. That number is likely higher years later. Another report states that the membership rate for these business resource groups is 8% for the 64 organizations that were surveyed.
Where do employee resource groups meet?
It depends on the agreed guidelines among the employee resource group's members. Many meet during work hours, while others have a predetermined schedule for meetings. There are also some who meet outside of work hours. However, using virtual mentoring software to support your ERGs means your employees can meet anywhere, at any time, and create more structure and ROI tracking around those meetings.
Do employee resource groups have any disadvantages?
There are several known benefits to an employee resource group, as listed above. However, it can also have its drawbacks in some cases.
There is a risk of an internal conflict within employee resource groups, especially when you put together individuals who have the same passion and ideals. There is a possibility that you might not agree on how best to express those ideals, which can greatly reduce your productivity at work. The values and ideals can even lead to a division within the employees of an organization.
ERG meaning: Is it the same as a Business Resource Group (BRG?)
In most cases, ERGs are the same as employee business resource groups or BRGs. The overall purpose will be to provide personal and professional development opportunities for employees hoping to engage with others with similar backgrounds or experiences. You can easily use either term interchangeably, although "employee business resource groups" or EBRGs are generally long and unwieldy. We recommend sticking with one for the sake of consistency. Opt for "ERG" if you want to use the more widely used terminology.
Don't stop your journey here! Check out why reverse mentoring programs can increase visibility and forge new career paths for team members in your ERGs.