Virtual Mentoring for a New Virtual World Series
During the last 6 months a lot has changed in the world of work and talent development.  Many of us are juggling cute distractions like kids and pets, while others are trying to make the best of poor lighting, awkward camera angles, and intermittent technology issues.  With all of us working from home the MentorcliQ team thought it would be fun to explore how some our customers are adapting their mentoring programs to the challenges of our new virtual world.   People still need to feel connected and virtual mentoring is a key driver of that connection.  Join Jenn Labin, Chief Talent and Diversity Officer for MentorcliQ for a 5 part short video series on virtual mentoring where Jenn will share practical advice, best practices, and real stories from companies that have already sprung into action to deliver more employee connections.
In case you missed it, check out the other videos in this series:
In this final video, Jenn will summarize the learnings from previous videos as well as share some best practices around launching your own virtual mentoring program and engaging participants who are already virtual.
Key Takeaways:
If you are transitioning to a fully-virtual mentoring program, consider how a Virtual Open Mentoring Program could create meaningful connections for your workforce, and what technology can be used to give individuals ownership in the process.
Virtual Mentoring Circles are an especially effective tool to consider right now because software tools are available to launch these virtual programs, on a large scale, quickly – which means getting employees the resources and connections they need, when they need it…. Right now.
Quick Connections are powerful tools to help employees find others who have similar work or non-work interests and meet for a brief 1-on-1 peer mentoring relationship. The technology requirements for Quick Connections are flexibility within the software platform in terms of how participants are matched, what their roles are, and how they interact collaboratively in the new virtual environment.
Best Practices for Virtual Mentoring Program Success
It is important to launch a Virtual Mentoring Program with an effective format such as Open programs, Mentoring Circles and Quick Connections that meets program and organizational goals.
The best way to support a Virtual Mentoring Program is by leveraging one of the technologies that provide essential functionality for your employees, like chat and self-matching.
Beyond those two ideas, you should also provide program participants with best practices for conducting their mentoring relationships virtually.
Best Practices for Virtual Mentoring Participants

Share with your mentoring participants
---
About Jenn Labin
Jenn Labin, Chief Talent & Diversity Officer at MentorcliQ has over 15 years of experience in talent development, training and design. Previously Jenn was the owner of TERP Associates, acquired by MentorcliQ in 2019. Combining TERP's expertise with MentorcliQ's award-winning mentoring software to expand mentoring content, training and value for customers. Jenn is the author of Mentoring Programs That Work, a unique approach to building scalable and sustainable mentoring programs. She is a regular presenter at the ATD International Conference, ATD chapters and MentorCom.
---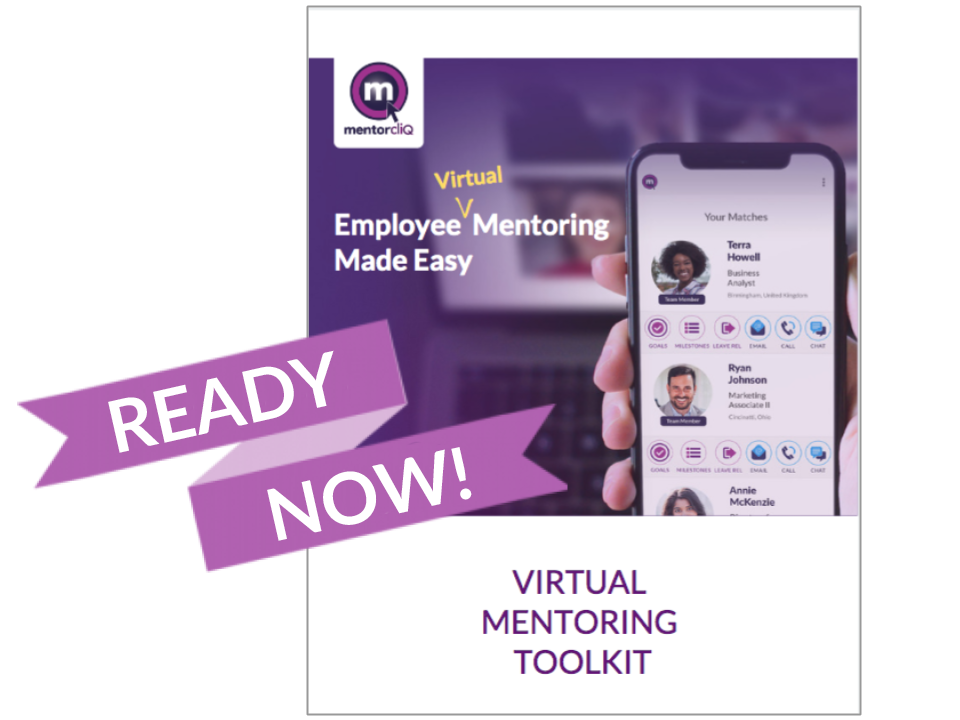 Want to learn more about mentoring programs powered by mentoring software?
Connect with MentorcliQ to see how mentoring programs powered by mentoring software and our framework can impact and improve your employees retention.