Virtual Mentoring for a New Virtual World Series
During the last 6 months a lot has changed in the world of work and talent development.  Many of us are juggling cute distractions like kids and pets, while others are trying to make the best of poor lighting, awkward camera angles, and intermittent technology issues.  With all of us working from home the MentorcliQ team thought it would be fun to explore how some our customers are adapting their mentoring programs to the challenges of our new virtual world.   People still need to feel connected and virtual mentoring is a key driver of that connection.  Join Jenn Labin, Director of Learning and Development for MentorcliQ for a 5 part short video series on virtual mentoring where Jenn will share practical advice, best practices, and real stories from companies that have already sprung into action to deliver more employee connections. 
In case you missed it, check out the other videos in this series:
In this fourth video, Jenn will interview MentorcliQ Enterprise Success Coach, David Peterka about client Nielsen and their quick connections program.  
About Quick Connections
Sometimes all that is needed is a quick chat or a flash mentoring session to get inspired, ask a question or two and stay on track. Quick connections are a form of virtual mentoring, typically emphasizing knowledge sharing over a deep, long term relationship.
The focus of Quick Connections is usually on quick problem solving and immediate needs, topics of interest, and typically occurs over 1-3 brief meetings in a short period of time.

Quick Connections can be a program all on their own, where experts list areas where they can be most helpful to learners, or used in conjunction with an existing traditional mentoring program.
The following interview transcript between Jenn Labin and David Peterka on the Nielsen Quick Connections Program has been edited for brevity and clarity.
Labin:
Prior to discussing Nielsen's quick connections program, can you talk about their investment in mentoring success?
Peterka:
Nielsen is a global organization, operating in more than 100 countries with 44,000 employees worldwide. They have a really progressive culture that is committed to diversity and inclusion. They actively build the D/I component into each part of their business, including mentoring. Nielsen's launched their first program in 2019 and within the first 90 days they had over 5,000 people signed up and matched. With that much success right off the bat, Nielsen has expanded their mentoring footprint to offer other opportunities as a result of direct employee feedback.
Labin:
Can you talk a little bit more about the expansion of mentoring at Nielsen?
Peterka:
In response to the recent world challenges, Nielsens D/I team held a series of town hall events known as listening sessions. They asked their employees for direct feedback about how the company could support their associates in this new remote workforce. The feedback was clear, associates wanted more opportunities to connect in the virtual environment, more support for coming together quickly to feel less isolated at work, and more help finding social connections between colleagues. Nielsen responded swiftly by launching 2 new global programs in a matter of days; a mentoring circles program built around community topics of interests, and the quick connections program with a primary goal of connecting employees in a peep to peer networking scheme.
Labin:
How is Nielsen's quick connections program structured?
Peterka:
In the quick connections program they intentionally removed traditional roles to enable and encourage a social aspect of the program. Since everyone has enrolled as a peer, rather than a mentor or mentee capacity, employees were free to connect across grade levels, departments, functions, geographies, etc. This allowed employees to find someone to connect with and discuss things around specific timely topics like working remotely, challenges around parenting and homeschooling, and how to stay happy and healthy. Early feedback – Nielsen employees are taking advantage to feel connected, ask more questions, and build their networks with others. One of the key wins, was how quickly Nielsen was able to respond to this new need.
Labin:
Is there anything else that stands out to you about this program that you would like to share?
Peterka:
The most striking part of the program was the speed of implementation. Nielsen was quickly able to incorporate feedback and move with it. It was really cool to see a large organization find a way to connect and listen to their employees as well as do something innovative and productive with that feedback. Nielsen has the right culture to be creative, bold, and agile to support their people.
---
About David Peterka

David is an enterprise software professional with a zest for client engagement and education. At MentorcliQ, he helps organizations design, launch, and support successful mentoring development programs. He guides each implementation with mentoring best practices, best-in-class technology, just-in-time training resources, and a winning smile (OK… a heartfelt smirk)! He also finds professional joy in developing content, virtual training courses, and support systems that engage users and solve complex business problems.
---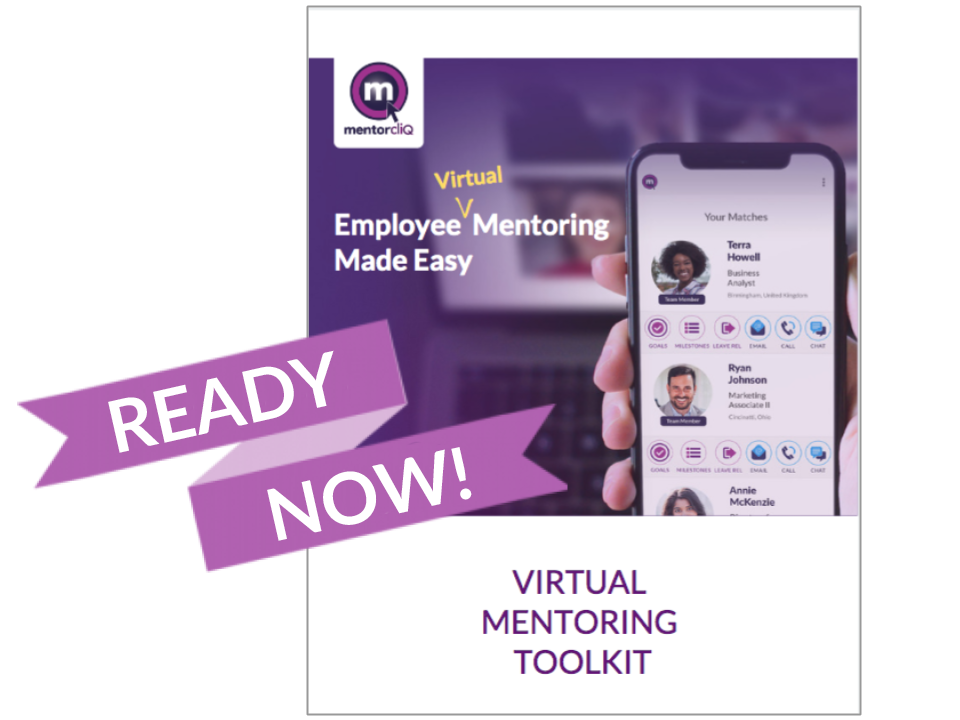 Want to learn more about mentoring programs powered by mentoring software?
Connect with MentorcliQ to see how mentoring programs powered by mentoring software and our framework can impact and improve your employees retention.