See How To Create Or Convert Your Virtual Mentoring Programs:
One question we frequently receive from our customers is how should mentoring programs evolve in order to keep participants engaged when they shift to virtual work? The good news is that mentoring programs powered by MentorcliQ are virtual by design so this shift is a pretty easy one! Working from home has become increasingly popular amongst the American workforce. In one Gallup poll, as least one-third of the US workforce is based remotely 80-100% of the time. This number is expected to increase in the coming years especially after COVID-19. Let's take a look at 3 things that stay the same and 3 things that change from in-person to virtual mentoring:
What stays the same with virtual mentoring?

1. Steps to start your program:
The steps to starting your mentoring program stay the same, you just need to leverage more technology like email, chat, mobile apps, video conferencing, and other forms of messaging to your advantage in order to replace any in-person components. This is most relevant when creating a structure for program delivery and recruiting participants. Integrations with the technology you already use can help streamline the process to keep your mentoring pairs connected. If you already utilize MentorcliQ, participant matching, monitoring, and receiving feedback is already done virtually to streamline a manual process.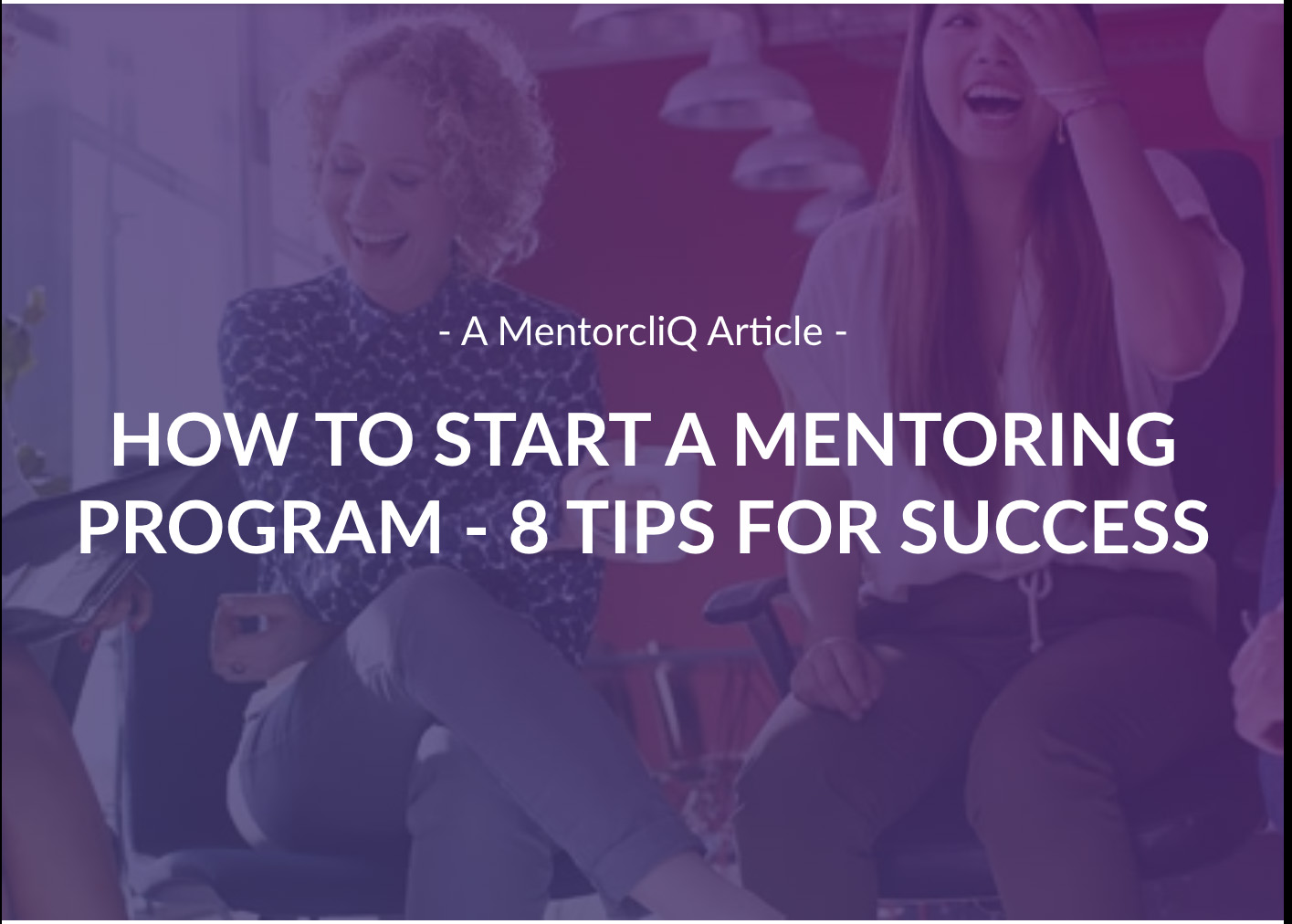 Read Now: How To Start A Mentoring Program 8 Tips For Success
2. Types of mentoring programs:
Any program in MentorclQ's strategic mentoring framework can facilitate virtual mentoring relationships. While your employees are working remotely the priority of these programs may shift. For example, if your company is not hiring new employees, developing emerging leaders may become a high priority. Your IT Team may be used to working in the same location so sharing knowledge and functional expertise is critical while they are supporting ALL your employees working remotely. At MentorcliQ, we are seeing an increase in customers starting Open Mentoring Programs as a way to keep employees connected.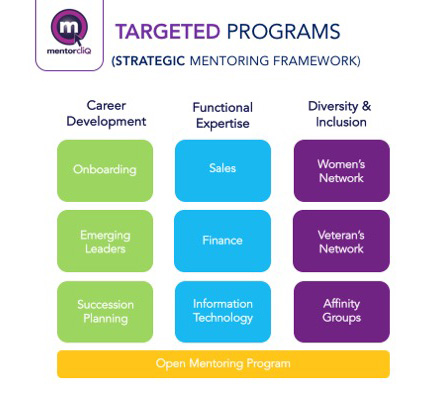 3. Making sure your mentors are ready with mentor training:
Mentor training is already an important part of running a successful mentoring program as even the best and most seasoned employees need guidance. This need is increased when shifting to a virtual format as your people need the tools to maintain a human connection when virtual as well as know how to leverage the technology in order to be effective. MentorLab, designed and facilitated by jennlabin, author of Mentoring Programs That Work and ATD Master Trainer is how we help ensure mentors are ready, confident, and motivated in their virtual environments.
Read this post to see if your mentors are ready.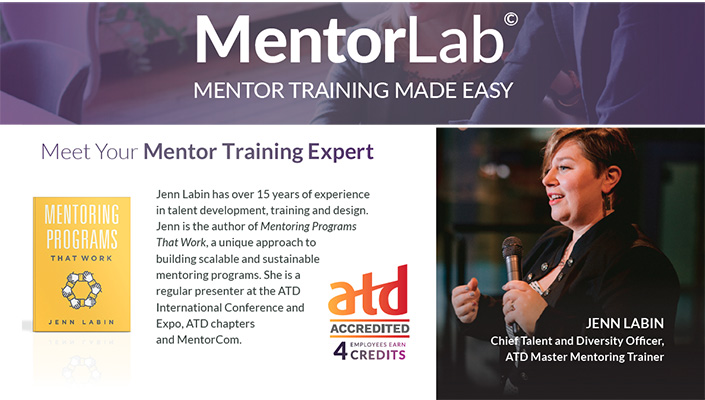 What changes with virtual mentoring?

1. Communication Methods:
Communication will change when shifting from an in person mentoring session to a virtual one. Video conferencing, quick chats and mobile apps will be a big help to your participants in helping them maintain a human connection while they are balancing working remotely.
Video Meet Ups


A picture is worth 1,000 words and being on video helps people be more present and focused in the discussion.

Quick Chats


Utilizing instant messaging or chat will enable the partnership to stay connected in between sessions for quick check-ins, updates, and to share information. This helps them continue to build the relationship even in times when they do not have an hour to spare for a normal mentoring session.

Mobile Apps
Users also like to use Mobile Apps to keep track of their mentoring relationships while they are working remotely. MentorcliQ has Android and IOs Apps to keep your employees engaged.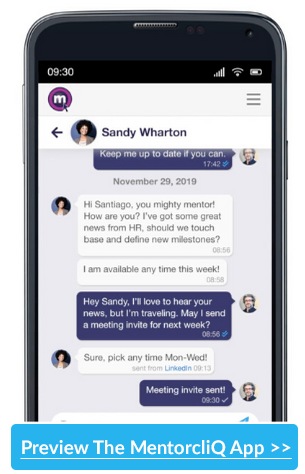 2. Mentoring Program Formats:
As stated above, any program on our mentoring framework can be supported virtually. In fact, more than 92% of all MentorcliQ customer mentoring relationships were already noted as primarily virtual. For virtual mentoring success, program considerations should be made around what matching style and program format will work best.

Traditional 1:1
This format for mentoring is still the most popular style when setting up a program and involves pairing up 1 mentor and 1 mentee.

Group Mentoring 1:Many


Group mentoring is a great way to scale your mentors' time and expertise by having them mentor multiple participants at once.
Affinity Circles
Circles put participants together to mentor each other on a specific topic or interest. This could be around a work function, a skill or a common interest like home schooling or working from home.
Flash Mentoring
These are short mentoring relationships that could last one time, one week or one month. In most cases, a combination of program formats are the most effective for participants.
One example is an Onboarding Program under the Career Development Pillar:

Part 1:
Your mentee will meet with a mentor 1:1 through the onboarding process to align with the company mission, vision, and values as well as work on job skills and tools.
Part 2:
As part of a successful onboarding program you will want to ensure your mentee is exposed to a variety of resources but also people.
Implementing an affinity circle in addition to your 1:1 onboarding mentorship allows other people going through onboarding to connect virtually but also provides them the opportunity to meet people across departments and create meaningful connections building a stronger team.
3. Recruiting Mentoring Participants:
Building awareness and excitement for your program can be done virtually with ease! While some of the more traditional approaches include in-person sessions, informational flyers in common areas, and word of mouth promoting, technology and a little bit of creativity can go far in helping you build your mentoring population. When recruiting for virtual programs, consider allowing more time in the process for newsletters, email blasts, and webinars to inform and engage your population. Also, make sure you have multiple communications with varying formats as people may miss the message the first time around. You can even have fun with it and make a video! As a best practice, messaging from executive leadership or a program sponsor can go a long way in inspiring people to participate.
Creative ways to get the word out virtually:
Email Newsletters – highlight mentor and mentee stories and results from previous programs.
Online Events –

host a webinar to tell employees about the mentoring program and get them excited.

Company LinkedIn Posts –

current and future employees are on LinkedIn. Make a post about your mentoring program and then leverage a new LinkedIn feature to "alert" employees of new posts.

Videos –

share videos of participants and executive sponsors talking about the value of mentoring.
Customer Example:
To help recruit their participants, MentorcliQ customer KeyBank used their executives to create videos discussing the value of mentoring. These videos were shared internally and publicly on their career page helping to highlight the importance of the program and encourage others to join.

---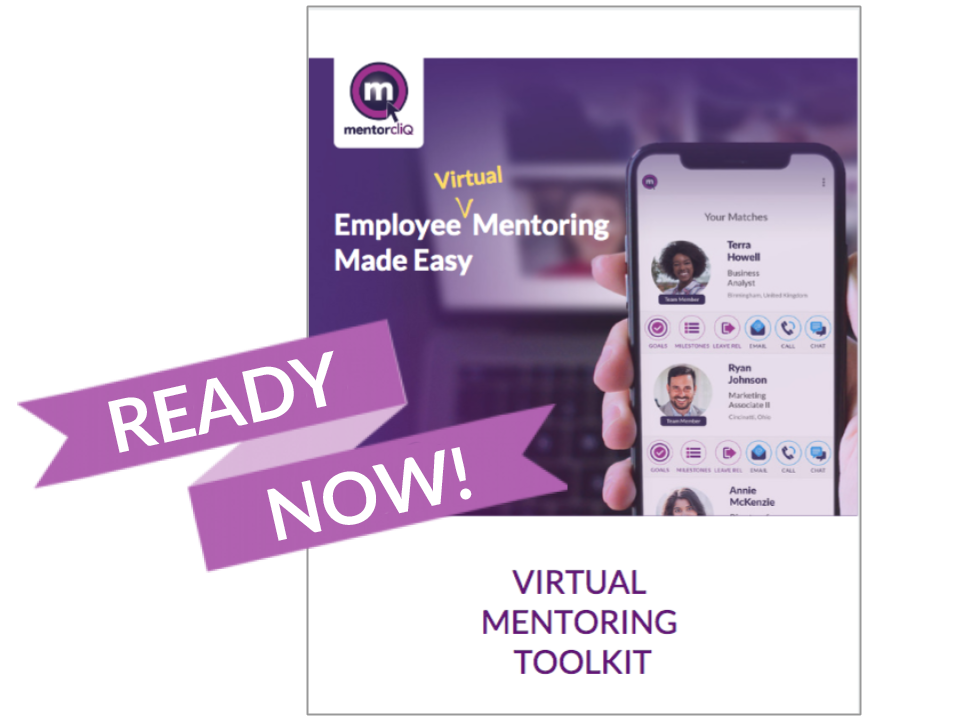 REQUEST NOW
Ready to get started with your virtual mentoring initiative?
Connect with MentorcliQ to see how mentoring programs powered by mentoring software and our framework can impact and improve your employees' virtual mentoring experience.