MentorcliQ publishes mentoring trends annually during National Mentoring Month. These trends document the evolution of mentoring initiatives within enterprises and that drives mentoring programs worldwide.  The trends for 2021 are distilled from data collected from many Fortune 500 MentorcliQ clients with mentoring programs. As we look forward to 2021, we reflect on the events of the past year and how the workforce will be impacted in 2021 and beyond. At MentorcliQ we believe that mentoring will continue to be a critical part of the talent strategy for any company that values their employee's experience. We love this mentoring stuff and we are excited to help, drop us a line to chat about your talent strategy for 2021!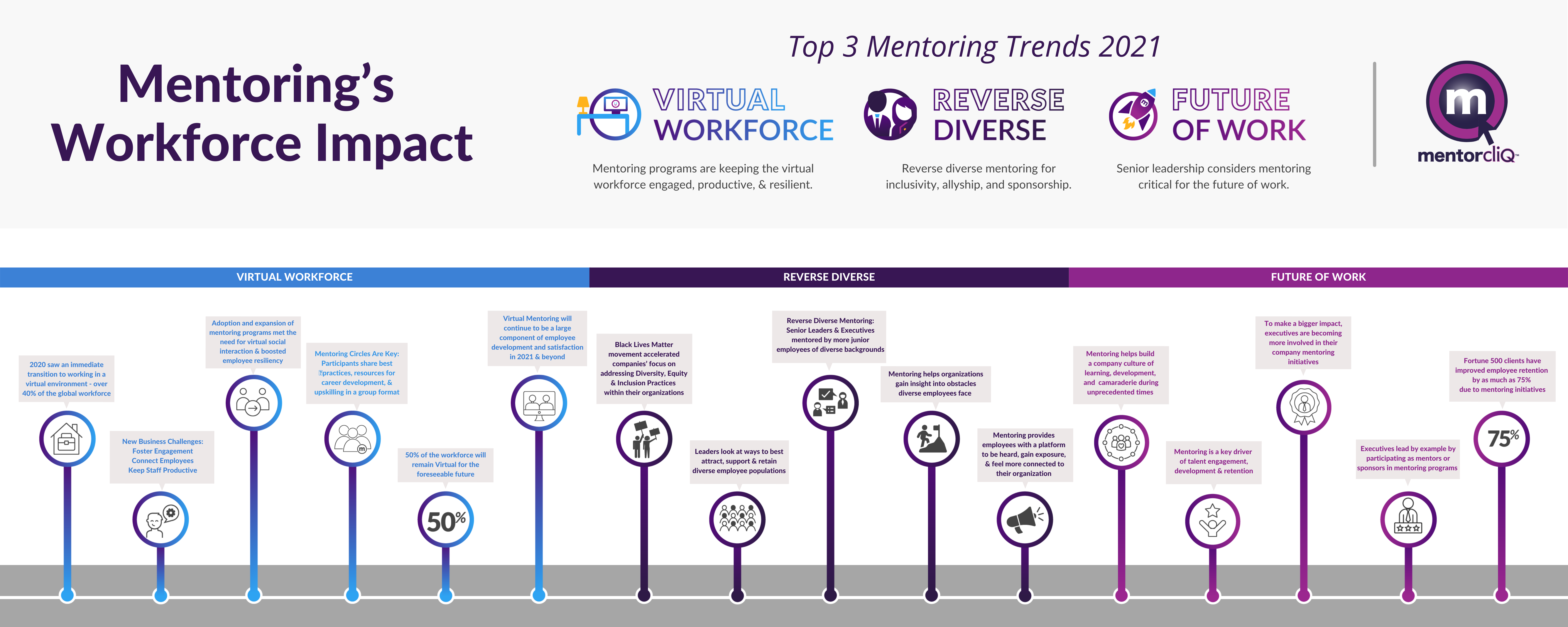 Share these trends and insights within your organization.
MentorcliQ Customers: Interested in a version you can co-brand?
Drop us a line!
2021 Mentoring Trends by MentorcliQ:
1. Mentoring programs are keeping the virtual workforce engaged, productive, and resilient.
As a result of the social distance movement there was an uptick in the number of companies offering new mentoring programs or scaling existing programs to boost employee resilience and meet the demand for social interaction and career growth in spite of the pandemic.  Currently, a high proportion of companies still report their workforce will remain virtual through 2021 highlighting the need to continue virtual workforce engagement through mentoring.
2. Reverse-diverse mentoring for inclusivity, allyship, and sponsorship.
The Black Lives Matter movement accelerated a trend that was already happening in terms of companies' focus on addressing diversity and inclusion practices within their organizations.  The role of reverse diverse mentoring programs grew by over 200% in 2020 and continues to expand into 2021 to support an open dialogue that will help companies build more inclusive business practices where all employees can flourish.
3. Senior leadership considers mentoring critical for the future of work.
Leading Fortune 500 clients have improved employee retention by as much as 75% over the past few years through their mentoring initiatives.  To continue advancing employee retention efforts, executives are leading by example and becoming more involved in mentoring as mentors or sponsors, which accelerates participation enterprise-wide and leads to a company culture of learning, development, and camaraderie.
---
Ready to get started with your mentoring initiative?
Connect with MentorcliQ to see how virtual mentoring programs powered by mentoring software and can create a more connected employee experience.