MentorcliQ publishes mentoring trends annually for National Mentoring Month. This year, our trends speak directly to the Great Resignation, the reality of which has been evidenced by Bureau of Labor Statistics (BLS) quit rate data from the past six months and what we've heard from our own clients. As we closed out 2021 and entered 2022, most of us had hope that chaos in the job market would improve. However, the latest data dump from the BLS indicates that the Great Resignation will continue to have an outsized impact on how companies and where companies invest resources in employee engagement and retention this year.
At MentorcliQ, we believe mentoring can help solve many of the most pressing engagement and retention challenges employers are facing in today's uncertain labor market. We live and breathe mentoring, so @ us on social media or drop us a line to chat about how mentoring can help you emerge as a winner in 2022.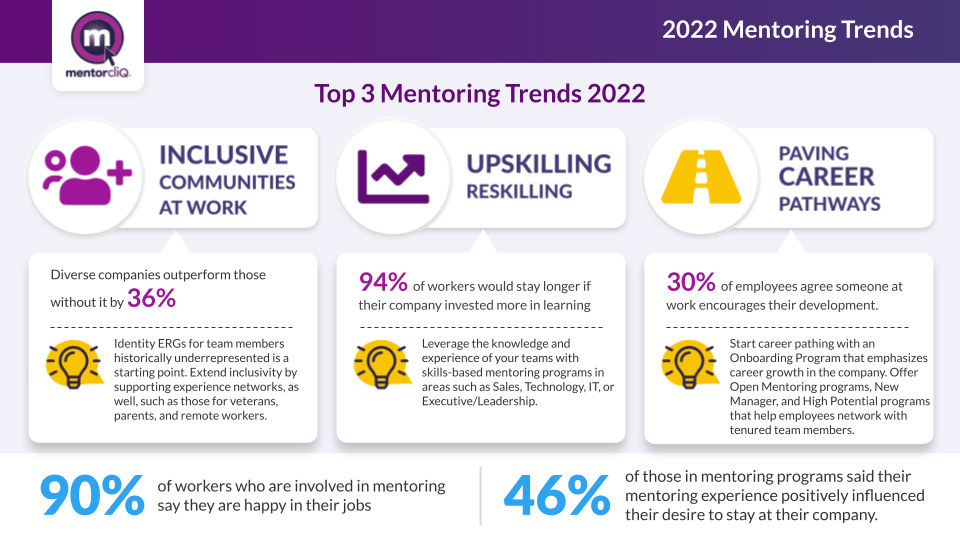 2022 Mentoring Trends by MentorcliQ
Trend #1: Employees strongly desire more inclusive communities at work. If diversity, equity, and inclusion weren't already on your radar in 2021, consider them an imperative in 2022. Workers reassessed their employment priorities during the pandemic. Most people now want a company that fosters their interpersonal connections with their colleagues, and they're willing to quit if they can find that type of support elsewhere. Furthermore, organizations should expand their concept of what inclusivity means. The shift to remote and hybrid work environments means workers are going to be looking for a sense of belonging and community, especially as the pandemic wanes and opportunities to connect authentically emerge. Pre-meeting chit-chat won't be enough. Consider supporting spaces where workers can form relational bonds based on experience and interests.
Trend #2: Upskilling and reskilling opportunities are in-demand (and benefit everyone!). During the height of the pandemic, workers took stock of their lives and career prospects. Many came away feeling a strong desire to add or grow their skill sets. Are you providing them that opportunity? If not, they may be seeking work opportunities from employers who will invest in their learning and growth. That type of investment doesn't always need to come in the form of courses. In fact, leveraging your own internal knowledge networks with mentoring programs is often a low-cost, high-impact way to transfer knowledge and skills across an organization.
Trend #3: Motivate employees to stay by paving career pathways. Employees who don't see a future with their employer are more likely to quit. However, companies that help workers chart their future see tremendous growth in employee retention. Effective employee career pathing starts on day one, but it should consist of more than just a career pathway chart or slide deck. Workers want to be mentored by tenured members of your team who have "been there and done that" and who can help point them in the right direction. It's truly a win-win scenario for you and your people.
When the Great Resignation will end is anyone's guess. Going into 2022 equipped to win, however, will make sure your organization easily withstands the unexpected. Check out our 2022 Workforce Survival Guide for detailed tips and frameworks to help you leverage mentoring for engagement and retention.