Stepping into each mentor meeting can cause anxiety, both for mentors and mentees. When participants don't know what to say or do during conversations, both parties may walk away feeling unfulfilled. Mentoring has enjoyed a resurgence in recent years. Thankfully, that means more attention has been given to structural frameworks that lead to more successful and fulfilling mentoring relationships, right down to how to structure meaningful meetings and conversations.
Mentoring is special thanks to the humanity and humility that people bring with them to their relationships. It's the conversations between people that put ideas and learning into context. It's the support between mentees and mentors that provides the strength people need to overcome hurdles and learn from mistakes.
This blog post will help you discover how you can have quality conversations in your mentor meetings that will help you capture the heart of mentoring. You can even use our Development Dialogue discussion model to get more authentic and actionable results from your mentor-mentee relationships.
Where to Start Mentor Meetings and Conversations
The biggest stumbling block for people entering mentor meetings is that they can't figure out how to have meaningful conversations. In fact, one of the biggest topics we hear from the mentoring program admin and champions we work with at MentorcliQ is, "What do I say? What do I do?"
We've covered the following:
Today, though, we'll dive a bit deeper into some of the conceptual structure that makes mentor meetings more successful. We're going to help you answer the question, "Where do we even begin?"
Top challenges Mentors Face in Meetings with Mentees
People can face many challenges when it comes to engaging in productive mentoring conversations, including:
Not having a mentoring plan
Not setting clear goals
Having poor communication skills in general
Not knowing how to have difficult and frank conversations
Not trusting one another
Not honoring agreed-upon confidentiality
Not being vulnerable and transparent with one another
Not making a commitment to one another and the process
Not having time to meet and/or prepare for meetings
Not connecting or establishing rapport with one another
Mentors not knowing how to make their experience relevant to the realities of mentees
An overall lack of training and best practice resources
Not knowing how to measure results and progress
Not having support for mentoring from leaders in the organization
Learning to be an effective mentor? It's not an easy process, but it's more than doable. Check out our Mentoring Soundbites video on how to be an effective mentor. And feel free to drop a comment about the challenges you've faced in mentor meetings.
What's Needed for Good Mentoring Conversations?
While the challenges people face in having good conversations are real and can stifle any mentoring relationship, there is hope! You have the power to make your mentoring conversations more productive and meaningful.
How can you accomplish this?
Strive for these characteristics in your relationship to help you create quality conversations:
Trust
Honesty and transparency
Openness and vulnerability
Respect and rapport
Empathy and listening
Flexibility
Accountability
Commitment and motivation
Being open to feedback and suggestions
Realistic expectations
Setting ground rules early on
Understanding what each of you wants
Being prepared with thoughtful questions/prior agenda
Reflection before and after the conversation
Time to Put Mentor Conversations Into Practice
Now that we've covered some basic ideas around what you should consider about mentoring conversations let's get practical. Here are some actionable tips you can use as you start framing out your mentor meetings.
Examine the DNA of good mentoring conversations
Look at the list of characteristics found in quality mentoring conversations and ask yourself:
Which of these is missing from my mentoring conversations today?
Which suggestions can I apply to my mentoring relationship
immediately?
What areas are the most pressing?
Which do I already have in place?
Choose ideas you can implement
Choose 2-3 ideas or goals that you can implement quickly with your mentee or mentor, and then talk to your partner about your ideas. Keep in mind that some of your most pressing issues may not be the easiest ones to solve. Consider choosing a more difficult but critical area to discuss with your partner and tackle together, but with the understanding that it might take more effort.
Celebrate what you've already accomplished in your mentor meetings and discussion
Finally, celebrate the areas that you already have a handle on. Congratulate yourself and your partner for your success in those areas. Acknowledge that there are positive aspects of your relationship
that can be seen in how productive your conversations are.
Addressing the Rhythm and Flow of Mentor Meetings
In running, developing a regular cadence is key to helping you sustain your run over longer periods. We'll apply this idea to mentor meetings and conversations, as well.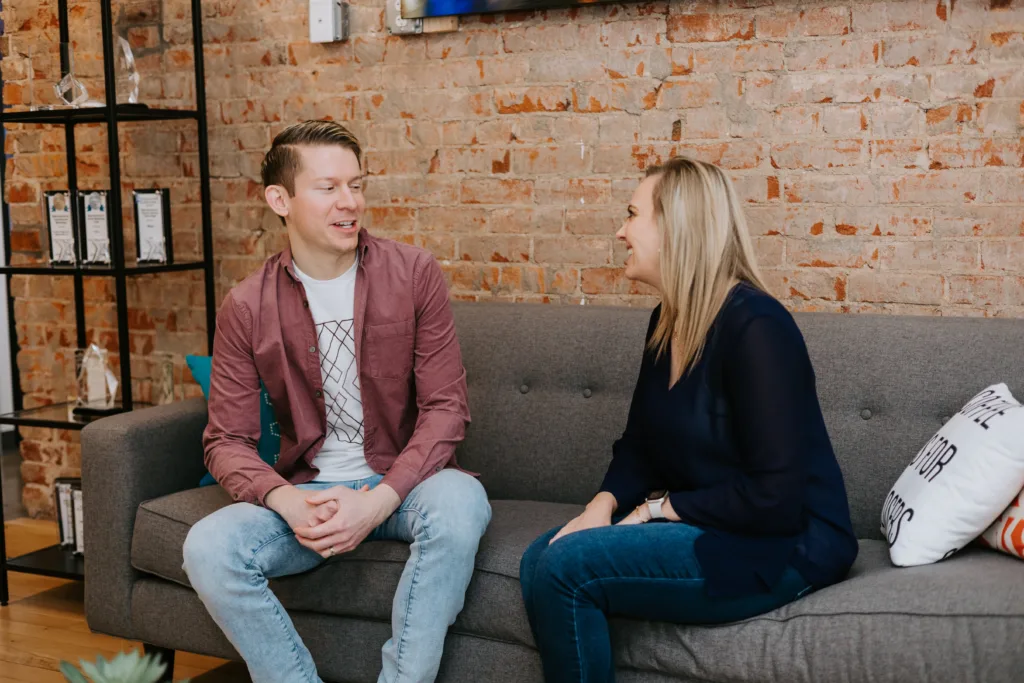 Conversations between mentees and mentors represent the foundation of mentoring relationships and provide a mechanism for development. As a result, the quality of your conversations will directly impact the value they have on your development.
To address this, we suggest that mentoring conversations have a rhythm and flow. Each time you meet with your mentee or mentor, be sure to talk about:
What actions were taken since your last meeting
What worked
What didn't work
What you could try next
Where you go from here
This becomes a cyclical conversation model that you can follow throughout the relationship. By focusing on the smaller action items, you will make progress toward larger goals.
What if I don't have time for real conversations?
Many people think mentoring will require too much time—and they use that as an excuse for not participating.
Don't let this happen to you!
There are different ways to be successful with mentoring. Some people find an hourly meeting once a month to be an effective process, while others prefer to meet more frequently but for shorter durations. The key is to find the combination that works for you and your partner.
Create a mentor meeting plan
Get the most from your meetings, no matter how long they last. Each meeting can be spent:
Reviewing what actions were taken since the previous week
Assessing if progress was made
Generating ideas for how to take the next step toward reaching your goals
Each meeting should end with a concrete action that you and your mentoring partner will take.
Try Our Developmental Dialogue Model
Our 4-step Developmental Dialogue model can help guide you through critical mentoring conversations. This cyclical process moves conversations along four milestones:
Reflect
Envision
Explore
Act
What makes the Developmental Dialogue model work?
This practical approach provides tangible benefits every step of the way:
It enables you to invest an appropriate amount of time in learning the lessons of the past and understanding the current situation (Reflect).
It ensures that you clearly see and understand the desired outcomes in the future, providing you with a route for both current and ongoing conversations (Envision).
It offers you an opportunity to discuss options, possible courses of action, and consequences of such, giving you the time to sort through and narrow down ideas (Explore).
It propels you to make a decision, choose a path of action, or take the first step toward a solution (Act).
The design of this model allows for a deep, developmental approach to unfold within your mentoring conversations. Once you complete the Act phase, you can circle back, reflect on the outcomes, explore options for midcourse correction, and decide on appropriate actions at that time.
You could even condense these steps into one complete conversation so that action is always the result at the end of every dialogue. This type of personalized conversation has more impact than generic or generalized advice.
A few expert tips on getting this model to work best for you:
You can enter this sequential process at any point along with way.
Each step does not need to have equal amounts of time spent on it, but each step should be considered. For example, even if the reflection or envisioning stages consist of a 5-minute conversation, this is time well spent where clarity and focus can be gained.
Once the full developmental dialogue cycle is complete and action is taken, it is natural for you and your mentoring partner to come back together, reflect on what occurred, and make adjustments accordingly, starting the process over again.
Step 1: Have reflective conversations with mentees
Reflective conversations allow you to discuss motivations, search out greater awareness of intentions and future desires, and outline understandings that can help clarify and recap important points as they emerge in the conversation.
Questions to ask during the Reflect phase:
What is your current understanding of…?
What bothers you most about your present situation?
How would you describe where you are now on this journey?
What are your current assumptions about…?
What have you learned so far about yourself in this?
Step 2: Envision appropriate outcomes
After reflecting on the past and present, it is very important to resist the temptation to jump to an immediate decision. Instead, you should determine what you want the future to look like as a result of your dialogue and collaboration. Shaping an appropriate vision of the future and the desired outcomes creates the trajectory for the dialogue, giving it a sense of direction and movement that creates motivation and engagement.
Questions to ask during the Envision phase:
If you were the best in the world at this, what would define your success?
What is the highest result you can hope for?
What could you accomplish if you had no limitations or restrictions?
What organizational goals and business needs align with this outcome?
What current trends will likely influence the future of…?
Step 3: Explore newly-developed goals and visions
People tend to begin their journeys here without providing adequate time to reflect and envision. It's understandable why you may want to explore possible solutions to your problems or immediate
challenges, but it needs to be done at the right time and within the right frame of mind.
Understanding the past, envisioning the future, and then exploring possibilities and options will help you see the entire picture (including critical elements that could get overlooked otherwise), as well as help you give forethought to actions you may want to take in order to achieve the greatest impact.
Questions to ask during the Explore phase:
What have others done in similar circumstances that has worked or not worked? Why?
How could you get additional information, support, or resources?
If you did nothing, what would change regardless? What would get worse?
What else might be possible if you changed a few things under your control?
What is most important to you or non-negotiable?
Step 4: Put ideas into Act(ion)
Change is the primary goal of developmental dialogue, be it a behavior, a circumstance, a goal, or an attitude. Each person's path to change will be unique, and helping people act can be harder than it sounds. Some people go around and around on the option cycle, trying to find the perfect solution to their problem.
Others get sidetracked into less important details and lose sight of the most important aspects of the decision. Helping your mentoring partner during this Act phase can play a critical role in your mentoring conversation and your relationship at large.
Questions to ask during the Act phase:
How would you describe the specific goal regarding time and measurable results?
What are some steps you could take? What should you do first?
Can you commit to this course of action? Are you comfortable with it?
Do you see the implications of…?
Are you aware that…?
What elements are controllable versus uncontrollable? What can you do now that is under your control?
Turning Mentor Meetings and Conversations into Actions
Only 20% of people who set goals achieve them, according to Reliable Plant. That's an abysmally small number, but it's also an avoidably small number.
To make mentoring conversations more meaningful for your development, end every critical conversation with a commitment to undertake some type of specific action. Here are three ways you can accomplish this.
1. Be goal-oriented
As you consider what action you can take to improve your skill or ability, give high priority to those that will bring you closer to your overall goal.
2. Be practical
Look to apply your new learning or awareness in a common and straightforward way. Take on actions that put the basic principles of your conversation into play and report back to your mentor or mentee regarding your experience and observations in order to stimulate further discussion.
3. Be a model
As you engage in conversations with your mentee or mentor, consider how the concepts under discussion will affect your current behavior. If you were to adopt a new standard of behavior, what
changes would have to take place?
Mentors: Don't Spend Too Much Time Talking
One of the easiest traps to fall into as a mentor is talking too much.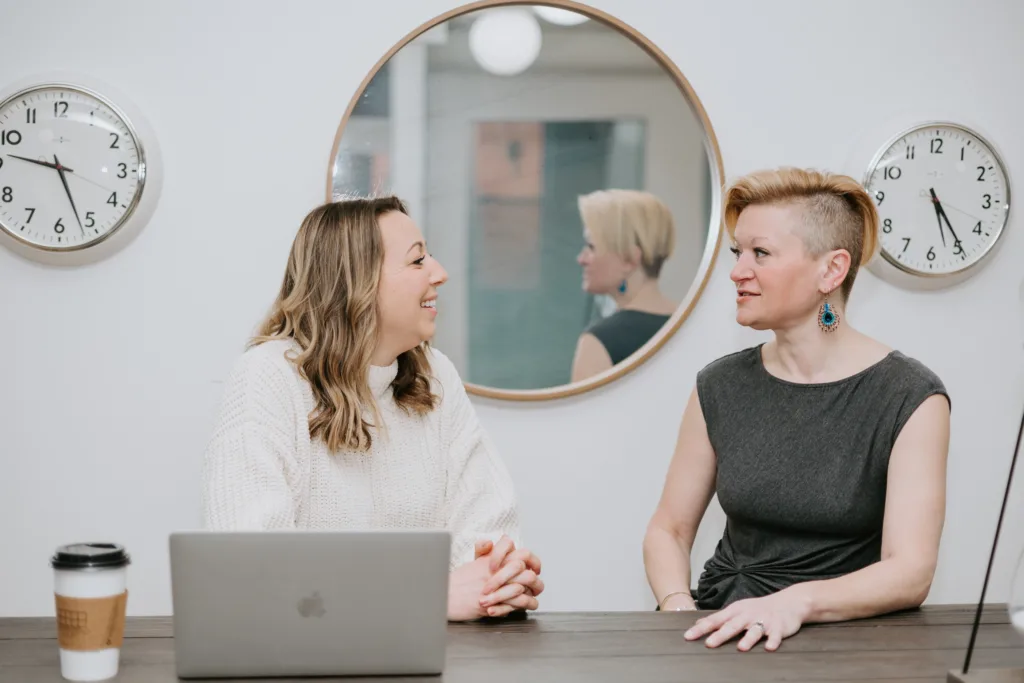 You may think it's your duty as a mentor to share every last nugget of information about a topic that you can, but this misses the ultimate point of mentoring—helping the mentee develop. Sharing a story or explaining a theory can be helpful, but you have to remember that conversations should involve both of you talking and both of you listening.
Good conversations are a balancing act of asking and telling.
Don't get sucked into the trap of telling too much and not asking enough. Getting your mentee to talk will allow you to hear their point of view and let you hear them express their situation in their own words. This can provide a wealth of information for you if you listen carefully enough.
Use what the mentee tells you as a way to dig into areas for growth and development. Remember, the goal is to help the mentee develop, so let them do most of the talking.
Good conversations are a balancing act of asking and telling.
Conversations About Gratitude
While this blog post focuses on how to have quality conversations in mentor meetings, we don't want to overlook the opportunity to discuss an important type of conversation to have: Saying thanks and expressing gratitude.
When it comes to your mentoring relationship, do you tell your mentee or mentor the things you are grateful for that they have brought to your life and the relationship?
Do you take the time to share specific examples of what it is about your mentee or mentor that makes you thankful to be in this relationship with them?
Do you express how they have impacted your work and life?
Taking the time to explicitly state why you are grateful to be in this mentoring relationship with your mentee or mentor can be a great conversation starter. It can also help build more trust and rapport between you as you openly express gratitude. People tend to feel closer to one another when they open themselves up a bit and express genuine emotions. That can play a key role in forging a solid foundation in your mentoring relationship.