Employees have a fundamental human need to be recognized and acknowledged. When companies focus on creating an employee spotlight program, they send a signal to their team members that doing good work and participating in the growth of the organization is valued. Ultimately, this leads to lower employer turnover rates, as people feel far more inclined to stay at an organization where employee recognition is part of the culture. However, that assumes that you're both consistent in how you recognize employees, and you keep the employee recognition process transparent and fair.
What Is an Employee Spotlight?
An employee spotlight is a program that features a specific employee and highlights their accomplishments, achievements, hard work, and contributions to the organization.
The published content can be in any form, such as a feature article, interview, or presentation. In addition, it can be posted and shared within the organization (internal employee spotlights) or published on the company's social media pages as social media posts.
In a professional setting, people want their hard work to be recognized and validated. Gallup notably calls Employee Recognition a "Low Cost, High Impact" strategy. There are also two levels that matter most care about when it comes to casting a spotlight on employees:
Employees care most of the recognition comes from a direct manager (28% of Gallup's respondents)
Employees love when that recognition comes from an executive level (24% of Gallup's respondents)
What does that mean, exactly? Over 50% of employees prefer to be recognized by someone who can impact their career. This is not to say that they don't also enjoy getting positive feedback from peers. But when the spotlight is coming authentically from someone who could say, give them a raise or a promotion, it's going to have a much deeper impact on how satisfied they are to be recognized, and increase their likelihood of sticking around.
Being recognized for one's accomplishments at work provides a sense of belonging and a deep level of satisfaction. When it's part of the company culture, it creates a strong sense of community and connection. Alongside other complementary strategies, such as mentoring programs and success-related incentives like bonuses, few efforts build up employee confidence as employee spotlights.
How Do I Know Who to Spotlight? Glad you asked. Mentoring programs help give you connect to your employees at a deeper level. Mentors can help give you more intel into not only who to spotlight, but why. Watch our Mentoring Soundbites video on 5 engagement problems solved through mentoring.
Sharing employee spotlight articles and posts across different social media platforms and newsletters has become increasingly popular in the past few years. And why not, when it has been proven to be a powerful tool for employee engagement, retention, and recruitment, not to mention it improves employee satisfaction and loyalty?
A survey conducted by the Society for Human Resource Management (SHRM) in 2018 shows that timely and meaningful employee recognition practices may improve the employee retention rate (up to 47%).
Moreover, the survey shows employee recognition improves company culture through employee experience and boosts employee engagement and relationships, organizational and culture, values, workplace humanity, and overall employee happiness. It is one of those highly encouraged business practices in the modern workplace.
What does an employee spotlight look like?
With all of the above taken into account, you may be wondering what an employee spotlight looks like. As well, you might have a few lingering questions, like:
What kind of employee spotlights are there?
How do I make employee spotlights that benefit my organization and team members alike?
Once I know what type of spotlight I want to use, how do I make an effective spotlight?
An employee spotlight is a feature that highlights the unique attributes and contributions of individual employees within a company. The following are the key elements often included in an employee spotlight:
Employee's history with the company
Educational background
Achievements
Experience
Personal interests
Challenges
Successes in their career and within the company
As with any program, an employee spotlight needs to be tied to some type of business objective. It may or may not be measurable against a KPI (although if you can tie it to one, even loosely, that's optimal). A few examples of key objectives aligned with employee spotlight programs include: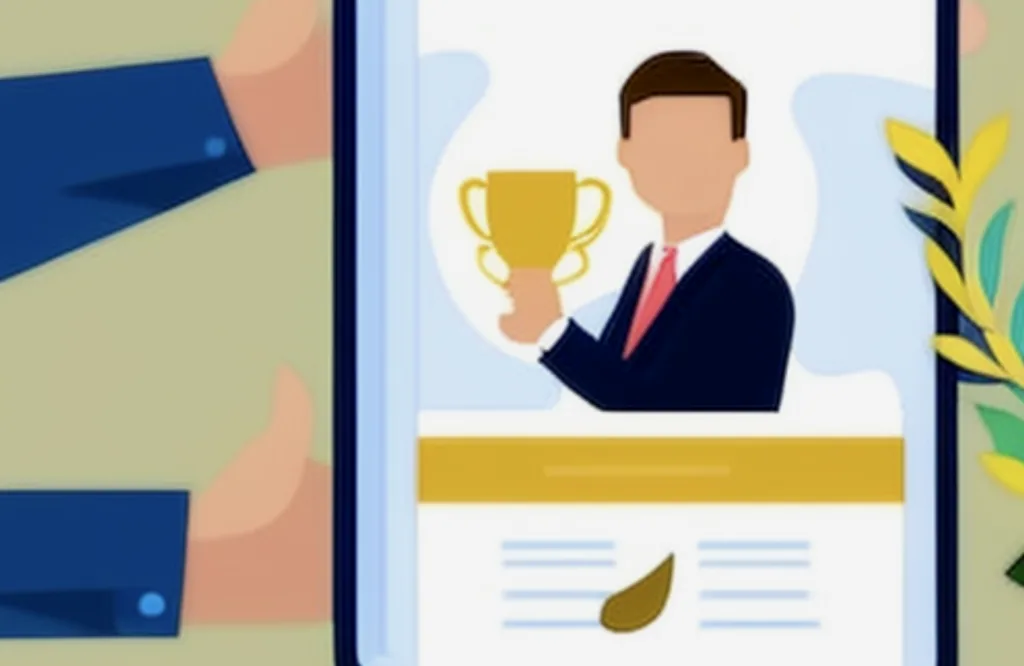 Provide recognition and appreciation
Promote stories of success to foster inspiration
Build a strong sense of community
Showcase the organization's commitment to its workforce
Show the company's human side by showcasing the people behind the brand and giving them the "spotlight."
Boost employee engagement
Reduce employee turnover
The last two, in particular, are going to be exceptionally important when presenting the concept of a spotlight program to organizational stakeholders and executives. If you can run projections that show the impact a spotlight program will have on hard financial numbers, you're more likely to get a "yes" to launching your spotlight program.
Employee spotlight can be done in different forms, including audio, video, or text. In the past, the content was promoted within the company. However, with the rise of social media and the need for brands and businesses to "humanize" their image, more and more organizations are sharing their employee spotlight on various social media platforms and even career pages.
Why Do Businesses Need to Use Employee Spotlight Programs?
Businesses need to use employee spotlight programs for several reasons. These can include, but are not limited to, the following:
Boosting employee morale and motivation: Recognizing and celebrating the hard work and achievements of individual employees can help to boost morale, confidence, and motivation among all employees, which can lead to increased productivity and improved performance.
Improving employee engagement: Employee spotlight programs can help to improve employee engagement by providing opportunities for employees to learn more about their colleagues and the company as a whole, which can lead to stronger connections and a more positive work culture.
Retaining top talent: Employee spotlight programs can help to improve employee retention rates by creating a positive work culture where employees feel valued and appreciated, which can help to retain top talent and reduce turnover.
Promoting the corporate and employer brand and culture: Employee spotlight programs can also promote the company's brand and values by showcasing the contributions and achievements of employees who embody those values.
Building a positive company culture: Employee spotlight programs can also create a positive company culture by recognizing and celebrating employees' hard work and achievements. This can in turn help foster a sense of community and meaningful relationships with employees.
What Are the Benefits of Employee Spotlights?
Getting an employee spotlight program off the ground isn't easy. As we know that convincing executive leaders to invest in this type of program is often the hardest part, let's elaborate on the benefits of spotlight programs a bit more from two angles: Internal benefits (for those currently in the company) and external benefits (from a brand recognition perspective).
Internal benefits of employee spotlight programs
Employee recognition leads to increased employee satisfaction
The goal of employee spotlights is to cultivate team culture and boost the workforce's morale through motivational stories of trials, tribulations, and success. The spotlight should help employees develop a sense of empowerment, nurture their experience, and create job enrichment. This way, organizations can better motivate their employees by creating a healthy and nurturing work environment.
Subsequently, by recognizing employee achievements, you help improve productivity as the feeling of being valued and recognized can increase their motivation. It can also boost employee engagement. As you know, a happy and engaged workforce is a productive workforce.
Prioritizing worker happiness should be on your agenda, especially as the labor market continues to shrink.
Better transparency
By showcasing the work and achievements of the individual, an employee spotlight program can increase the transparency and visibility of their roles in the company and how it impacts the organization. This is a great strategy for companies looking to give more transparency around career pathing, as well. Team members can get clarity into what type of accomplishments go along with the role of those recognized and can more easily envision themselves stepping into those roles (and getting those same accolades).
It is also a great way to build engagement and acknowledge teams working remotely.
Improves communication and collaboration
Communication and collaboration of employees is the key to effective team play. A good employee spotlight program will improve the internal communication channels within the organization for enhanced employee engagement and open up more opportunities for everyone to learn about their colleagues and their work.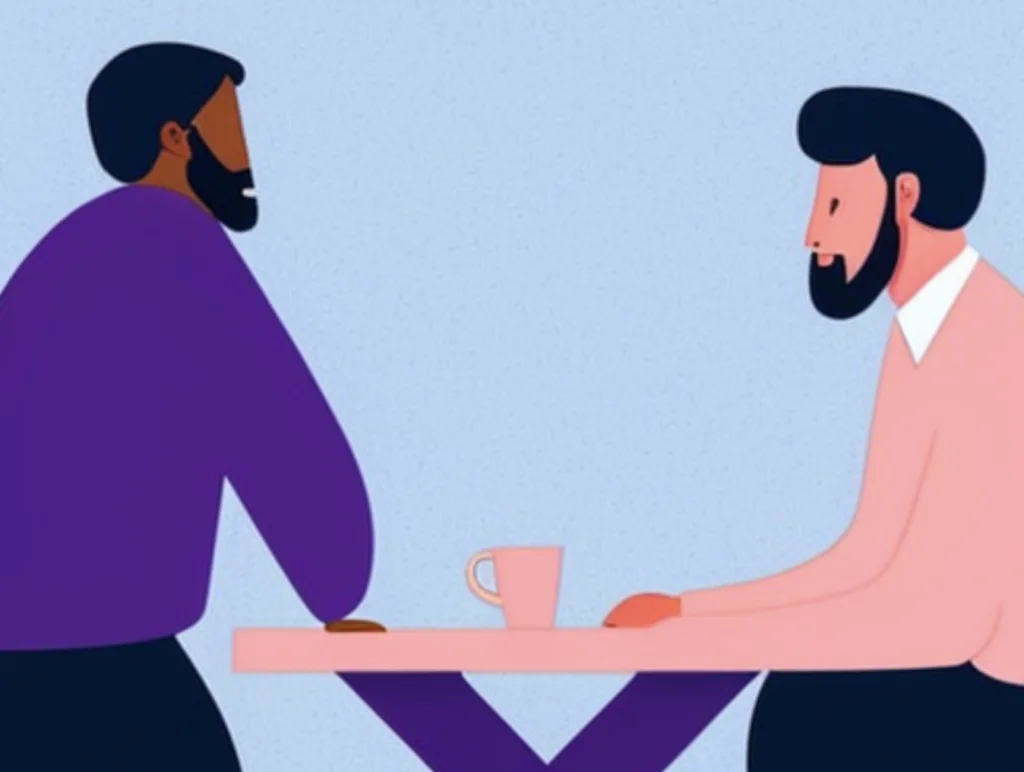 Other internal benefits of employee spotlight include:
Motivates employees to continuously give their best day in and day out.
Fosters stronger interpersonal relationships within the company.
Giving exposure to high-performing employees builds appreciation and mutual respect among employees.
Strengthen relationships and meaningful connections between in-office, remote, and hybrid remote workers. It's essential for a large company when most employees don't get to interact with each other.
Increase employee advocacy through healthy work-life balance. The right internal employee spotlight strategy could be one of the best employee advocacy tools you can leverage, especially when used alongside insights gained from mentoring programs..
It can be an internal employer branding tool.
External benefits of employees spotlight programs
Attract prospective employees
People want to go where they are appreciated. So when prospective employees learn you value good performance, skills, and achievements, they will head straight to you, as they want to be part of that. This means you are attracting the best future employees.
Moreover, increased employee satisfaction results in better employee retention. An employee spotlight allows organizations to recognize high-potential employees who exhibit a significant amount of positive performance, making them feel appreciated and valued. It is also a great way to show prospective employees that you value and honor your employee's voices.
Important Note: Don't forget to advertise your employee engagement programs externally! We found that Fortune 500 companies with visible mentoring programs generated 3X as much profit as those without visible mentoring programs. Was it all mentoring? Of course not. The bigger factor here is that these companies tend to go all-in on employee engagement strategies, like mentoring programs and employee spotlight programs that lead to reduced turnover, greater productivity, more creativity, and better profitability as a result.
Brand promotion
An employee spotlight strategy builds a positive impression of your brand and your organization. By showcasing the achievements and contributions of your employees, you promote your brand's core values to the world, making it an effective employer branding strategy to promote the business itself.
Just how important is branding? Glassdoor found that 86% of workers go to brand testimonial sites to review feedback before applying for jobs. Negative feedback from employees = negative branding for the company.
If employees are having an excellent experience, or the atmosphere is a positive one, the positive reviews they leave could be exactly what someone needs to see to apply to open positions. This is one of those extremely effective tools for marketing that many companies have left untapped.
Other external benefits of an employee spotlight include:
Promotes your great business culture to the outside world and develops confidence, credibility, and trust with employees and clients.
Adds a new element to your employer branding strategy to attract more potential customers
Employee spotlights, especially with inspiring employees' stories, can be used as marketing materials for your brand.
Employee spotlights can be used as a sales tool to "humanize" the brand and give a face to the company, helping existing and prospective clients to feel more comfortable doing business with the brand.
Employee spotlights share a sneak-peak into your company's culture
Improves company's social media presence through reach and engagement
Creative and Fun Ideas for Employee Spotlights
So how do you make creative and effective employee spotlights? The following employee spotlight examples should get you started.
Showcase the "best" employees
There is a good chance you have a "star" employee that everyone on their loves, or is at least acquainted with. That employee is an excellent first candidate. However, having a diverse range of personalities and team players on your shortlist is essential.
You can help your employees to get acquitted to each other by introducing them to different departments. This is especially helpful for large companies with a more extensive workforce since most of your employees only know a few people outside of their departments.
You can also create a spotlight for a recently promoted supervisor or anyone you feel underappreciated in their hard work.
Now, when we say "best" here, there are many ways to define what that means. The "best" employee could be one that effectively embodies your company values. Or, it could be an employee who recently hit major sales goals. You could also define "best" as an employee who has gone above and beyond to be a great mentor to others and whose mentorship has helped other team members succeed.
Don't get stuck on one definition of "best". Try to apply different lenses so that multiple people in your organization can get recognized in a variety of different ways.
You can also share employee stories on your company's social media to give outstanding employees recognition online. Employee spotlights published on LinkedIn, Facebook, and Instagram often get the most views and engagements.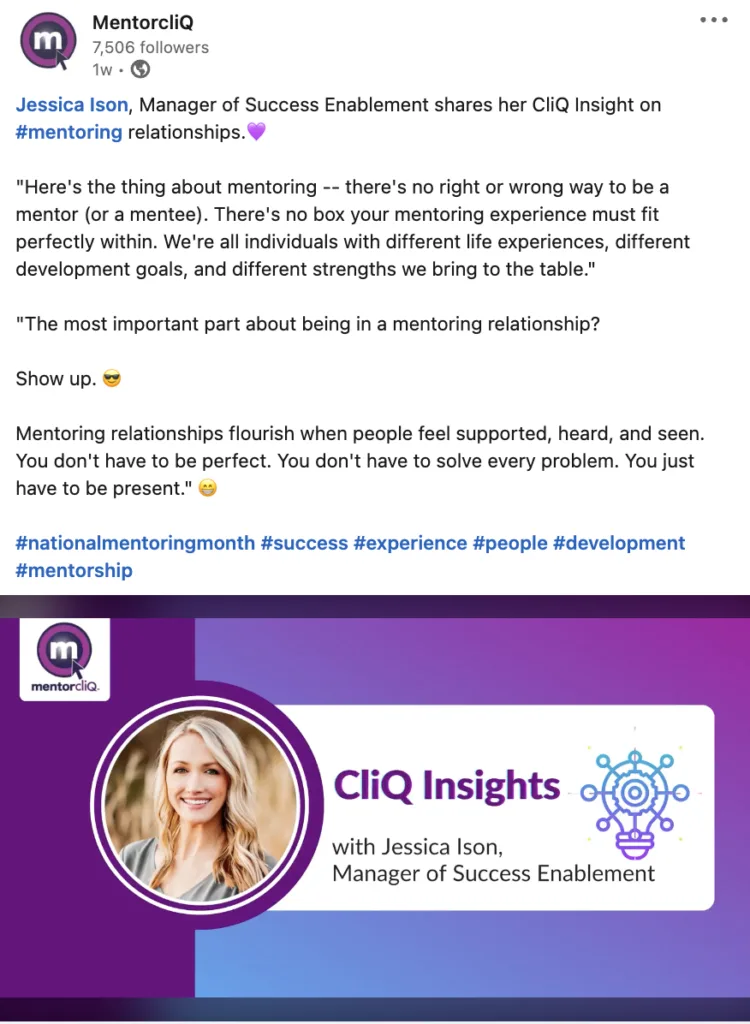 Case in point: At MentorcliQ, we recently launched a LinkedIn series called CliQ Insights. Team members who we've recognized as having a deep level of knowledge on the subject of mentoring are asked to share their insights. We promote their thoughts and ideas as a way to recognize the hard work they've put in to become experts in employee engagement and retention through mentoring.
When sharing videos on social media, keep the interviews informative yet light. Also, make sure you emphasize the employee's accomplishment.
Here are the best ways to highlight employees in your spotlights:
Give everyone in your organization equal opportunities, not just the prominent employees from the upper management team. You can even include new hires who are doing exceptionally well.
Everyone has a role to play in the company, so recognize unsung heroes and give them the "spotlight" for their hard work, both internal and external efforts.
Celebrate employees' achievements as soon as possible using employee spotlights.
Make sure your target audience relates to your spotlight format.
Create employee spotlight questions
The spotlight is not just the opportunity for the employee to shine but for your brand's or company's culture and core values to be highlighted. Thus, make sure your employee spotlight questions are insightful. The more details you can get from the interview, the brighter the spotlight can be.
As noted earlier, your employee's mentor is a great source for this. If you want to highlight and feature employees discretely or as a surprise, ask their mentor for some insights.
Whether you're asking a mentor or the employee directly, choose open-ended questions as much as possible, and avoid topics like "what's your favorite…."
Here are some employee spotlight examples you can work on:
How do you motivate yourself to go to work every day?
What do you think people like about you?
What aspect of your personality do you believe most of your colleagues don't know about?
If you could ask our CEO one question, what would that be?
What are your career goals at our company?
Also, while your employee spotlight questions should relate to their employee's work history and experience with the company, give your interview some personality by asking questions that focus on the employee's interest and career experiences.
Here are examples of employee spotlight questions examples to create an insightful interview:
What do you like most about working here?
What is your favorite aspect of the company?
What accomplishment in your career are you most proud of so far?
How would you describe your future with the company?
What project piqued your interest the most?
How do you describe our company culture? What do you like about it?
What advice would you give to your younger self?
How did you get into this industry?
How was your first year with the company? How was your role evolved since?
What are your personal and career goals for the next two years?
How do you define professional growth at this stage of your career?
What do you do to relax and have fun outside of work?
What book or TV series are you watching right now?
Who are your inspirations within the company?
Feel free to get creative in your employee spotlight questions. Also, try to tailor your employee spotlight questions to the specific employee you are interviewing. Remember, you can only have a few answers from your employee, and it is far better to have too much information to use for your employee spotlight posts than too little.
Determine the best format
The questions can be in different forms, but whatever structure you choose, keeping it entertaining and light will give you truthful and insightful answers. This is extremely important, especially if you share employee spotlight posts outside (employee spotlight published on social media, etc.).
Many immediately opt for the Q&A format and send it out through newsletters. Some opt for public blog postings that employees and company customers can read. Social media, and especially LinkedIn, is also great option to consider, as that is highly visible in a way that benefits your company's brand.
More and more companies are also investing in videos and audio recordings. This format is easy to digest and brings out the employees' personalities.
Have a formal interview
Whether you record the interview through your smartphone or take notes, an in-person interview will always bring out the best answers for your employee spotlights. Face-to-face interviews often give honest responses, and the interviewer can go deeper into the subject through follow-up questions. This makes the interview more natural and free-flowing.
The best way to do this is to share your interview questions with the employee you are about to question ahead of time. This way, they can prepare for their employee spotlights better.
Creative Ways to Display Employee Spotlights
Create video highlights
Photos may be good, but they often need to be improved in capturing the essence of the employee's accomplishments and achievements with the company. Video highlights can bridge this gap.
You need to get their permission before you start filming your employees.
Allow employee representation
One of the best ways you can do to give your workforce a voice is to give them the ability to allow them to share their insights directly.
When sharing your spotlights online, you can boost employee advocacy by including digital assets, prompts, employer branding hashtags, etc., to encourage your employees to post straight to your social media pages, such as Facebook, Instagram, and LinkedIn.
Organize competitions
Take advantage of your employees' competitive spirit by organizing sports events in your team-building activities. This can be anything from baking, cooking, running, cycling, swimming, photography, sports, etc. Competitions like this will bring out the leaders you can add to your company's leadership team, and you will be surprised how involved your employees can become, especially when doing something they enjoy.
Consider customer and client testimonials
Acknowledge employees mentioned and praised in customers' and clients' reviews. Your high-performing employees are mentioned across different review sites and platforms, such as Google, Yelp, and even Facebook. You can also add customer testimonials to the careers page of your website too. This one is a bit of a "low hanging fruit", as it doesn't require you to do anything but copy/paste and send to all employees, but it's a great way to quickly boost employees when your time is limited.
How Do I Know What Employees to Spotlight?
Obviously, you won't just pick any name out of a hat and go with it. You'll need the right intel on what your employees are up to in order to properly identify who should be featured in your employee spotlight. A few ideas include:
Speaking to managers and department heads. These individuals will have greater insight into the team members who might qualify for a spotlight, based on the criteria you've set.
Ask their mentors. Assuming you have a structured mentoring program in place, ask mentors for insights on individuals you may be considering for a spotlight. Alternatively, you may put out a call to mentors asking them to submit the names of their mentees for a spotlight, with a brief explanation of why their mentees would be a good fit.
Pay close attention. You can always gather intel yourself by paying close attention to which individuals meet your criteria.
Whichever method you use, make sure that you're not working independently. Eliminate any implicit biases in your selection process by putting together a small team made of us diverse team members from different backgrounds and perspectives. Work together to determine the criteria for the spotlight, and who should be recognized in the program. When your teams see the efforts you're going to make sure your spotlight program is equitable to all employees, you'll see far more engagement and appreciation for each spotlight.