What makes a good mentor? You've heard it several times before: you need a mentor if you want to gain leadership skills, develop new knowledge, and achieve professional development in your career. However, finding someone who exhibits the best qualities in a mentor is not as easy as it sounds.
The best mentors are those who have skills, knowledge, or experiences within areas where you're hoping to grow. But a "good mentor" goes a step beyond that. Those who are good mentors have also been trained in or have experience guiding others. For many people (yes, even senior or executive leaders), that means getting training on how to be a good mentor.
This guide will help you learn more about what to look for in your search for the right mentor, with an emphasis on the type of traits that are common in mentors who can help you achieve your short-term and long-term career goals.
Qualities of a Good Mentor
There are several distinct qualities that separate good mentors and ineffective mentors.
Did you notice how we phrased that? Instead of making a comparison between "good" and "bad" mentors, it's better to think about "good" mentors and 'ineffective" mentors. In most cases, you won't encounter a "bad" mentor. Unless someone is being coerced into being a mentor, chances are that if they're not succeeding at guiding there mentee, the issue isn't so much that they're "bad". They're likely just less effective, and that comes down to training.
But first, try recruiting! Great mentors get training, but you can also start the process by recruiting the right people. This Mentoring Soundbites video will give you some insight into how to recruit mentors.
If you're able to identify the qualities of a good mentor, you are one step closer to having a successful mentorship. And when you do find a successful mentoring relationship, you're far more likely to want to stay and grow your career with your current employer.
While there are several factors that play into this, not all mentors are the same in their approach and mentoring style. Using the advice below will help you ensure that the relationship works before you enter into that mentor-mentee agreement.
1. Good mentors must have relevant knowledge and expertise
This may seem obvious, but it's important to point out. A good mentor (or let's say, the person who's best suited to be your mentor) will possess the knowledge, experience, and expertise you need to acquire for your career goals.
In case you haven't quite set your career goals yet, a few examples include:
Improving functional skills
Networking
Learning new interpersonal skills
Earning a promotion
Learning new technology
Develop more efficient work habits
Avoid getting stuck in the guessing game on this one. The person serving as your mentor should have proven skills you want to acquire or verified experiences you need to learn from.
What "proven" means can look different, depending on the situation. Perhaps the potential mentor comes highly recommended by other teammates. Or maybe they have a long list of awards and certifications. Keeping in mind that a third of people lie about their skills on their resume, third-party verification is much more important than just looking at what they write about themselves.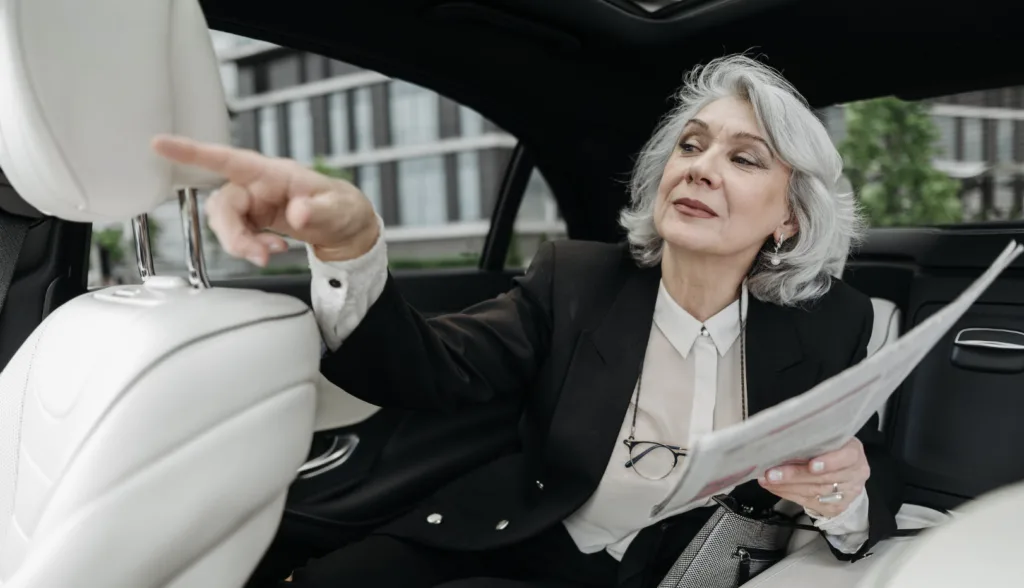 As long as you can trust the source of proof, you should start with that verification before requesting a formal mentoring relationship.
Relevant experience and knowledge are crucial if you want to work with a career mentor. A knowledgeable person with the right experience and expertise can offer career guidance to help you move your career forward.
Additionally, consider age and tenure as important (but not fool-proof) factors. Some mentees prefer working with peer mentors because the closeness of age makes it easier for them to relate and establish a good working relationship. Tenure is particularly meaningful if what you're after is the most significant amount of experience between yourself and your mentor.
2. Good mentors have a passion for helping others
So, you found a great mentor with relevant skills and knowledge? The next important trait to look for in great mentors is the passion for helping others. They must be willing, even enthusiastic, to share that expertise with others.
The willingness of a mentor to be involved in the mentoring relationship is crucial to a successful mentorship. Look for mentors who demonstrate enthusiasm for helping others. Offering career guidance must be something that gives them energy and excitement.
It's typical of individuals who naturally possess leadership skills, or who have put in the hard work to develop those skills. These are individuals who are inclined to teach and support others. A good mentor is also someone who doesn't mind having someone else take the spotlight because it's an opportunity for them to inspire those who want to follow the same career path as they did.
Working with a passionate and enthusiastic mentor allows them to devote time to your professional development, which can lead to a fulfilling mentor-mentee relationship.
3. Good mentors are not shy about giving constructive feedback
One of the best qualities of a good mentor is the willingness to give constructive feedback. As part of their leadership skills, mentors strive to help you achieve career progression. Feedback is an important aspect of that progression.
Of course, you'll need to be able to recognize the difference between constructive and unconstructive feedback.
Constructive feedback should:
Be timely
Be direct, but kind
Be specific to the issue at hand
Offer potential solutions to the problem
Unconstructive feedback, however, is often:
Poorly timed
Meanspirited
Vague
Uses blaming words
"Bad" mentors everywhere in sight? Not if you're training them! Check out this article on mentor training tips.
As CNBC writer Aditi Shrikant notes, there are right and wrong ways to give feedback and criticism at work. Determine if the potential mentor is known for constructive feedback or criticism. If not, you may need to pass on them and look for someone else.
4. Active listening skills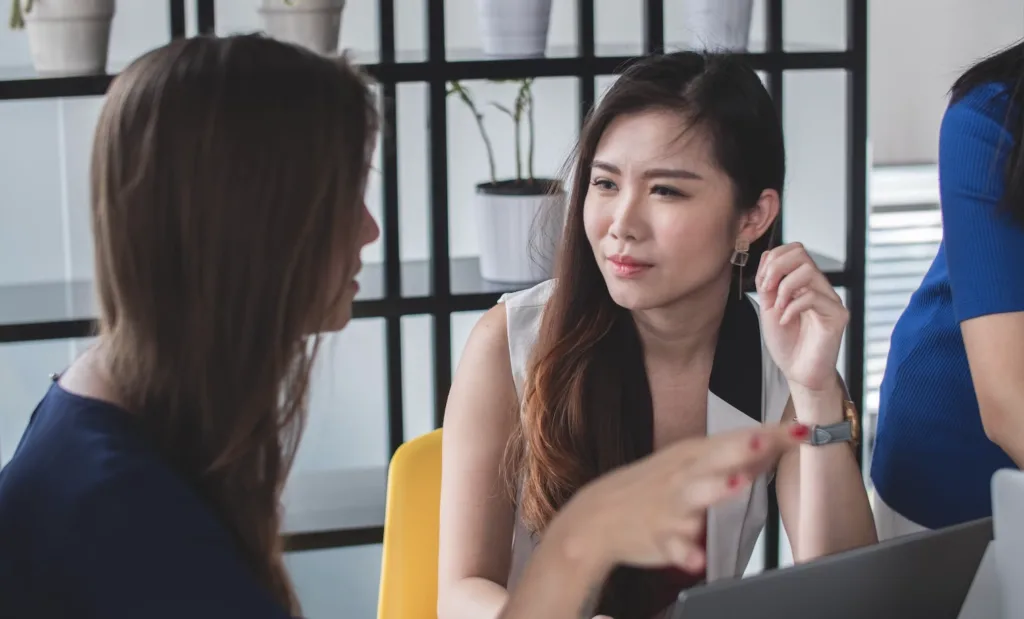 A good mentor is someone who possesses active listening skills. When most people think of a mentoring program, they often think of the ideal mentor as someone who does most of the talking.
However, an effective mentor does not offer unrelated advice. A mentor's role is to offer support and guidance that's a direct response to the mentee.
If your mentor is not willing to listen, how will they know what aspects of your personal and professional development you need help from? Active listening is essential for anyone taking on a mentoring role. If your potential mentor is not known for it, you may need to move down the list to your next best option.
Now, you could still choose to work with someone who's learning how to be an active listener. However, it may mean you're going to need to be more proactive in asking questions and prompting responses.
5. Mutual respect
A positive and respectful attitude is important when you are looking for the best mentor. It's true that good mentors should be respected for their knowledge and expertise. Yet that difference in experience does not give them the right to treat you harshly. Respect is one of the important qualities to look for in a mentor.
Consequently, word gets around quickly if someone is not known for being respectful of their colleagues. Even still, try to talk to people who have worked directly with your potential mentor. If they only have good things to say about that person's treatment of others, that's a great sign.
Even leaders need development! Check out this Mentoring Soundbites video on why leadership development matters (yes, even leaders need mentors!).
Respect is still a two-way street. You need to be respectful, as well. Mentors are often free to reject you as a mentee, so do a quality check of how you treat others. If you're not known for being respectful, don't be surprised if mentors are hesitant to take you on.
6. Growth mindset
A growth mindset is another important quality of a good mentor. Traditionally, a mentor is someone who has more knowledge or experience than the mentee in at least one field or skill. However, mentors also have a lot of learning to do when involved in the mentorship program.
A good mentor does not stop in their quest to gain new knowledge and new experiences. They look at the mentoring relationship as an opportunity to grow professionally and personally. Hence, the best mentors develop a genuine interest in mentoring because it offers many benefits to them as much as it does to the mentee.
A good tip as you explore mentors: Ask your potential mentor what they're still learning. Someone willing to admit weaknesses or gaps in their knowledge is someone who is worth learning from.
7. Great communicator
Effective communication is vital to the success of a mentorship program. A mentee can only learn as much as what the mentor communicates to them. A mentor must be effective in using communication tools to ensure that they can pass on the learning to the mentee.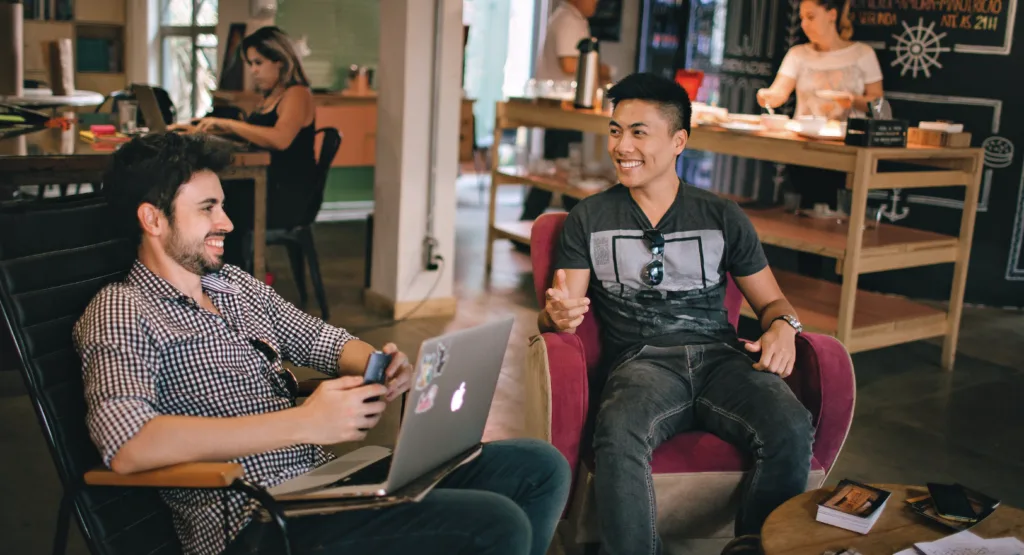 The best mentors are also open to using various learning styles to match the needs of the mentee. For this to happen, a mentor must be feeling empathy towards the mentee so they can understand their mentee's needs without the mentee having to explicitly communicate them to them.
You can start the communication assessment early in the process. For example, when you contact potential mentees, how long does it take for them to respond? If they do respond, does it look like they put thought and care into the response?
Examining communication style even at this step is crucial. Your goal is to learn, and that won't happen easily if the mentor isn't an effective communicator.
8. A positive attitude
A mentorship program must be a positive experience for the mentor and mentee. It is a great learning opportunity for both parties. Your mentor should not see mentoring you as a chore. Instead, they should be happy and excited about the experience.
You'll likely be able to pick up on negative feelings from your mentor. When your mentor sees your relationship as a drag, you'll know it fairly quickly.
It will also show in their responsiveness during and outside of relationships.
Mentors who have a positive attitude about mentoring will be genuine and proactive. As a result, you can maximize the benefits of the advice and support they offer because it is coming from the right place. And because they're invested, they're actually taking the time to give you what you need.
9. Challenges you to develop and improve
One of the primary goals of a mentorship program is to facilitate your career growth and development. This will often come in the form of pushing you past what you think is possible. Most great mentors will also try to get you out of your comfort zone (since that's where real growth happens).
A good mentor isn't someone who is just focused on show-and-tell. Instead, the right mentor challenges you to think deeply and gain a new perspective. They push you to examine your current skillset and then, what you need to do to level up.
When a mentor is really good, they'll encourage you to explore solutions and tackle every problem in an in-depth manner. These are qualities that will benefit not only your career but also your life, in general.
10. Positive role model
The mentoring role is an important one because mentees often look up to their mentors as role models. Mentors must take this responsibility seriously and acknowledge what they need to do to set a good example.
It takes a deep level of understanding of what the mentee needs for the mentor to help make a mentorship program succeed. Aside from being a positive role model, another essential quality of a good mentor is to encourage their mentees. Positive encouragement is needed especially when mentees are facing hardship or discouragement.
Long Story Short: Use Matching Software
A good mentor understands the important role they play in advancing the mentee's career. They need to possess the right set of qualities that make them the right fit for the role. The above is not an exhaustive list but if you can start with these qualities, you will be able to find a good mentor that is a match for your mentorship program.
Does all of this sound like a metric ton of work on your part trying to vet your own mentors? Of course, it does. That's why you should use mentoring software with built-in matching tools. Mentor matching tools automatically provide you with best-match scenarios, taking a lot of the guesswork out of the process.
If your company isn't using that type of software, ask for it. Send them all of the materials they need to understand why mentor matching software is a good spend. Chances are high that you're not the only one who needs it, especially if you're at a large organization without structured mentoring programs in place.
Be the change (and the hero!) by getting your HR leaders to request a demo of mentoring software.