During long periods of drought, water levels in lakes, rivers, and streams often drop. When that happens, long-hidden secrets sometimes reveal themselves. As New York Post explained in a September 2022 article, "Drought exposes lost cities, ancient treasures and foreboding signs." This same truth can be applied to what happened to employee engagement over the past few years. Pandemic-driven changes in how, where, and why we choose to work uncovered secrets for many workers — not all of which were good.
Some workers found that sudden shift remote work was significantly better for their mental health. Yet a majority of workers are looking back on the shift to remote work with overwhelmingly mixed emotions. Even as remote or hybrid remote environments have taken preference for workers, 70% of people who made the switch from in-person to remote now report feeling lonelier than they did before.
This situation creates a literal Catch-22 for employers that plays out something like this:
If I don't offer remote work options, workers are more likely to quit
If I do offer remote work options, worker loneliness will increase, which increases the chances that those workers will quit
One could say it's a "damned if you do, damned if you don't" situation. It's not. Employers and employees can have their cake and eat it to. But it comes down to focusing on ways to make authentic connections a priority, even within a remote work environment.
Establishing authentic connections will be a significant and important trend for 2023. It comes alongside two other employee engagement trends that we've called out for 2023 that employers should address. These include: For 2023, mentoring will play an essential role in helping companies and their workers navigate what's likely to be a year of uncertainty. From the employer's perspective, this will include three distinct actions:
2) Establishing Authentic Connections
3) Creating DEI-Centered Spaces
Take a look at our primary Mentoring Trends post to get some deeper insight into how each of these tends works together. For now, let's dive into why establishing authentic connections should be a priority for your organization in 2023.
A Pandemic-Driven Shift to Remote Work
While remote work was already on an uptrend prior to the pandemic, COVID-19 forced employers' hands. The data on this one is pretty dramatic. According to the U.S. Census, just 5.7% of Americans were primarily connecting to work remotely. Once the pandemic hit, that number tripled to 17.9%.
These numbers are significant, but they don't account for the fact that many individuals included in this data are working jobs that can't be done remotely. Identifying this, a 2022 Pew Research study offers the following insights:
83% of people whose jobs could be done remotely were doing so either some or most of the time
In 2022, 77% of those individuals were still remote for of most of the time
Conversely, Pew Research reported in a 2020 study that 20% of workers were connected to work remotely prior to the pandemic.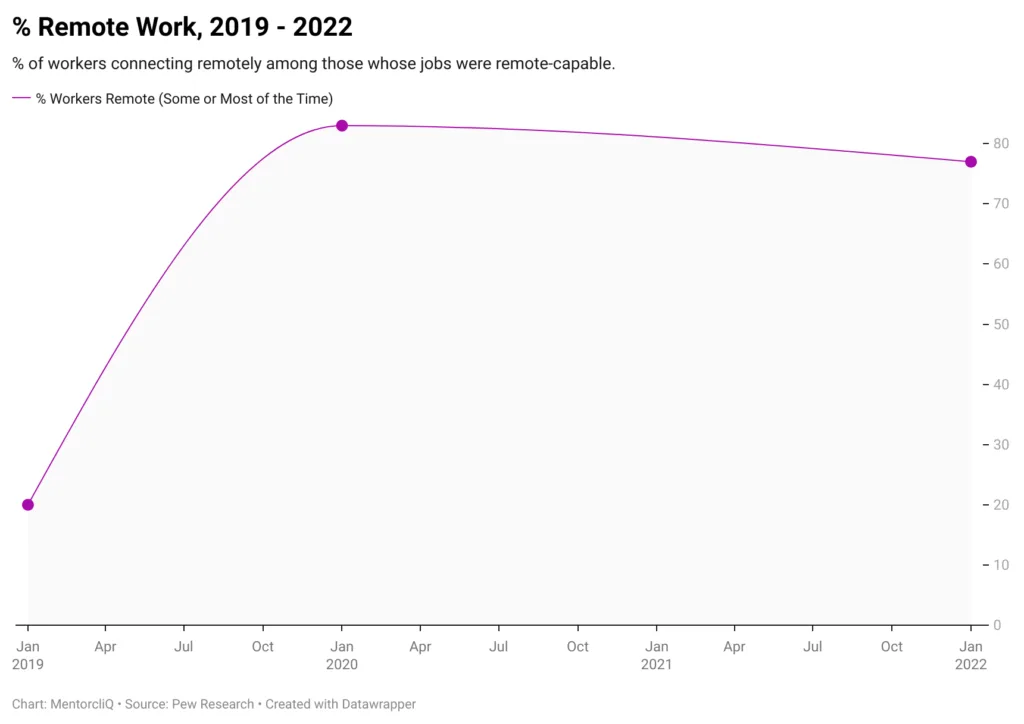 These numbers help confirm a more than 3X increase in the number of remote workers in 2020 compared to 2019. It also adds some insight into the fact that the vast majority of those whose jobs can be done remotely have chosen to stay remote.
By all accounts, this can easily be a near-immediate and likely permanent shift in work culture.
A Change in Priority, with Notable Consequences
Workers are increasingly opting for and preferring remote work. A 2021 Gallup survey is just one of many that verifies this, with a few caveats:
91% of those currently working in remote or hybrid remote situations would prefer to maintain their status.
48% of those currently working roles that could be remote, but are in-person now, would adopt remote or hybrid remote work.
These are numbers employers shouldn't ignore. Nevertheless, many are trying. LinkedIn's 2022 Global Talent Trends report indicates companies are posting fewer remote jobs. That's risky, as workers are still high-demand and unemployment rates remain at historic lows.
ADP notes that 64% of workers are willing to quit if their current employer tries to send them back to the office. Presumably, this also means they're more likely to look for an employer who allows them to continue working in remote or hybrid remote work environments.
But at what cost? Apparently, increased loneliness.
This is the takeaway from multiple studies and surveys. For example, TheNextWeb discovered that:
The employees who spend the most time working from home are also the ones to express the most feelings of loneliness
58% of workers consider having a social connection during the workday either somewhat or very important
Those employees who express being the most lonely at work are 30% more likely to quit than those who are the least lonely
This trend has been getting attention everywhere, including The Atlantic, Fortune, and even the MIT Sloan Management Review, which notes that "having supportive colleagues in the workplace is key to feeling less isolated when working from home."
Of course, this emerging situation has put employers in a bit of a bind. There's serious risk to turnover by switching to fully-remote and even hybrid remote work environments. But there's also a risk of the same when remote and hybrid remote work is either denied or retracted after having been the norm for several years.
The answer lies in providing workers with easier pathways to form authentic connections.
A Primer on Authentic Connections at Work
As look into 2023 and beyond, companies will need to take two immediate actions:
Acknowledge that your workers are simultaneously lonely while working remotely, but still want to keep that working arrangement
Provide structures and programs that streamline authentic connections
Each of these will be critical to providing support for your employees.
Acknowledge that the conflict of interests exists
The first, acknowledging the situation, comes with an extra point of advice: avoid demeaning employees for the contradiction.
Your workers will likely know and understand that this is indeed a contradiction. Even the loneliest of your employees will understand that the numbers don't always add up. As an employer, you may feel that this creates more trouble than it's worth and that by forcing employees back into the office, you're giving them what they need, instead of allowing them to get what they want.
Instead, treat your employees with the respect due to them as both humans and adults capable of making decisions. Everyone is on the same page; these desire for remote work and the loneliness that follows are indeed in conflict. The solution, however, can help workers find that happy medium.
Support workers with programs and structures that help them form authentic connections
Take a direct and structured approach to helping employees find happiness at work. As multiple studies and surveys suggest, happiness at work is often directly associated with connection. Remote work deprives workers of easy connection, but connection is still possible in remote environments as long as it's structured and purposefully delivered.
There are multiple ways to accomplish this. A few ideas include:
Creating and supporting remote get-togethers and events
Hosting regular team-based or regionally-based in-person events
Pairing workers together in peer mentoring relationships
Creating open mentoring programs that allow for on-demand mentoring
Supporting workers' creation and maintenance of affinity groups
Notably, this all comes down to how effectively your organization is supporting these endeavors. Leaving everything on your workers' shoulders is a sure way to make sure it doesn't happen. In some ways, it's a Field of Dreams moment:
If you build it, they will come.
But it's not enough to build it. Your organization must ensure that enrollment and participation in programs designed to build connections are easy. The more difficult it is for employees to take part and make connections, the less likely it is that they'll participate. Your take rates will be low and your ROI will suffer, making it far more difficult to get executive approval for continued support.
It's safe to say that 2023 is a year of contradictions. Remote work is creating internal and external conflicts for everyone, but it's not going anywhere fast (nor should it). Instead of fighting the trend, look for ways you can help employees create authentic connections in any work arrangement, be it remote, hybrid remote, or in-person.
Wait, did you say ROI? We did. Even programs designed for engagement and connection can produce exceptional ROI, especially by reducing turnover and increasing productivity. Find out more by booking a demo and seeing how mentoring software can help you tease out and prove the value of authentic connections.