Keeping employees has become more challenging than ever. Between quiet quitting and The Great Resignation, companies without effective retention strategies risk losing employees to competitors. Beyond better pay and remote work flexibility, workers increasingly want a clear path forward. That "clear path" is best delivered with social learning opportunities like career mentoring.
Career mentoring solves multiple problems that HR leaders regularly encounter, including:
Low employee engagement and motivation
Low employee productivity
Limited employee interaction with colleagues
A lack of networking among team members
High turnover, especially among new hires and junior-level employees
This post will help you better understand why career mentoring is an essential strategy for organizations and how to make it work at your company.
What Is Career Mentoring?
Career mentoring is a specific type of mentoring focused on helping junior or early-career employees navigate their way through their careers. Within career mentoring, an individual with experience, tenure, and a senior-level position within the field of interest acts as a mentor.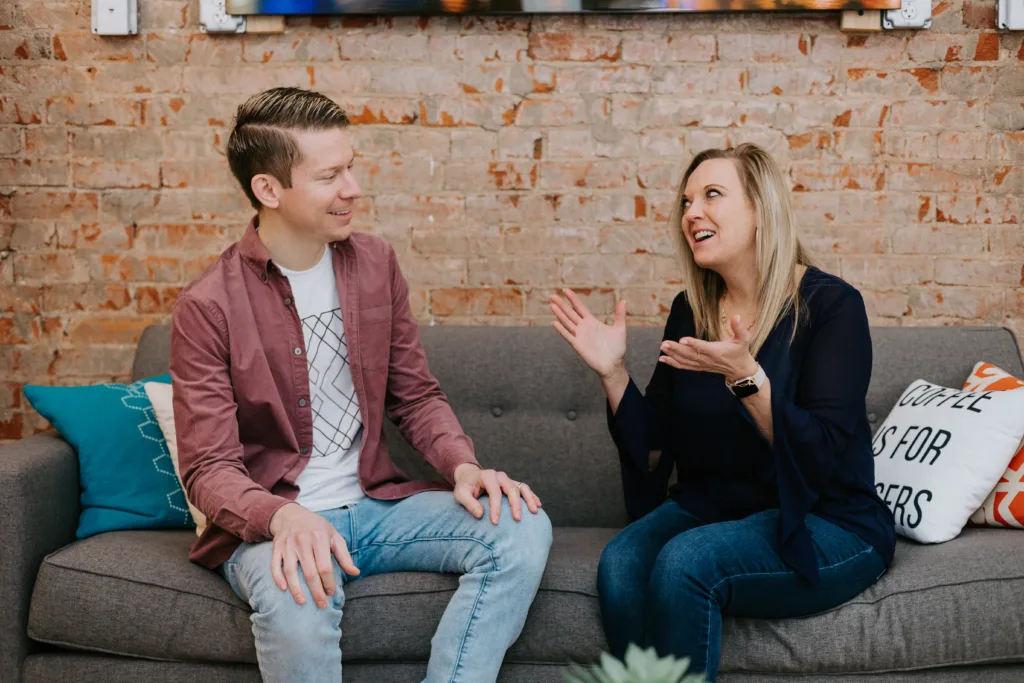 The (typically) junior-level mentee engages in the mentoring relationship to learn more about the skills, habits, and behaviors necessary to move through their new career.
Within a career mentoring relationship, mentors and mentees usually work on the following:
Advancing the career along clearly-specified pathways
Gain new skills and insights
Expanding the mentee's professional networks
The role of a career mentor is to provide the mentee with insights into the industry, possible career paths, and professional development opportunities. Mentors can offer career guidance, share their experiences, and provide feedback on the mentee's career goals and aspirations. Additionally, mentors can help their mentees identify strengths and weaknesses, set goals, and develop action plans to achieve those goals.
Companies shouldn't hesitate to offer career development opportunities like career mentoring. LinkedIn found that 94% of people would stay longer at a company if their employer offered learning opportunities. And because they've had the time to gain critical institutional knowledge, tenured employees tend to be far more productive.
Overall, companies with better internal career pathing and career development are far more likely to have better employee retention and spend millions less per year in hiring.
What does career mentoring look like?
Mentoring can take many forms, including one-on-one sessions, group mentoring, or even online mentoring.
Mentors can be found through formal programs, professional associations, or personal networks. However, companies that want to develop a strong learning culture should run internal mentoring programs along different functional levels, such as sales mentoring programs or programs for high potential employees where participants are paired based on their function.
The Job of the Mentor in a Career Mentoring Relationship
A mentor is someone with extensive expertise and experience who uses it to guide another professional through advice, insights, and guidance. It is someone who listens, responds to concerns, and answers questions.
Career mentors have typically been in their position for several years. Particularly for internal career mentoring programs, those individuals serving as mentors should be at a senior level. The manager level or above is likely an excellent place to start when identifying and filling mentor rosters. Anything below that, and you risk having the mentor's experience be less practical for mentees.
Need to recruit more mentors? Check out this Mentoring Soundbites video on how to recruit mentors for your programs. Be sure to like and subscribe, as new content drops on our YouTube channel every Wednesday at 8 AM EST.
When looking for career mentors within your organization, consider the people with the following job titles:
The "Chiefs" (CEO, CMO, CFO, CRO, etc.)
Director
Manager
Senior
Still, even lower-level employees who have more experience can be early career mentors. Someone who is only one step above a new hire can at least offer some early insight into what the career pathway looks like at the organization and how to move up to the next step.
Remember: Mentoring should help the mentee prepare for future steps in their existing career. Ideally, those steps will be taken within your organization. However, don't just train them for a career within your company. Mentors should help equip them with skills and practices that are valuable for their desired career path that would make them effective anywhere.
The Purpose and Benefits of the Career Mentoring Program
Career mentoring helps employees grow by tapping into the expertise and experience of someone who has "been there, done that." It's like playing an extremely difficult video game with a cheat code (or running the risk of dating myself here, using a Game Genie). Career mentoring is the best and most authentic method to help people develop their professional growth and career goals.
Career mentoring programs aim to guide individuals (mentees) who want to progress in their careers by pairing them with a career professional who wants to give back.
Career mentoring helps people up changing times
The concept of the "company man" goes like this: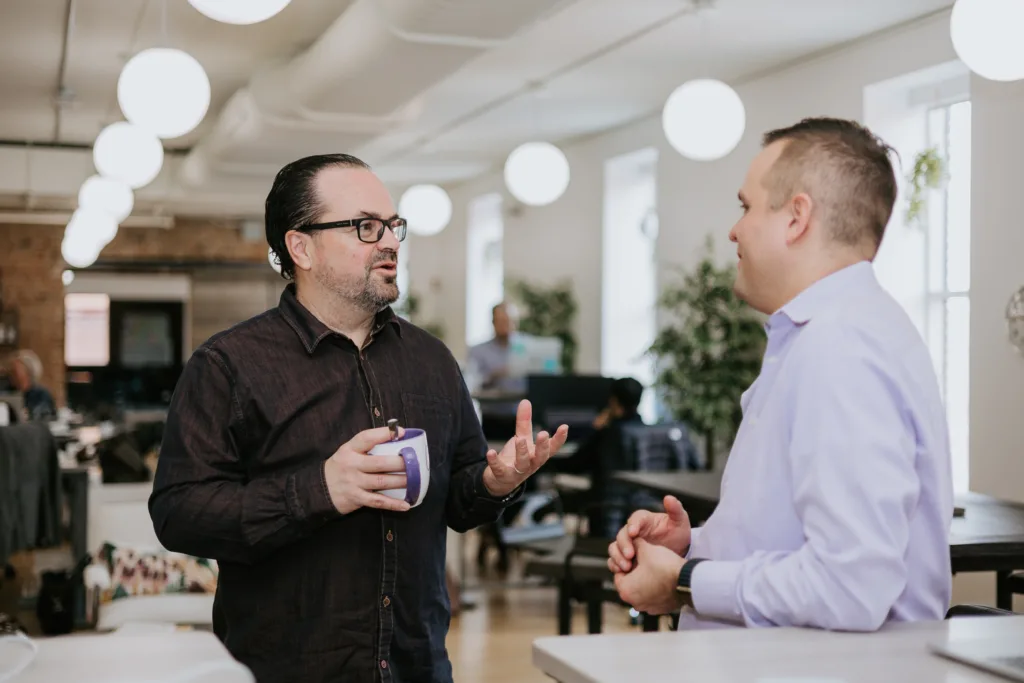 People join a company at a young age
They stay with that company and build up their skills and experience
They slowly advance to different levels (Senior, Manager, Senior Manager)
Because others have progressed and advanced that way, they new employee has plenty of people to show them the ropes and they have a clearly-defined pathway themselves
That concept doesn't really exist anymore. The Bureau of Labor Statistics (BLS) finds that the median employee tenure is just a tad over 4 years. Quite often, that means that the career pathway within an organization may not be immediately clear, as individuals who are at the senior level or above may not have started their journey in the same company.
When nobody can tell you how to get from new hire to manager, why would you stay?
Organizations and companies have grown more complex. Employees must often take more twisty and tortuous paths to leadership roles and higher positions. In addition, people are being sent to different divisions and different departments in the belief of the importance of broadening experience and preparing them for more significant roles.
Having a dedicated, structured, and well-outlined career pathing guide and a career mentoring program helps reduce this confusion. Career mentoring programs will draw a clear line and connect the dots more visually, eliminating the stress and confusion that often leads people to quit for roles at other companies.
How to Help Employees with Finding a Mentor
Career mentoring starts with having a mentor. As obvious as that sounds, not everyone company has a strategy for pairing mentors and mentees. There are three approaches here:
Let employees find their own mentors
Pair mentors and mentees manually
Use software to automate pairing across dozens of criteria
Having insights and guidance from someone with extensive knowledge and experience in your field is a tremendous advantage for your professional development. But having a mentor who you also get along with is even more invaluable.
Companies run the risk of employees never finding a mentor when left to their own devices. And manually pairing mentees and mentors is both exceptionally time-consuming and carries significant implicit bias risks.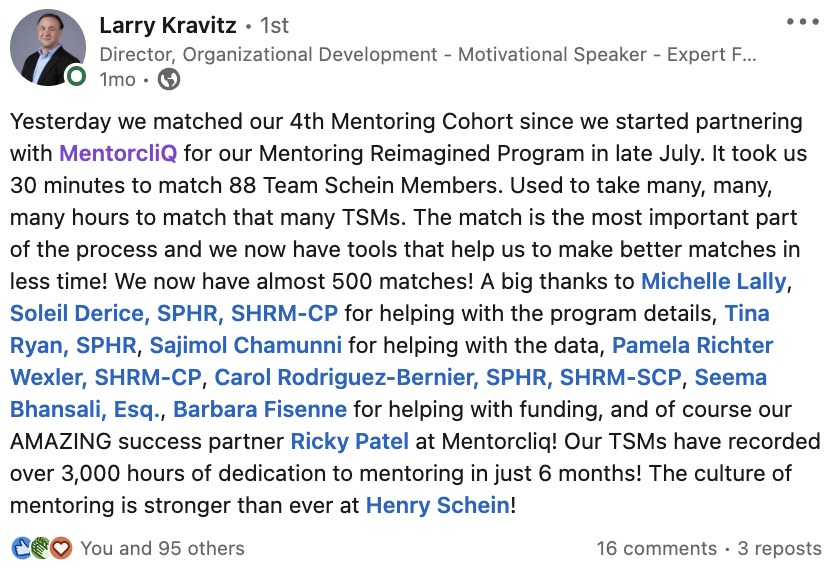 This is why we recommend software. It not only creates better matches but reduces the time and expense required to create matches. For example, in a recent LinkedIn exchange with MentorcliQ customer Henry Schein, its Organizational Development Direct, Larry Kravitz, explained:
"Before the investment [in MentorcliQ], it took two of us 70 plus hours to get 75 matches right. We've matched four cohorts and on average I would say it takes under 30 minutes for a cohort of a similar size and while our matching process was good, we're now able to make better matches with a DEI lens."
You can read more of that exchange on LinkedIn.
Did you do the math? Henry Schein reduced its time spent matching by over 99%.
Helping employees find the right mentor starts with having the right tools. Without software, you limit not only the effectiveness of matches but how many people you can reasonably match. Since everyone deserves a career mentor, limiting the number of participants is cruel, to say the least, and will ultimately increase turnover for those who "don't make the cut."
Now's the time. Book a demo to learn more about how mentoring software works.
Advice to Employees Looking for a Career Mentor
They say it is better to have a good boss in a bad company than a bad boss in a good company.
Indeed, a good boss is wonderful to work with. They can make work more fun and meaningful and help you grow and improve in your field. Sadly, not everyone has the luxury of working with a good boss.
While you have some control over who you work for, you'll have little control over who you work with. Unless you're the hiring manager, you don't decide who gets those offer letters.
Fortunately, when your company has a mentoring program in place, you will likely have a fair amount of autonomy over who your mentor is. And if your company has no such program, you can still seek out a mentor independently through your social and career networks.
Finding your own mentor is more challenging. If you can, ask your company to start a career mentoring program and offer to take the lead on building the case for mentoring programs.
Finding a good mentor can be your most powerful tool for professional growth. Not only can they open up career opportunities and build critical skills for promotions, but they can also help you find a better work-life balance. This is important as you climb the corporate and career ladder or pursue a different career path.
Understand your own career goals
Start by reflecting on where you are in your career, how far you've progressed within your career goals, and where you want to go next. Then, list all the attributes that are essential for your next step.
From there, identify your needs and what you plan to get from career mentoring. What is it do you wish to learn from a mentor? Next, consider your professional growth and all your career goals. If you can do this, then you are ready to start your way into a career development mentoring program.
Start with the people you admire
You want a career coach that you admire and respect. More often than not, you have a couple or more of them in your field and industry. Brainstorm the names of prospective mentors (or prospective mentors) you think can be good career mentors for you. List down all their names, and start at people who are at the more advanced stages in their careers.
You can start with your professional network. These can be people in your company or workplace, a friend of a friend, etc. It also pays to prioritize people who love training and teaching the next generation.
Reach out to potential career mentors
Interestingly, the 2018 survey conducted by Olivet Nazarene University shows that 76% of professionals in various fields believe having a career mentor is essential.
However, only 37% have one.
Why is there such a wide gap? Most people fear rejection. Reaching out to someone you admire and respect can be highly intimidating, especially if someone is more senior than you. What is more intimidating is the thought of knocking on their office door and walking to their desk to introduce themselves—the same thing with bumping them in the hallway and riding the elevator with them.
Your potential career mentor had career mentors too
The key here is to remind yourself of this fact:
The people you look up to in your field have had several mentors throughout their careers.
Most people would jump at the opportunity to pay it forward and leave a lasting legacy to the next generation through career mentoring. It's why topics such as women mentoring women are such a big deal. People want to give back when they've received the benefit of mentoring.
Generally speaking, people like it when others ask for their help. It makes them feel important and valued. If you want to connect with someone, the first thing you need to do is reach out. Then, you can ask if you could speak with them if they would be interested as your prospective mentor.
Don't be afraid to ask for a mentor
If you find someone who you want to be your career mentor, create and send them an introductory email. to introduce yourself. Include a short description of yourself, and mention a couple of things you admire about their work and career. Make it clear why and how you would want to learn from them.
Here are some ideas of what to include in your career mentoring outreach: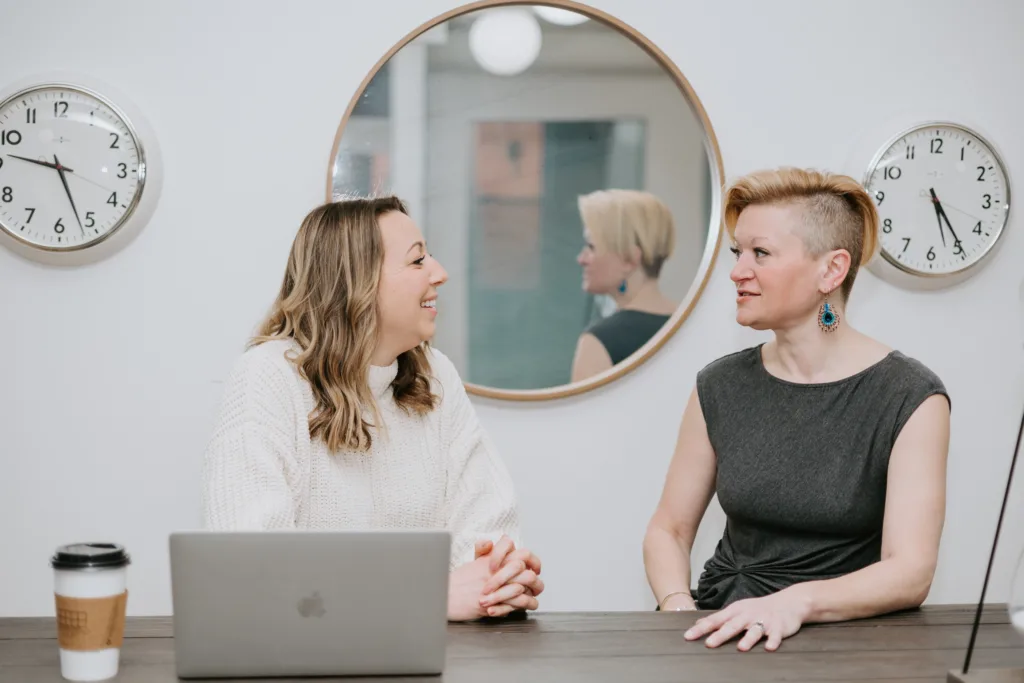 A clear subject line indicating your purpose for reaching out
A brief introduction of who you are (include your LinkedIn account)
A brief explanation about why that person would make a great career mentor for you
A specific request for a phone call, video chat, or in-person meeting to discuss the possibility of establishing a mentor-mentee relationship
A proposed date and time for the initial conversation or a request to suggest a mutually convenient time
A polite and professional closing, thanking the potential mentor for their time and consideration, and including your contact information for follow-up
Keep the email concise and focused on your request while conveying your enthusiasm and interest in the mentorship opportunity. Be sure to proofread the email for typos and grammatical errors before sending it, and personalize it to reflect your unique voice and personality.
And no, don't just ask ChatGPT to write your email without any modifications on your part. You can undoubtedly use an AI writing tool assistance in getting started, but personalization is critical to winning over a mentor.
The first meeting is a low commitment where you can test the waters and determine each other's personality. From there, you can gauge your chemistry and establish a relationship.
Preparing for a First Career Mentoring Meeting
Nurturing the mentoring relationship is as important as making the first. A successful mentor and mentee relationship is a two-way street. For it to work, both parties must be on the same page. For that to happen, mentees must nurture the relationship with their mentor and take time to connect with the person. Here are some tips on how to develop a strong bond with your mentor:
Start with a casual conversation: The meeting should not be all business. Remember, mentees and mentors are still feeling each other's personality and gauging your chemistry in that first meeting. People will get uncomfortable when someone wants to jump straight to business. Both mentees and mentors can ask some personal questions to establish a rapport, such as:
What do they like to do outside of their work?
What books do they like to read and would recommend to the younger generation?
What does their day/weekend look like?
What interests them the most in their work, field, career, and industry?
Ask personal questions: Once the mentee and mentor have established a connection, they can move on to more personal questions. This will help determine if the mentoring pair has anything in common and whether they enjoy each other's company. Questions they can ask include:
How did they develop the skills and confidence in their work?
What is their background in education that led them to this career?
What advice do they have for young people who wish to take a similar career path?
Move on to business-centric questions: After the pair has gotten to know each other on a personal level, the mentee can start asking about career development and management skills. An experienced mentor will have no problem sharing how they've gotten to where they are today and what skills were necessary to build in that process.
Summarize their advice: When wrapping up the conversation, mentees should summarize the advice and insights they received from their mentor. Mentees should also ask for clarification on anything that didn't make sense or wasn't clear.
Remember, a successful mentor and mentee relationship is a two-way street. Establishing a solid and friendly connection is essential to ensure the relationship is fruitful for both parties.
Show gratitude for career mentors
A little thank-you note can go a long way. Mentees should spend time expressing gratitude to someone who has offered their time and expertise in mentoring. Sincerity wins the day.
This topic is important enough that you can read more on our post about expressing gratitude in mentoring.
Career Mentoring Doesn't End with the Cycle
Nothing is more rewarding for a career mentor than seeing their mentees reach career success and goals. This makes them feel they are good mentors and that you learned something from their guidance. But even when a career mentoring relationship has ended, or a mentoring program cycle has run its course, the benefit of that relationship doesn't end.
Mentees who have achieved the end goal (progressing to the next step in their career), are then ready to become mentors themselves. Don't hold back: invite successful mentees to be mentors. Ask them about the possibility of giving back, and help train them to be great mentors, as well.
The idea is to keep a strong pool of mentors who can benefit and create a stronger and more cohesive community at work or highly-skilled workers. This is the secret element in successful mentoring and the secret sauce of successful organizations that have lower turnover.
The next move is yours: Book a call to see how why career mentoring software is an absolute game changer.