The mentor-mentee relationship is a critical factor in the success of a mentoring relationship. Most of the work that goes into developing a successful mentoring program is ensuring that the two are a good match. The emergence of the mentor matching engine is an innovative solution that can solve some of the most common issues with traditional mentoring programs that use manual matching strategies. Among many other benefits, mentor matching engines help eliminate matching bias, significantly reduce administrative time burden, create opportunities for more dynamic and comprehensive matches, and allow for faster and more efficient program scaling.
What Is a Mentor Matching Engine?
Employees look at mentoring as an important part of their career journey. They turn to mentors to receive meaningful feedback about career decisions and professional development.
But how do you match a mentee with the right mentor? This is where a mentor matching engine delivers value. It is a tool that automates the matching process using algorithms built on research-backed matching strategies designed to deliver higher-quality pairs.
As an online collaboration and matching tool, mentor matching engines empower mentors and mentees to make it possible to develop meaningful relationships. When included within a large mentoring platform, mentoring program administrators can track the mentoring program at scale. This technology is a huge advancement from traditional mentorship programs in a way that wouldn't be possible without the utilization of a mentoring platform.
How Mentor Matching Engines Work
A mentor matching engine is an excellent tool for solving real-world problems for mentors and mentees paired in skill-based relationships or even in buddy systems where mentors and mentees are at a similar tenure level. It is equipped with several tools that improve the efficiency of the mentoring relationship, as well as make it easier for mentees to access and communicate with their mentors anytime.
Wait! Are you matching for the first time? Check out this Mentoring Soundbites video to gain some new insight and strategies on how to match mentors and mentees.
The following is a glimpse of the basic features that you can enjoy with this online platform:
It reduces the transaction costs involved with traditional mentoring programs.
It is designed to make it easier to track the progress of the mentoring program and gain insight for improvements.
It facilitates deeper engagement and more efficient mentoring.
It delivers a discussion-based environment that facilitates document sharing, video conferencing, and collaboration with other mentors.
Benefits of Using a Mentor Matching Engine
MentorcliQ's mentor matching tool was built as a response to the consistent frustrations reported by talent development leaders trying to run successful mentoring programs. Matching has historically been one of the biggest burdens to launching mentoring programs.
Because of this, manually-run programs that rely on hand matching are usually limited in the number of participants that can be matched, and the number of programs administrators can run at any one time — at least, not without an army of program administrators on hand. Ultimately, manually run programs don't produce the type of ROI that makes them an effective training, development, and engagement strategy.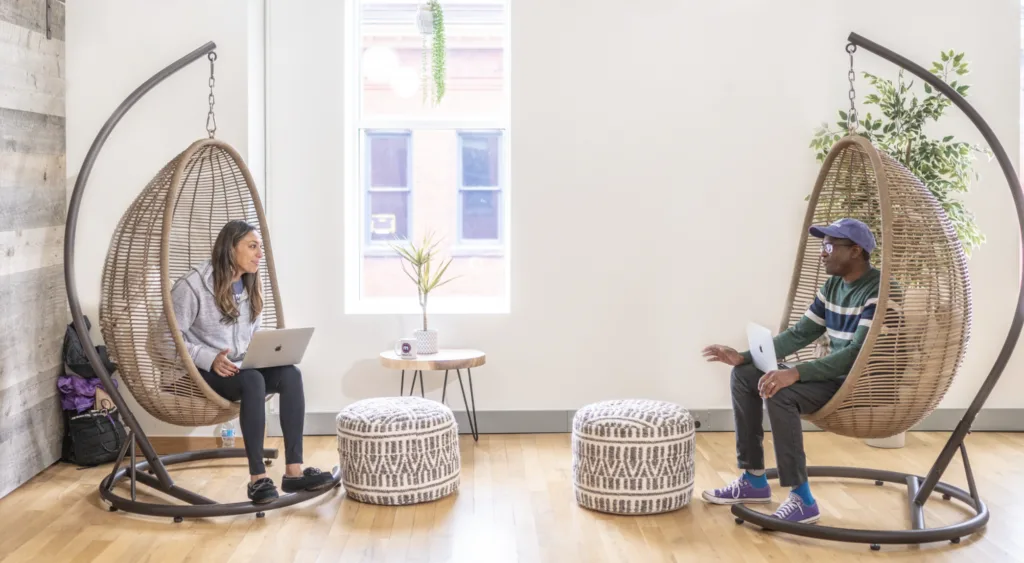 Have you seen what mentor-mentee matching software can do? Book a demo to get a look under the hood of a mentor matching engine.
There's a reason why 84% of Fortune 500 companies have mentoring programs. They both see the value in them and are more likely to invest in the technology that makes mentoring easier to establish at scale across their organizations.
The following are some of the benefits you can enjoy when you utilize a software approach for your mentoring programs that start with a mentor matching engine.
For Mentors
Mentor matching engines can expand the number of mentors you have available for mentoring programs. By eliminating the amount of lift needed to enroll in a program, mentors can join a program and after completing a quick survey, be matched with mentees almost immediately. However, program administrators can also examine best-fit matches determined by the system and pair based on suggested matches.
Additionally, mentoring software allows mentors to keep a better track of mentoring goals and milestones, communications, and learning goals.
For Mentees
Mentees are the biggest beneficiary of mentoring software and mentor matching engines (as they should be!). As with mentors, mentees can enroll quickly and get matched quickly. They also have access to tools that help them track progress toward milestones and goals, integrated communications with their mentors, and a platform that even allows on-demanding mentoring with open mentoring programs.
For Organizations
Organizations have an understandable need to see results from mentoring program software. If you're going to put up the resources for a mentor matching engine and mentoring software, it should help you achieve critical objectives.
Thankfully, mentoring software can produce incredible results when utilized correctly. In fact, with MentorcliQ's mentoring software, companies see an average 50% reduction in turnover.
That's just one area where mentoring software produces significant cost savings and ROI, but for most companies, it's enough to get the conversation going on applying mentoring strategies for other business objectives, such as succession planning, leadership development, and DEI.
Remember: Mentoring Is More than the Match
The use of mentor matching software is a reliable way to achieve more accuracy with your mentoring program. However, as important as matching is, effective relationships must have meaning. Make sure your mentoring programs are effectively structured and well-planned so that once mentors and mentees are matched, they're working toward goals that lead to successful program and relationship outcomes. Commonly, one of the biggest hurdles to that kind of success is how well mentors themselves are prepared to step into that role.
Let's keep this conversation going. Read more on how to assess whether your mentors are ready — and what to do if they aren't.