Here comes the most colorful month of the year. In the US and many other countries worldwide, we and many other companies celebrate Pride Month in the workplace, in the streets, and just about everywhere. Pride Month is a time when we come together and honor the LGBTQ+ community, their history, struggles, and achievements. The visual elements, such as rainbows and parades, are fun, but they're not the crux of what Pride Month means. Instead, it's a commemoration of the groundbreaking Stonewall Riots from 1969, a massive turning point in the fight for LGBTQ+ rights in the United States that, gradually and eventually, extended beyond the US and sparked the LGBTQ+ movement across the world.
Pride is about embracing diversity, championing equality, and fostering an environment of acceptance and love, every day of the year. And where better to start than our workplaces?
In this article, we'll explore workplaces' critical role in promoting LGBTQ+ inclusion. We'll delve into the current state of LGBTQ+ inclusion and rights in the workplace and, most importantly, actionable steps your organization can take to celebrate Pride in a meaningful way.
LGBTQ+ Inclusion in the Workplace: Where We Are Today?
In recent years, we're seeing significant changes globally regarding LGBTQ+ rights and inclusion in workplaces. Businesses of all sizes and across various sectors create spaces where employees feel they belong.
Common types of spaces for LGBTQIA+ employees include (but are not limited to):
Mentoring programs
Employee resource groups
Employee action networks
Safe space initiatives
Inclusion/DEI councils
If we're looking at this from a legal perspective, many countries have made significant strides towards equality. In the US, a landmark Supreme Court ruling in 2020 confirmed that discrimination based on sexual orientation and gender identity is a form of sex discrimination. Judges confirmed this under Title VII of the Civil Rights Act of 1964. This means that employers legally cannot make employment-related decisions based on an employee's sexual orientation or transgender status.
Fast forward to 2022. A Deloitte survey shows 95% of LGBT+ employees believe that LGBT+ inclusion efforts, actions, and initiatives introduced by their employers have led to meaningful support and positive impact, especially allyship and allies programs as well as Employee Resource Groups (ERGs).
However, despite the positive outlook, 42% continue to experience non-inclusive behaviors at work — in both office and remote work environments — such as unwanted comments or jokes of a sexual nature, banters or jokes at their expense, unwanted physical contact, and being socially excluded. And these non-inclusive behaviors can often do more harm than good to employee retention.
Put plainly, although the ruling was seen as a major step forward in promoting equality and ending discrimination against the LGBTQIA+ community, we still have a lot of work to do given that LGBTQIA+ individuals still face bias, lack of representation, and unequal benefits.
And this is where businesses and employers can make a difference.
How to Create an LGBTQ-Inclusive Workplace
From adding gender identity and sexual orientation to their non-discrimination policies and giving same-sex couples the same benefits as different-sex ones to rolling out Diversity, Equity and Inclusion (DEI) training and setting up groups for LGBTQ+ workers and their allies, many companies are stepping up and setting policies that surpass the legal basics. Let's take a closer look at them one by one.
Develop and communicate anti-discrimination policies and practices
Every company should develop and execute a clear anti-discrimination policy. This policy should cover all aspects of employment, including hiring, training, promotion, compensation, benefits, and termination. Examples of anti-discrimination policies are:
Equal employment opportunity: To ensure equal job opportunities for all, regardless of personal characteristics.
Zero tolerance for harassment: To prohibit all forms of harassment and maintain a respectful, non-hostile work environment.
Religious accommodation: To accommodate all religious practices respectfully and within reasonable means.
Disability accommodation: To provide necessary adaptations to support employees with disabilities.
Gender identity and expression: To uphold fair treatment for all, irrespective of gender identity or expression.
Complaint and reporting procedure: To outline transparent processes for reporting discrimination or harassment.
Retaliation prevention: To safeguard individuals who report issues from any form of retaliation.
Still, It's not enough to just have these policies on paper. They must be actively communicated and reinforced across all levels of the organization. Regular meetings, newsletters, company-wide events, and dedicated internal communication campaigns are effective ways to ensure that all employees are aware of these policies and their implications.
The goal of anti-discrimination policies and practices is not just to comply with legal requirements but to foster a truly inclusive workplace where everyone feels respected and valued.
Ensure LGBTQ+ inclusive benefits
Now let's talk benefits, literally. All employees, no matter who they are, should be able to access their benefits packages, including health insurance, family leave, relocation assistance, pension or retirement plans, etc.
There has also been a discussion around benefits for same-sex couples and transgender employees. We saw a great example where Starbucks, since 2012, covers gender reassignment surgery, and in 2018 began to cover a gost of procedures common in the LGBTQIA+ community, such as breast reduction or augmentation surgery, facial feminization, hair transplants, and more, for transgender partners in the US.
Not only do these inclusive benefits show how much you care and value your employees, but they also help with financial wellness for LGBTQ+ employees facing higher healthcare and family planning costs.
A smart move is to review your benefits packages regularly to ensure they meet the needs of all your team members. Inclusive benefits = equal happy, healthy employees.
Provide training on LGBTQ+ awareness and sensitivity
DEI awares and sensitivity trainings are having a bit of a moment right now. Noted DEI strategist and consultant Lily Zheng went into detail on the problems that exist in this market in her Harvard Business Review article, "The Failure of the DEI-Industrial Complex." In the piece, Zheng writes:
"There's a big, poorly kept secret in the Diversity, Equity, and Inclusion (DEI) industry: the actual efficacy of an uncomfortably large proportion of our "flagship" services, talking points, and interventions — unconscious bias training, racial sensitivity workshops, the "business case for diversity," resume anonymization, and the like — is lower than many practitioners make it out to be."
While I encourage you to read the whole post yourself, her TL;DR here is that DEI and awareness trainings can work, but they more often than not don't work because they're not what an organization truly needs to enact change. It boils down to a key point Zheng offers:
"…organizations large and small are often eager to fund one-time, "inspirational" events to "raise awareness" of inequity, but far less enthusiastic about medium-to-long term interventions that change incentive structures, shift the balance of power and resources, or reimagine personnel processes like evaluation, promotion, and conflict resolution."
Whether it's debunking myths, addressing unconscious biases, or just sharing the right terminology, training sessions on LGBTQ+ inclusion, awareness, and sensitivity are valuable to have. But they're ultimately going to be a waste of everyone's time, energy, resources and patience if they're done in isolation of longer-term, institutional policy changes at your organization.
That said, even having these trainings at all will, at a minimum, help your LGBTQIA+ employees see that you're making an effort. McKinsey reports LGBTQ+ workers whose organizations provided employee training on inclusion and unconscious bias were 1.4 times more likely to feel very included in the workplace. Just don't let your efforts only rest on diversity and sensitivity trainings, as they are increasingly shown to have little to minimal impact on your core DEI goals when they're the only strategy you employ.
Support Employee Resource Groups (ERGS)
Employee Resource Groups (ERGs) are voluntary, employee-led groups that serve as a resource for members and organizations by fostering a diverse, inclusive workplace. ERGs for LGBTQ+ employees and allies can provide a supportive network, improve employee connection and engagement, contribute to personal and professional development, and create a strong sense of belonging at work.
Thankfully, these are among the most common types of ERGs companies offer to their employees. ERG software company Diverst found that ERGs for LGBTQIA+ employees and allies are the second-most common within Fair360's DiversityInc Top 50 list.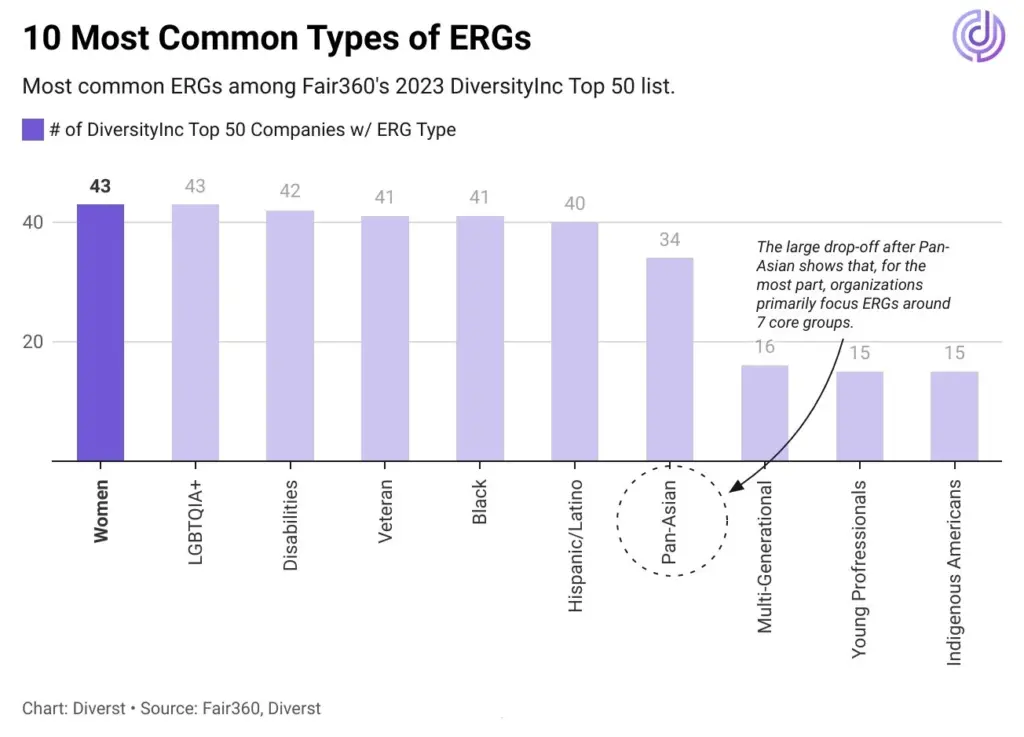 Netflix is an example of a business that supports and takes belonging and inclusion seriously. Their inclusion motto, "inclusion on-screen starts with inclusion in the office," is reflected in 16 ERGs serving Latino/a/x, veteran, Black, and disability communities.
Encouraging ERGs shows that you're not just talking the talk—you're walking the walk when it comes to inclusion.
Encourage and practice active allyship
Allyship, both at work and at large, is the active support provided by individuals who are not part of marginalized communities but use their privilege to advocate for those groups. According to Deloitte, 82% of LGBTQIA+ employees believe that allyship helps them to be out at work, especially for transgender employees.
So what does it mean or take to become an ally? While allyship can take many forms in the workplace, here are some examples of what and how allyship looks like.
Listening; really listening: Make and take time to listen to and learn from the experiences of marginalized colleagues, creating a respectful space for their voices to be heard.
Speaking up: Use your privilege to challenge and speak up against discriminatory comments or practices when you see them, even when it's uncomfortable. This includes reporting non-inclusive behaviors to HR or through formal channels.
Mentorship: Offer to mentor individuals from underrepresented groups, providing guidance and support for their professional development. (This is really important, and we will dig deeper in the next section.)
Amplification: Make a conscious effort to amplify the voices of those who may be overlooked or spoken over in meetings or discussions.
Inclusive language: Use inclusive language and respect everyone's pronoun and preferred name.
Support of ERGs: Participate in and support ERGs, even those that don't directly correlate with your own identities, to show solidarity and learn more about different experiences.
Allyship is not a label but an ongoing and active process of learning, listening, and standing up for others.
How Important Is Mentorship to LGBTQ+ Career Progression?
Terms like "underrepresented" or "marginalized" aren't made-up when it comes to LGBTQ+ career progression.
According to Out Leadership, as of March 2023, only 39 out of over 5,400 Fortune 500 board seats are occupied by LGBTQ+ directors. McKinsey reports 3 in 20 LGBTQ+ women and 6 in 20 LGBTQ+ men believe their sexual orientation will negatively affect their career advancement at work. It's not only about the lack of representation but also the access or opportunity to represent in the first place.
Mentorship is a key driver of career progression for any professional, but for individuals within the LGBTQ+ community, it can be even more critical—mentoring is a must.
Mentorship is an important building block in growing sponsorship. It can tremendously help advance LGBTQ+ inclusion and help employees advance in their careers to the extent that an LGBTQ+ interviewee told McKinsey, "Unless people are pulling you up, you're not going to advance."
For individuals within the LGBTQ+ community, a mentor can make the difference between merely surviving in the workplace and truly thriving. It's up to companies to foster an environment where mentorship is valued, encouraged, and easily accessible for all workers.
What are the benefits of mentorship programs tailored specifically for LGBTQ+ employees?
Personalized guidance: Mentorship programs designed with LGBTQ+ employees in mind can provide specific, tailored advice and support that addresses the unique experiences and challenges this community may face in the workplace.
Increased retention: LGBTQ+ friendly mentorship programs can enhance job satisfaction, engagement, and loyalty, leading to higher retention rates.
Representation: Such programs can increase the representation of LGBTQ+ individuals in higher roles, proving to mentees that advancement and success are truly possible.
Safe spaces: These programs create safe, understanding environments where mentees can express their concerns, experiences, and fears without judgment, which is particularly valuable for employees who may not feel comfortable discussing these topics in a wider setting.
Empowerment: These programs can empower LGBTQ+ employees by providing them with the resources, connections, and support they need to succeed professionally.
MentorcliQ's platform has been a solid partner for companies laser-focused on DEI goals. Media company Nielsen, for example, hosts many of its Employee Resource Groups on MentorcliQ's platform. That includes its Pride ERG, which serves Nielsen's LGBTIA+ community and allies. With 43,000 employees worldwide, Nielsen knows a thing or two about DEI. The company has been recognized as one of the World's Top Female Friendly Companies (2022) and was listed among the Best Companies for Diversity (2019).
Check out Nielsen's website for more on how it approaches and supports DEI.
How to ensure LGBTQ+ inclusive mentoring programs are effective and authentic, not just performative?
Recruit the right mentors
Ensure that mentors are genuinely supportive of LGBTQ+ inclusion and rights. They should be educated on LGBTQ+ experiences and challenges and willing to advocate for their mentees.
Provide training for mentors
Provide training for mentors to equip them with the knowledge and skills necessary to support their LGBTQ+ mentees effectively. This could include education about the LGBTQ+ community, unconscious bias training, and lessons on empathy and active listening.
Encourage open communication
Maintain regular and open communication between mentors and mentees. Provide feedback mechanisms for mentees to express their experiences with the program and adjust based on their input.
Create a supportive environment
Establish a supportive and inclusive company culture. Mentorship programs can't fix systemic issues alone; they must be complemented by broader efforts toward inclusivity and equity.
Measure success
Establish clear metrics to measure the success and ROI of the mentorship program. This could include surveys, feedback, retention rates, or progression of mentees within the company.
Make a long-term commitment
Make sure that implementing a mentorship program is part of a long-term commitment to diversity and inclusion, not just a one-time initiative. Continuously revisit and revise the program as necessary.
Ways to Celebrate Pride Month in the Workplace?
Pride Month is not only a celebration conceptually but also literally!
There are many ways to celebrate Pride Month in the workplace, including Pride-themed events like workshops, panel discussions, or guest speakers who can offer insights into LGBTQ+ inclusion, rights, history, or personal experiences in the workplace.
Visual support is another impactful method; this could involve decorating the office for Pride, using Pride-themed backgrounds in virtual meetings, or even encouraging employees to dress in Pride colors.
Outside of the workplace, companies, and businesses can also demonstrate their commitment to the LGBTQ+ community by actively participating in local Pride events and parades, sponsoring LGBTQ+ events, or collaborating with local LGBTQ+ organizations. Deloitte reports 31% of LGBTQ+ employees feel comfortable being out at work when allies participate in employer-sponsored events such as the Pride parade.
Celebrating Pride in the workplace isn't about a one-time event; it's about fostering a culture of ongoing inclusion. Every employee, regardless of their sexual orientation or gender identity, has a role to play in making the workplace a safe, inclusive, and welcoming space.
LGBTQIA+ Support Starts with You
Bringing the spirit of Pride into the workplace is paramount. The true essence of Pride Month goes beyond a celebration; it's about authentic inclusion. We're talking about fostering a work environment where everyone feels acknowledged, respected, and has equal opportunities to thrive, regardless of their sexual orientation or gender identity.
If there's one thing we at MentorcliQ couldn't be more proud of, it's how we help companies like Nielsen, Clorox, and KeyBank build a truly inclusive workplace with the #1 employee mentoring app. We can help yours, too. Book a demo to see MentorcliQ in action today.