While businesses are always concerned with money and the bottomline, it feels a bit more urgent these days. Maybe it's all the layoff announcements or the recession fears, but something is percolating. When you start looking at the cost of train new employees, it's understandable that businesses would be looking for more efficient ways to take action. Particularly given today's tight labor market and rough economy, any little bit helps, right?
This post will help you break down the training costs for new employees. You'll also find a few action steps to reduce training costs and get back to what you love: saving money.
Learn how to reduce Employee Training Costs with our Free Workforce Survival Guide
What Is the Cost of Training New Employees?
The average organization spent $1,280 per employee on workplace learning and training in 2021, according to the Association for Talent Development's 2022 State of the Industry report. That doesn't even take into account the cost to attract, recruit, and retain a new hire.
Gallup puts the cost of replacing an individual employee as anywhere from one-half to two times the employee's annual salary, which they point out is "a conservative estimate." They calculate this as $1 trillion being lost every year due to voluntary turnover. Trillion…with a T. Yikes!
Training a new employee and helping current employees upskill is necessary, but can be costly.
ATD reported that the average cost per hour of training used is $103. For many employees, that cost of training is more than their hourly pay rate. 
Yet organizations continue to address these learning needs with traditional training. While training can be helpful and even required at times, organizations are missing out on an opportunity to expand the impact of that learning through ongoing support as employees start using the training on the job. This is where mentoring can play a starring role.
Mentoring Helps Get More Value Out of Training
When people attend a traditional training event, either in-person or virtually, they can focus solely on the material being presented and the skills being taught. But then the training ends and the individual learners have to return to their day-to-day work.
Common post-event scenarios
Confusion:
Camille paid close attention during the training. Everything made sense and she felt excited about what she was learning. She returned to work confident that she could apply this new knowledge on the job. But then she started to forget what the instructor had said.
Her notes, which seemed so clear when she wrote them, no longer made sense. She couldn't figure out how to get past this hurdle, so she stopped trying. She went back to doing things the way she had before the training. Now, her notes just collect dust and she's right back where she started.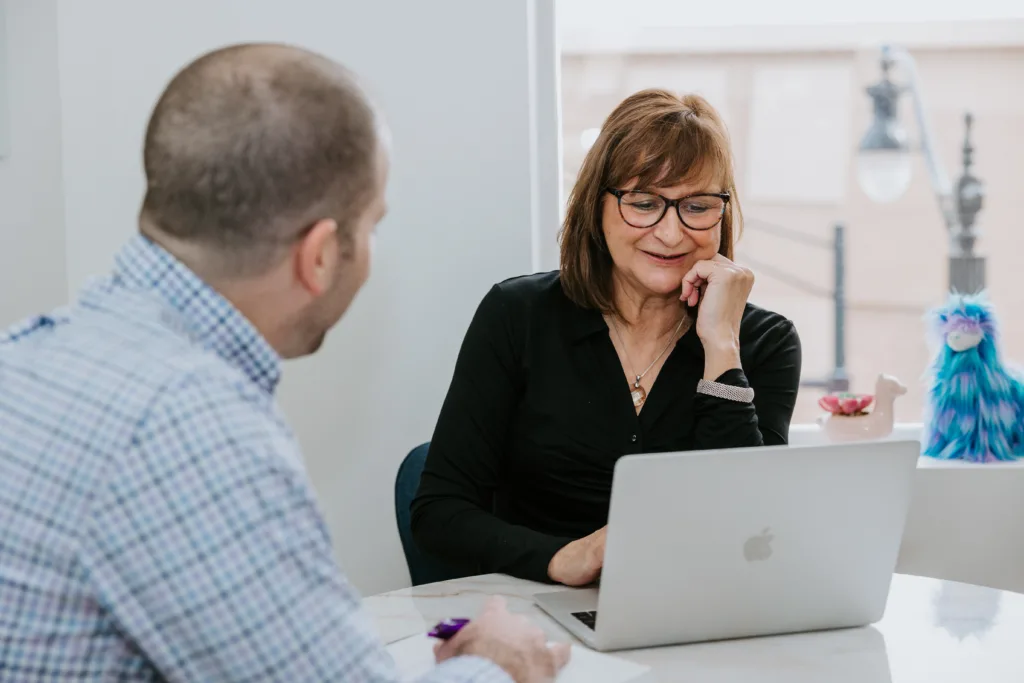 Day-to-Day Demands:
Demarcus was a rock star at the training event, offering comments and answering questions throughout. He already started jotting down plans for how he will implement the new learnings in his daily work. When he returned to work, he started making plans and lists. He even held an initial meeting with a coworker about what he wants to change based on the training he received.
But then he got a new project with a tight deadline. And then another. And another. And before he realized it, six months had gone by and he still hadn't done anything else to apply that training on the job. The busyness of his day-to-day job had gotten in the way.
Radio Silence:
Rafael wasn't sure what to expect from the training, but he was glad he attended. He learned some cool new techniques that he's already applied on the job and he has a few new ideas for how to take the concepts even further. But he's not quite sure where to go from here, and no one else in his department has attended this training. He has great ideas, but no one to talk to. He feels like his productivity could improve even further if only he had someone to bounce ideas off of.
These three common scenarios can make great training seem worthless. It's not through ill-intent that the training doesn't achieve the value it should; it's simply that there is a disconnect between the learning that takes place during the training event and the application of learning on the job. And it can be massive.
When organizations use mentoring to reduce the cost of training new employees, the results can be quite valuable
In his book Modern Mentoring, Randy Emelo shares how technology firm EMC used mento­ring software before, during, and after their two-week Support New Hire Training course "to build a learning environment in which newly hired technical support engineers could learn from one another, reference materials from the training course while of the job, and solve customer problems quickly and efficiently" (p. 74).
As Emelo describes in his book, the results achieved by the group that used mentoring to support training were better than the results recorded for the group that just used training alone.
New Hire Training Results from EMC
| | | |
| --- | --- | --- |
| | With Mentoring Software | Instructor-led Training Only |
| Final Exam Scores(first attempt) | 91.73% | 80.75% |
| Final Exam Scores(second attempt) | 95.73% | 85.90% |
| I would recommend this course to others.(5-point scale) | 4.84 | 4.56 |
| This course will help me be more efficient, effective or productive in my work.(5-point scale) | 4.84 | 4.51 |
| Time saved | 4 hours per participant due to pre-work | ——- |
| Money saved | $270,000 due to reduced travel costs | ——- |
(Source: Randy Emelo, Modern Mentoring, ATD Press: 2015)
By using mentoring in conjunction with training programs, organizations can pull together cohorts for collaboration before, during, and after a training event so that they can connect with people as they put theories into practice.
They can share ideas and opinions, talk about what they've tried that was successful (and what wasn't), use their mentoring cohorts as sounding boards for moving forward with their skills, ask for advice from their group of peers and advisors, and more.
Allowing employees to pursue new skills that they can apply on the job, while they also connect with colleagues who are involved in similar situations and who are also attempting to apply the same newfound skills in the context of their own jobs, builds community. This is where mentoring shines as a deeply impactful solution to reduce training costs of all employees.
Cost-Effective, Scalable, and Multi-Faceted Mentoring to Supplement the Cost of Training New Employees
The mentoring programs our clients have implemented run the gamut from onboarding and high potential programs to skills programs for specific functions to DEI programs that amplify the power of diversity. These programs help employees develop their careers, hone their skills, and build a community at work. And companies are calculating real ROI from their mentoring programs.
MentorcliQ's Mentoring Impact Report shows that 92% of U.S. Fortune 500 companies have visible mentoring programs. Among U.S. Fortune 100 companies, it is 96%. But if you're ready to be really impressed… (Drum roll, please.)
Among the top 50 U.S. Fortune 500 companies, 100% have mentoring programs.
Given that the Fortune 500 list is based on profitability and revenue, this ultimately means that companies with mentoring programs also tend to generate more revenue and have better profitability.
Mentoring is a cost-effective solution that thrives as a centerpiece for your talent development strategy. It can supplement and support the critical processes you already have in place.
For example:
Do you have a leadership development program or initiative that you run? Great! Make mentoring a requirement for your participants in that leadership development program so that they can connect with experts and emerging talent and learn from one another as they grow in their roles.
Do you have an onboarding program for new hires or people who have gotten promotions so that you can get them off on the right track in their new jobs? Fantastic! Include a mentoring component to this initiative so that you give people support in their day-to-day lives as they acclimate to their new roles and possibly to a new organization.
Do you have employee resource groups (ERGs) in place as part of your organizational DNA? Excellent! Offer them a way to engage in mentoring within their own groups (and across groups too if that makes sense for your organization) so that people can support colleagues, share insights, generate ideas, explore best practices, and ask questions.
Do you have training you offer that you want to get more value from? Fabulous! Support those training participants through mentoring relationships that extend past the life of the training course. Mentoring provides a way for people to continue their learning as they implement the training material within the real-world context of their jobs.
Bringing mentoring to multiple initiatives can be a great way to formalize the process and tie it to critical business needs.
You can easily do that at scale with MentorcliQ, and you can easily get into MentorcliQ when you book a demo.
Mentoring Best Practices that Save Time and Money
If you're ready to leverage mentoring to get more bang for your buck, consider these best practices when scaling mentoring across the enterprise:
Create a vision for where you would like your mentoring initiative to be in 12 months, 3 years, and 5 years
Do you have a certain number of programs you want to launch within that timeframe?
A certain number of employees you want to impact through mentoring?
A particular business need or initiative you want to address?
Use the goals you set for your mentoring program and plot a course for meeting those goals.
Set quarterly goals that include expansion of the view and use of mentoring.
Identify ways to promote and publicize mentoring on a quarterly basis.
Look for natural connection points to bring mentoring to existing initiatives.
Define the organizational and individual benefits mentoring brings to those programs or initiatives that you identified.
Include key stakeholders for those programs as you build plans for mentoring.
Host a summit that brings together all of your mentoring program admins so that they can share ideas, challenges, best practices, and success stories.
The solution to lowering the cost of training new employees is easy, but only if you're willing to change the way you address the problem.
Need more insights on mentoring? Check out our guide to 5 Steps to Help Make Mentoring Programs that Work.