If you're just getting started building out your mentorship programs or looking to pivot and expand the programs you have now, one common concern we hear from program administrators is about mentoring program recruitment. Mentor and mentee recruitment seems like it should be easy enough on the surface. After all, why wouldn't your people want the growth opportunity that comes from being a mentee, or the joy of giving back that comes from being a mentor?
Unfortunately, it's often not that simple. Low participation rates for mentoring programs are not as much about whether people do or don't want those benefits, but about the effectiveness of your internal advertising. People won't join as mentees or mentors for programs they don't know exist. And even if they know the program exists, if it just seems like extra work, they'll likely shy away from participation. Mentee and mentor recruitment for mentoring needs to follow a very similar playbook to external marketing so that your people are fully sold on the value it holds for them.
Getting Mentees and Mentors to Join
For the new mentoring program getting ready to launch, administrators can feel anxious about the number of people they think will sign up.
Will they have too few mentors?
Will they have too many mentees (or even worse, not enough)?
Or what if they have too many mentors and not everyone gets picked?
Will they have high-caliber people joining who can be quality members of the program (both mentees and mentors)?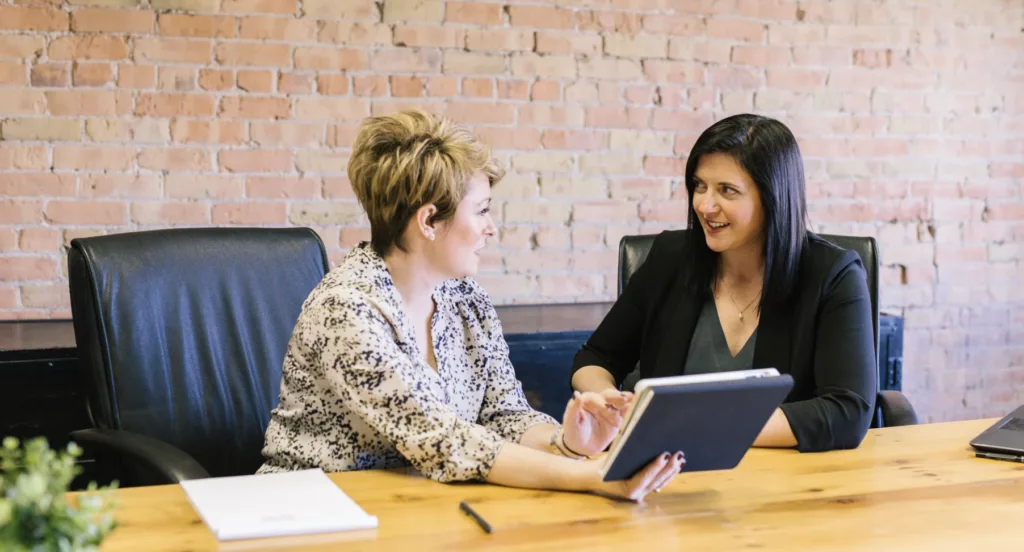 For programs that have been up and running for several years, administrators may feel like their program has fallen into a rut. On the one hand, they know that the people who have joined the mentoring program in the initial years find value in the program and that the overall program is meeting the need that they identified. But on the other hand, they worry about how they can expand the reach of mentoring and bring attention to their program to a wider audience so that more people can take part.
Both scenarios can be addressed with a solid mentoring program recruiting strategy.
Personal Invites Boost Mentoring Program Recruitment for Mentors
Participation in employee development programs increases significantly when individuals receive personal invitations and/or are nominated to participate by someone at a more senior level. This top-down approach positively impacts the desire of the invited mentor to participate, as it reflects an inherent approval and acknowledgment of their ability to lead others. This can create a cascading effect for mentoring program recruitment (consequently, you might even call it a cascading recruitment model).
This method leverages a personal approach whereby mentors are invited into the mentoring program by someone in a senior leadership role that the potential mentor knows and has some level of relationship with.
By having a person in a senior leadership role take an active part in the recruitment strategy, it adds a layer of tacit permission to spend time mentoring, as well as shows that the leadership team at the organization is supportive of the program. In addition, most people feel more favorable about a program or product when someone they know and trust recommends it, so having that personal invitation as part of the recruitment strategy can help increase sign-up numbers.
A cascading recruitment process to sign up mentors could look like this:
Senior leaders sign up to be mentors in the program.
These leaders then identify potential mentors within the one or two job classes immediately below theirs.
The leaders invite the identified mentors to participate in the program.
Engaging in a recruitment strategy like this can help you build a grassroots advocacy effort that organically grows and thrives.
Personal Invites Also Boost Mentee Recruitment
The top-down, cascading approach to mentee recruitment can also be used to increase your mentoring program participation rates.
Senior Leaders: Have senior leaders invite up-and-coming employees to be mentees in the program.
Peers: Ask individuals at all levels of the organization (who are active members of the mentoring program) to identify and invite peers whom they think would find value in the program.
Immediate Supervisors and Managers: Ask supervisors and managers to identify individuals among their direct reports who would benefit from mentoring, and then have those leaders invite the employees to take part.
It's almost a given, but mentoring programs rely on having a healthy pool of mentors and mentees. But the number of mentees is often the key metric that organizational leadership will look to determine the success of the program. Although being a mentor has positive long-term benefits for those that take on that role, reducing turnover among mentees is one of the most common look-fors among executive leaders who sign off on running these programs. Improving your mentoring program recruitment strategy for mentees will ultimately lead to those results as long as your program is well run.
Ease of Will Improve Mentoring Program Recruitment
Mentoring is a personal learning and development process, so it should not be a shock that a personal approach to inviting new people to join the program works well. By showing that you have given some thought to them as future mentees and mentors, you can build goodwill with a growing audience who can later become advocates and recruiters for you in years to come.
Alongside this, a critical mentoring program recruitment goal is to make sure participants know that joining the program is simple. Of course, that assumes that you're using the right tools to make sign-up and matching quick and easy. Manually-run mentoring programs typically require a lengthy sign-up process and put extra time commitment on mentors, mentees, and program administrators.
MentorcliQ offers a simplified solution for onboarding mentors and mentees into the program. Quick surveys that take only a few minutes to complete give MentorcliQ's SMART Matching algorithm all the information it needs to create high-functioning, well-matched mentor-mentee pairs. From there, participants can easily engage in the mentoring relationship right from the tool, including communication, relationship goal tracking, and more.
Taking a software approach versus manual mentoring makes dramatically increases the selling point for potential participants as you can underscore how easy it is to join, get matched, and hit the ground running.
Book a demo today to learn more about how mentoring software leads to better mentoring program recruitment and mentoring program ROI.