Virtual Workforce @ MentorcliQ = Physically Distant & Socially Present:
Like all companies, our workforce recently had to shift from in-person to virtual and we are making sure our employees stay connected and engaged. We came together and implemented the following 5 ways to remain socially connected while physically distant. [Spoiler Alert: Mentoring Is Key] . At MentorcliQ, our internal brand and our external brand are one in the same. Years ago we reflected on the talented and fun employees we attract and the impressive customers that we love to work with to create our brand DNA. In keeping true to our DNA we strive to be intentional and innovative in what we do while encouraging an upbeat and collaborative environment.
How We CliQ Virtually




We hope these ideas inspire you to keep your employees engaged virtually too!



1. We Use MentorcliQ Too
What kind of company would we be if we didn't practice what we preach? In order to keep our place as mentoring experts we constantly engage in formal and informal mentoring programs. Not only does this help us improve in our respective positions it also helps us stay innovative as we can validate best practices and test new ideas.
Employees can choose from a variety of programs:
Affinity Circles: a moderated community to open up engaging dialogue and mentor each other on a specific topic like: Health & Wellness, Remote Working and Ask The CEO.
CliQ Care: private, confidential mentoring program to provide employees with support and a listening ear.

Silo Busters:

a space for people in different departments to meet, understand what other departments are working on, ask for help, and collaborate with each other.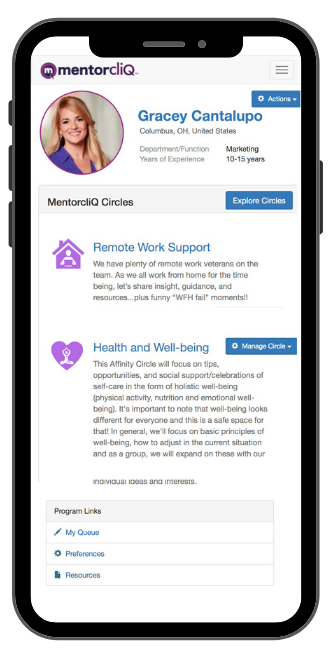 2. Face Time Every Time
Our Chief Learning Officer once said "a picture is worth 1,000 words, and a smile is worth a million." We take this to heart and during meetings choose to be present visually even when we cannot be present physically. Being able to see each other's faces is invaluable as we can maintain a sense of human interaction. Not to mention seeing each other helps us stay more focused and present in the discussion as well as feel more connected to our colleagues.
Recently we had a meeting where the team could "Bring Your Work From Home Buddy." In times like these when we are all working from home its nice to keep it real and meet all the cute kids, puppies, kittens and spouses that are at home with us!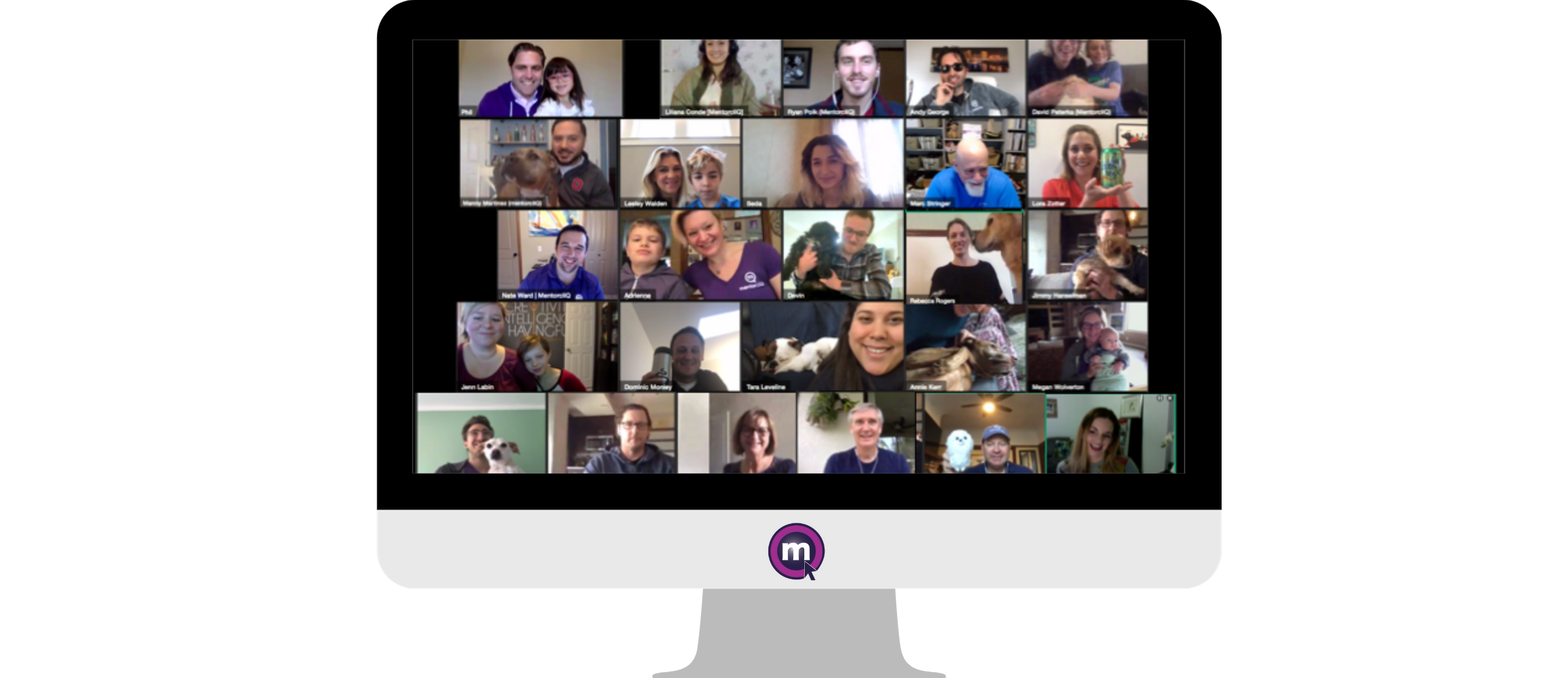 3. Virtual Water Coolers
Water cooler conversations have been around since the beginning of time providing the opportunity for a mental recharge and to build company culture. When there is no water cooler to meet by, the conversations tend to disappear. When we shifted to working virtually we decided to bring the conversation online by utilizing MentorcliQ chat rooms! The flexibility of our chat rooms keep us connected with each other on our own schedule and provide people the space to casually discuss a variety of topics. We are all going through adjustments with the new virtual work realities and helping each other makes our team bonds even stronger!
"Water Cooler" Topics:
Work From Home –

share tips, best practices and #WorkFromHomeFunnyFails around balancing work and home life.

Home Schooling –

parents helping each other through this new world of home schooling there kids.

Recipes –

most of us are cooking at home more now than ever and its great to get fresh ideas.

Diversity & Inclusion –

creating a safe place to talk openly about best practices, challenges, and opportunities so we can be more helpful to our customers.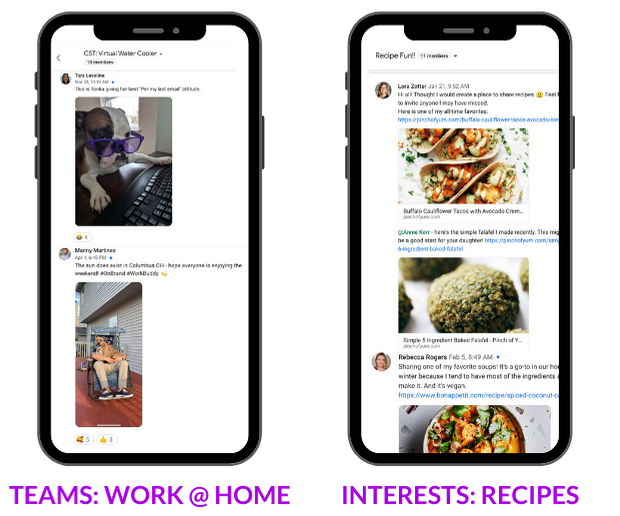 4. Peep Spotlights
Just another way for us to learn more about each other! As employee "Work-Aversaries" and birthdays pop up on the calendar we like to celebrate by interviewing them and sharing the interview with the company. Each interview features highlights about the employees life outside of work.
Some of the fun interview questions include:
What is the coolest thing you've ever done?
If you could snap your fingers and become an expert in something, what would it be?
What's one totally irrational fear that you have?

5. Remote Happy Hour
We LOVE a good happy hour! There is no better way to wrap up the work week and kick off the weekend than a happy hour. Just because we are not together physically doesn't mean we have to distance socially! So, every other Friday employees take turns hosting our Remote cliQ Social Hour where we grab our favorite beverage and hop on a video conference call to discuss anything and everything (as long as it isn't work related). These social calls are key to staying connected in a virtual environment and to keeping our work fun. While the calls are not mandatory attendance is usually high as we have the opportunities to learn about each other's hobbies, families, upcoming events, and anything else in each other's lives.

Does your company do something unique to engage their remote workforce? Tell us about it as we would love to see what you do and share it with others!
Ready to get started with your mentoring initiative?
Connect with MentorcliQ to see how virtual mentoring programs powered by mentoring software and our framework can impact and improve your employees' virtual mentoring experience.