Inspiring Change
MentorcliQ is thrilled to announce the 2021 Mentoring ChangeMaker of the Year Award Winner: Mary Schlegel, Mentoring Program Manager at LabCorp!
At MentorcliQ we believe that every employee deserves to be part of an inclusive work culture that embraces their diversity and allows them to engage, develop, and grow their career in an equitable way in the workplace. MentorcliQ's Diversity ChangeMaker Of The Year Award celebrates one outstanding person who has leveraged mentoring within their organization to create a greater sense of acceptance, belonging and community for all employees. The winner of this award is helping to make a positive social change and embodies the desire we share that all workplaces should promote diversity, equity, and inclusion for the benefit of everyone.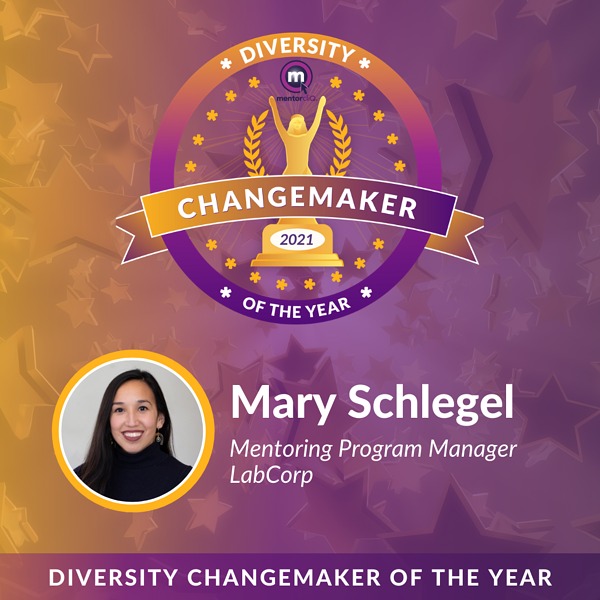 Mary Schlegel, the first Mentoring ChangeMaker of the Year, has embodied the heart and soul of this award by implementing the Reverse Diverse mentoring program at LabCorp, a leading global life sciences company with nearly 65,000 employees worldwide and a workplace that strives to provide an inclusive culture for its employees. The Reverse Diverse program has been a catalyst to achieve diversity and inclusion goals within the organization by connecting executive leaders with more junior employees of diverse backgrounds to increase visibility, and foster an environment of acceptance and belonging for all.
"The strides that Mary and LabCorp are making to drive awareness around using mentoring as a key tool for inclusion is inspiring!More than making an incredible impact within LabCorp, Mary has generously shared her story with our mentoring community which includes hundreds of companies who are also striving to do the same. As a result, Mary's actions are inspiring change both inside and outside of her organization. Mary's willingness to share her story and early successes with those who are looking to create cultures of acceptance, belonging and community for their employees is energizing more companies to take action and create positive and lasting change." -Phil George, CEO of MentorcliQ
Mary was instrumental in getting this program launched so that diverse employees would have more opportunities to be heard and feel more included in organization that cares about what they have to say and what challenges they face. As part of the program, participants focus on topics such as cultivating inclusivity and diversity, trust and credibility, communicating and networking, and managing change and iterating to name a few. Initial results from the program were a huge success! One key result from the program is requests from leadership wanting to participate in future programs and the ability to expand and incorporate additional employee groups into future mentoring cycles.
Advice from Mary for those starting a DEI Program:

"There has never been more need or momentum for DEI programs like this, let's not squander the opportunity! It doesn't have to be executives, it doesn't have to be a reverse diverse program, but you can do something to make an impact and move DEI forward. You can build allies, and lean on them, recruit them to be part of a solution and watch their passion move mountains. Muster every ounce of courage and experience, every smidgen of nervous energy and influence you have and say today, we become better."
-Mary Schlegel, Diversity ChangeMaker of the Year
Award fit for a ChangeMaker!
At MentorcliQ, we don't do anything half-way so there was no way we were going to just order a trophy online. We commission a local Ohio artist to create something worthy of a ChangeMaker! Doug Frates Glass whose work has been featured in the Las Vegas Hotel, The Bellagio, designed this unique award just for the Diversity ChangeMaker Of The Year. Every year the award will be a one of a kind design!!